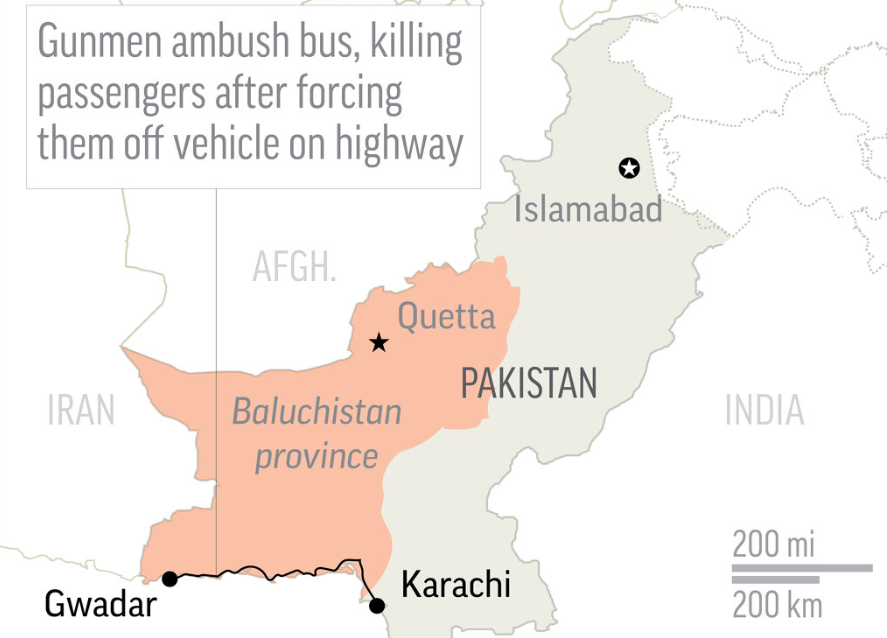 In a terrorist attack by a separatist group in southwestern Pakistan, 14 people died early Thursday after being lined up and shot dead on a remote highway.
The attack occurred at dawn on the Makran coastal road between Karachi and Gwadar Harbor, local official Jehangir Dashti told The Associated Press. He said the passengers targeted by the attack were killed after the Pakistani police and paramilitary uniforms checked their IDs and forced them onto a highway.
Dozens of armed men were involved in the attack and fled afterwards
US OFFICIAL SEARCH INCREASE OF MURDER SUSPECT IN PAKISTAN
Hours after the ambush took over the little-known separatist group "Baloch Raji Aajoi Sangar "the responsibility. The attack was condemned nationwide and Prime Minister Imran Khan called it "act of terrorism". Later, he issued a statement calling on the authorities "to make every possible effort to bring the perpetrators of the barbaric act to justice and bring them to justice."
The Pakistani Navy said that its sailors and officers who went to work were also among the killed men. One was a member of the Coast Guard of the country. According to intelligence officials, nine Marine employees were among the dead.
7 IN PAKISTAN ON ABDUCTION, RELIGIOUS CONVERSION AND FOLLOWED HEARING OF HINDU PEOPLE
Close-up security forces were seconded and seconded He had reached the area about 375 miles from the provincial capital of Quetta, added he added.
Separatists have for years committed a minor uprising in oil-rich Balochistan, complaining of discrimination and demanding a fairer share of the province's wealth.
GET THE FOX NEWS APP
Other militant groups are also operating in Baluchistan. Last Friday, a suicide bomber targeted an open-air market in Quetta, killing 20 people in an attack claimed by the Islamic State Group.
The Associated Press contributed to this report.
Source link