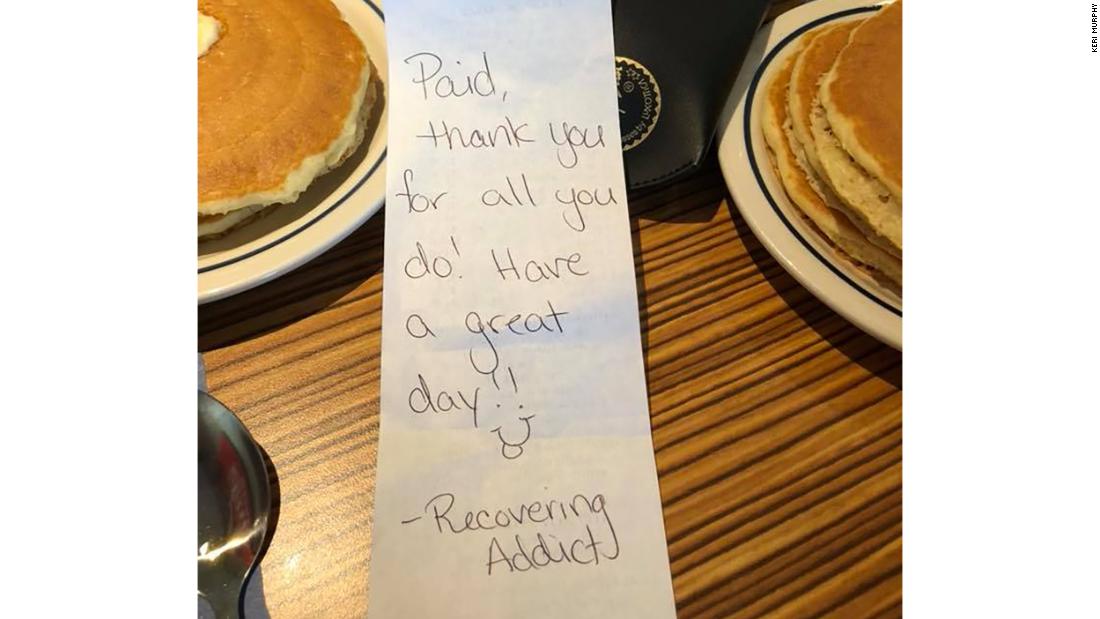 The six volunteers ate at an IHOP in Toms River, New Jersey on Friday when an anonymous woman paid her bill and left a moving message on the receipt.
"Paid, thanks for everything you do! A good day!" The note said. It was simply signed: "Recovery Addict."
Alyssa Golembeski, captain of Toms River's First Aid Squad, said the director-general of the IHOP had come to the EMT table to let them know that a woman was paying for her food.
"EMTs do not eat light," Golembeski said. "We collected an invoice for $ 77."
Golembeski said she had asked the manager if her team could thank the mystery benefactor for breakfast, but the woman wanted to remain anonymous.
"We were all a bit roasted after Thursday night, and so on Friday morning when we thanked that, the nicest thing anybody could have ever done for us was," said Golembeski.
After breakfast, First Aid Squad of Toms River posted a photo of the receipt to Facebook in the hope that the woman might see it, but she has yet to report.
"This gift was incredibly thoughtful and moved our table to tears with tired paramedics," the group wrote on Facebook. "We are so blessed that we can serve you and everyone else living and working in the Greater Tomorrow River ̵
1; good luck on your recovery journey!"
Golembeski says she and her team have two messages for the act of kindness of the woman:
"First of all, thank you for having bought our breakfast and literally spent my whole week," Golembeski said. "I could not stop smiling all day."
"Secondly, I would just recommend that you recover and beat the disease that is addiction."
Although it is not known what the anonymous woman was addicted to, Golembeski said that the opioid crisis in New Jersey is particularly bad, making her message much more meaningful.
Source link