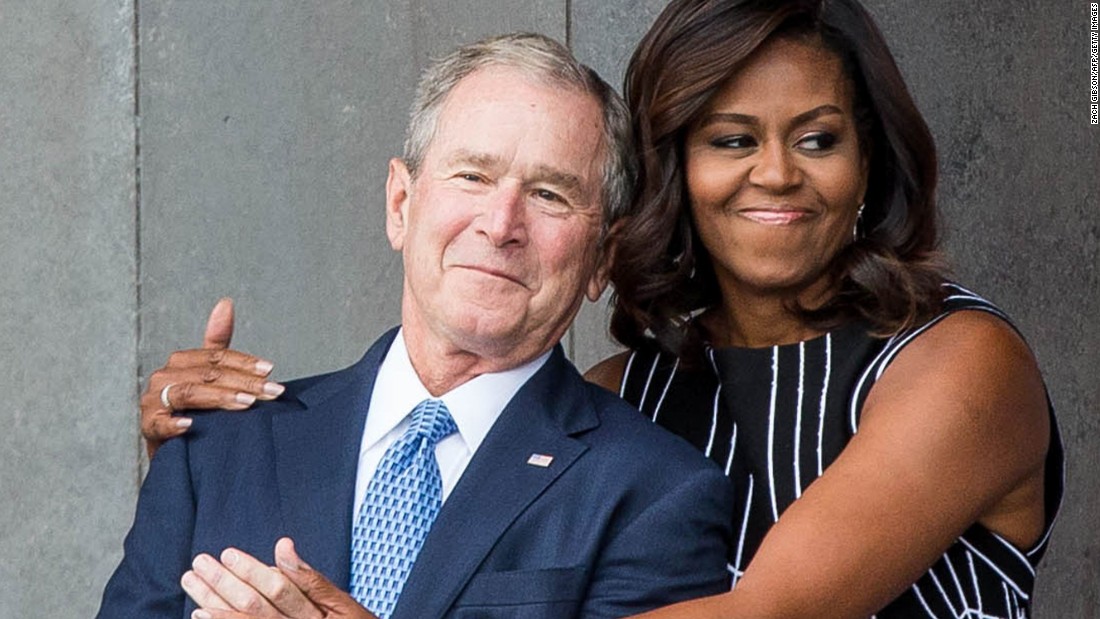 However, the holidays are a time to be hopeful. As the second year of the Trump administration comes to an end, here are five moments from the political news of the year, each of which can find something to smile about, regardless of your political inclination.
. 1 Michelle Obama and George W. Bush's Friendship
Since President Barack Obama took office, the protocol has placed these two side by side at official events. Former First Lady Michelle Obama and former President George W. Bush were spotted embracing each other over the last few years, holding hands and just enjoying the company of each other, but their friendship became a reality earlier this year the funeral of Sen. John McCain fully expressed. The two shared a sweet moment (and the social-media virality) when Bush gave Obama a coughing fit in their series of former Presidents and First Ladies. At his father's funeral later in the year, Bush repeated the gesture and handed Obama another small item out of his pocket as he greeted her.
In an interview in November, Obama said that her friendship with 43 "reminds us that we can get there with the right leadership and the right pitch and with each one of us who gets the benefit out of doubts."
"I would love to be able to return as a country to the place we were not at." Demonize people who disagreed with us, "she added.
2. Tammy Duckworth & # 39; s Baby in the Senate
In April, Illinois Senator Tammy Duckworth gave birth to a little girl, making her the first US Senator to be born during her tenure.
Democratic Senator Amy Klobuchar and Republican Senator Roy Blunt worked together to change the long-standing rules for members to bring babies to the Senate Hall, and Duckworth's daughter, Maile Pearl, voted with her in the Senate to vote for the Col. to applaud her mother and to coo.
"It feels great," Duckworth told reporters. "It's time, right?"
. 3 Pete Davidson and Dan Crenshaw's "SNL" Reconciliation
After the "Saturday Night Live" comedy Pete Davidson, reigning Republican Dan Morgan scoffed at Dan Crenshaw's eye patch ̵
1; a result of a Navy SEAL injury suffered in Afghanistan – the two reconciled finally in the late-night comedy show.
Davidson apologized and said Crenshaw was a "war hero".
"I mean that with all my heart, it was a bad word choice, the man is a war hero and he deserves all the respect in the world," Davidson said. "And if it turned out to be good, it might one day be that Left and Right finally came together to agree on something."
Crenshaw accepted the apology and also paid tribute to Davidson's father, a firefighter who was killed on September 11.
Weeks later, after Davidson shared a worrying Instagram post that suggested he might be suicidal, Crenshaw held out his hand.
"I told him that everyone has a purpose in this world," Crenshaw said. "God has brought you here for a reason, it's your job to find that purpose and you should live that way."
4. New puppies in the block