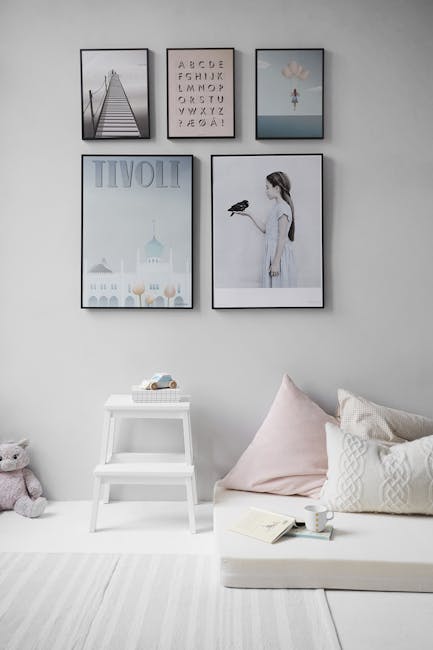 Thinking outside of the box and ditching the standard bed can completely change the mood of your bedroom. Lowering your bed so close to the floor used to look somewhat messy, but more and more people are embracing this minimalistic approach to bedroom decor. So if you want to add some bohemian chic, include colors and patterns throughout your bedroom.
Those of you who want to keep it as elegant as possible will probably opt for monochrome decorations. Regardless of your style, there are many things to play with when it comes to designing your perfect bedroom. Here are some bed on floor decorating ideas you might find interesting.
Clean and simple
Image: https://www.pexels.com/photo/turned-on-silver-macbook-on-white-bed-916337/
Placing your bed on the floor allows you to explore different kinds of decor. One of them is minimalism, which can be very suitable for small bedrooms. This means you don't need big pieces of furniture in your bedroom and that can be quite freeing according to Design Like. So forget all about boxy nightstands and huge closets.
If you are going for a clean and simple look, it is best to use just one color when decorating. Smaller bedrooms can seem wider if you opt for a brighter color. And make sure you keep the linen on your floor bed the same shade.
Throw a rug
Image: https://unsplash.com/photos/26OziLnJHFs
Big bedframes take up a lot of space in a room. Once you decide to ditch it, the chances are your bedroom might look a bit bare and basic. Adding a rug to your room is a great way to infuse some of your personality, as well as to make the room more cozy and welcoming.
According to Architecture Art Designs, a rug will add warmth to your bedroom which can be great during the colder months, especially because you will be sleeping so close to the floor. So explore different patterns and textures, see what works for you and the general look of your bedroom.
Making your own headboard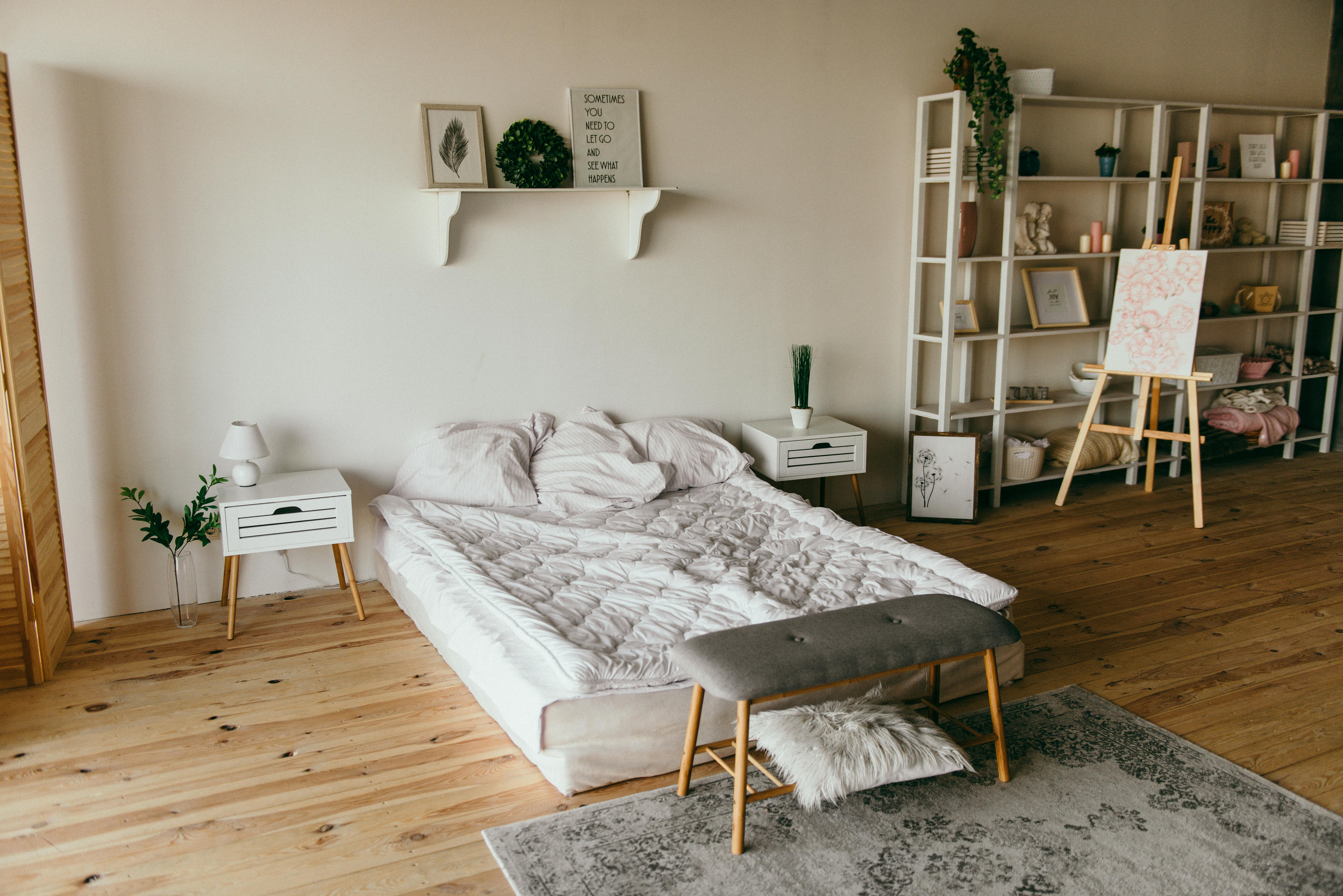 Image: https://www.pexels.com/photo/white-wooden-shelf-beside-bed-2062431/
If you decide to place your bed on the floor, the chances are you will be left without a headboard. Well-made headboards are often the centerpieces of every bedroom. So why don't you come up with your own eye-catching detail above the bed? For instance, if you are going for a relaxed boho vibe for your room, place a tapestry instead of the headboard.
Allow your creative side to go wild and place a couple of shelves above the bed. This will give you plenty of options decor-wise. You can display your personal photos on the shelves, or even souvenirs brought home from your travels. If you want to use the space above your bed functionally, perhaps you should find a lamp that will be both a decorative piece and a good source of light.
Keep everything at a lower level
Image: https://unsplash.com/photos/i_q8BWT80TE
One of the greatest bed on floor decorating ideas is the possibility that you can lower everything to be on the same level. So let your individuality shine, and pile up some favorite books by your bed to serve as a nightstand. This is an excellent way to make sure everything you could need in the morning is within your reach.
Some of us like to keep our walls clean so instead of hanging your mirror up, just prop it next to your bed. This simple decorating idea will make your whole room feel chic and effortless. You can do the same with wall art and posters, and your bedroom will look modern, not unfinished.
Make use of extra free space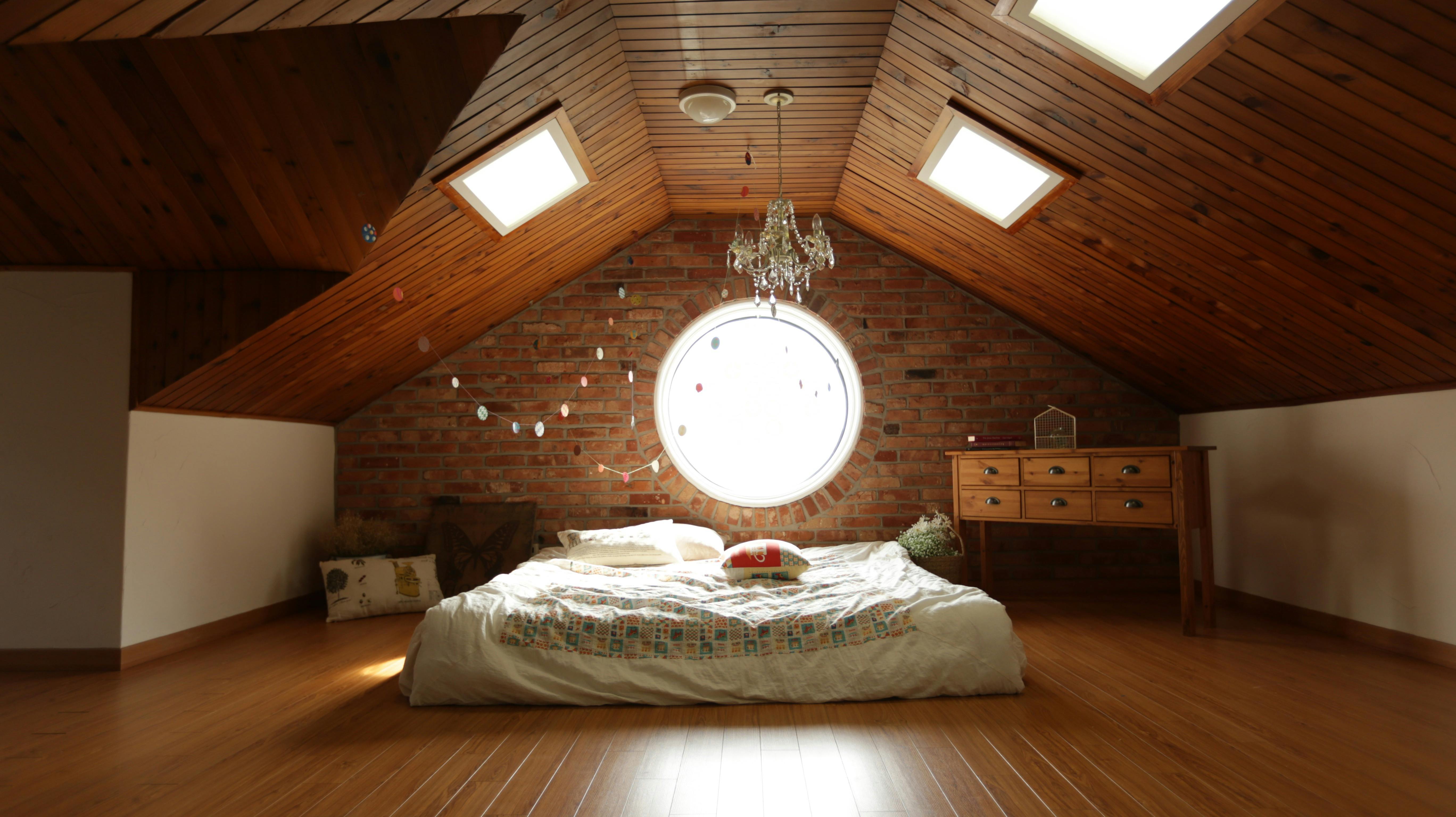 Image: https://www.pexels.com/photo/architecture-bed-bedroom-ceiling-271743/
Once you lower your bed to the floor level, it means the room will have higher ceilings. You can really amp up your room decor by making use of the extra space. Getting creative with the light sources is a great way of building a cozy den where you will feel comfortable. You can hang some paper lanterns, and this will contribute to the overall boho or artistic style if you are going in that direction.
You will also get additional space on your walls, so you could consider hanging longer strands of fairy lights vertically, where your headboard used to be. It sounds very simple, but this bed on the floor decorating idea is superb if you want to turn your room into your space for relaxation.
Final word
Getting rid of a clunky bed frame will give you so many more options to consider when it comes to the bedroom decor. Placing a mattress so close to the floor is a new way of making your bedroom ultra-modern and sophisticated. There are numerous bed on floor decorating ideas you can apply to fully personalize your sleeping area and make it your favorite part of the home. So try them out!