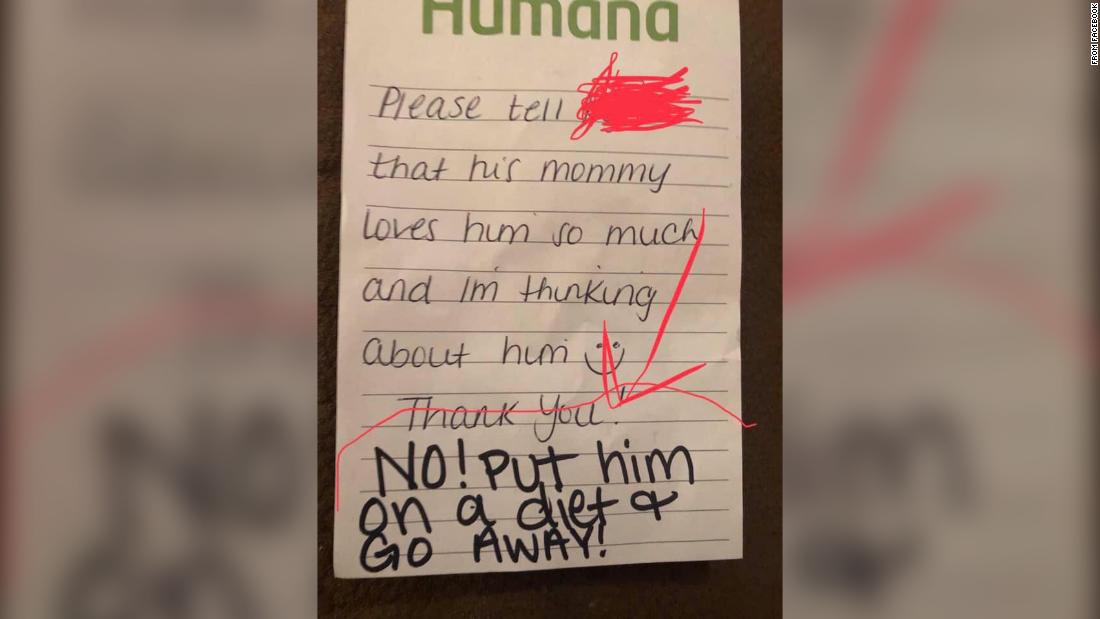 But when the boy returned home, the lunchbox contained a disturbing answer: "NO! Take it on Diet + GO AWAY!"
"It took me a minute to register what I had seen and I just kept it – I read it and only stood there for a minute," said the mother, Francesca Easdon, to CNN partner KTRK ,
Easdon said in a Facebook post that her son Kyler is a picky eater, so made him well-known options in his lunch box and wanted to "make him smile" at lunch.
"I feel like Kyler is absolutely perfect the way he is, I just help him make healthier choices," Easdon said in her post. "Instead of supporting his school, I am absolutely shocked by what happened."
An employee of Rocking Horse day care at Kingwood, where the incident took place, admitted writing the note and was fired, Easdon said. CNN could not confirm the status of the employee independently.
CNN turned to the daycare and referred them to Jacques Verron, who was identified by the facility as an employee.
Asked if the employee who wrote the note was fired, Veron mocked, repeating the reporter's questions. Then he said he would not confirm that the employee was actually fired because he was afraid of being sued.
He referred CNN to other media who had reported the dismissal.
Francesca Easdon wrote on Facebook that the daycare has shown "no remorse for her actions" these people take care of my child and I get that back. "
Source link