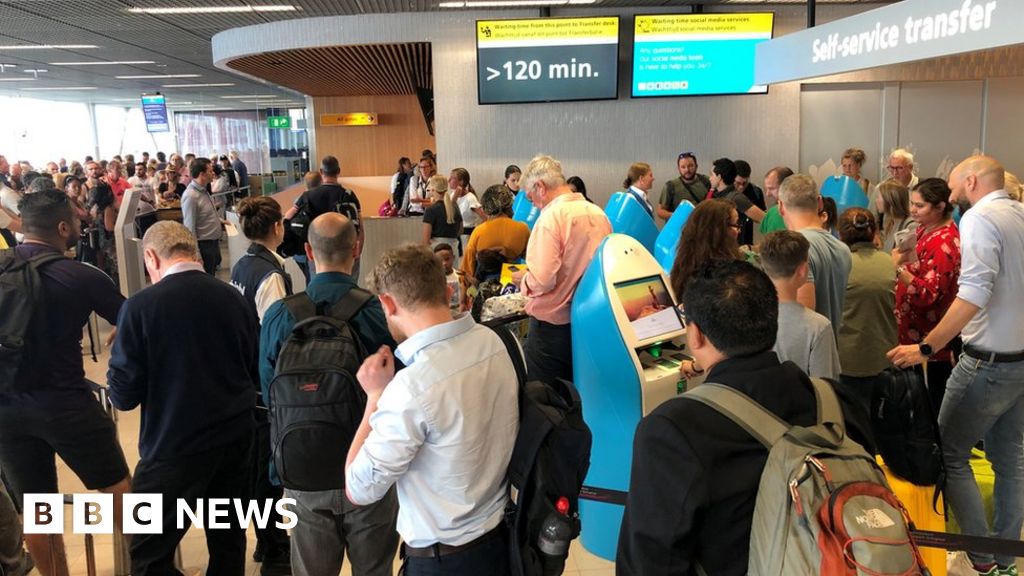 Amsterdam Airport Schiphol indicates that its fuel supply system was restarted a few hours later after a malfunction.
At least 70 aircraft were dropped on the ground and others diverted as the airport's gas station ceased operation at around 1:00 pm (11:00 GMT) on Wednesday.
Thousands of passengers were stranded at the airport, many tweeted about their difficulties in rebooking.
It is not clear when the disturbance will be completely over.
Schiphol Airport Earlier, it was warned that it could take "a long time until late" before things returned to normal.
Later it was said that the flights were restarted:
However, it was also recommended to contact airlines.
The company supplies the fuel According to the Dutch daily De Volkskrant, the failure of the system was not due to the current heatwave.
Records fall while Europe swells in the heat wave.
The mistake meant that only airplanes had enough fuel on board to take off from the airport.
In addition to the 70 landed aircraft, passengers in another 11 recently landed aircraft were unable to disembark immediately because no gate was available, De Volkskrant reports.
Almost 180 flights were canceled by airlines, said Schiphol.
A British passenger, Michael Lowery, was in Schiphol awaiting his return flight to Norwich when the failure occurred. He told the BBC that there was a four-hour queue for KLM's information desk.
"It was really a terrible service at the airport," he said. "You can not control the situation at all."
"The queue spans the terminal and is for information only. You will not book a hotel if I'm not in the queue. So I either have to book one myself or wait four hours in the queue to get one.
July is one of the busiest times for the airport, with people departing for the summer holidays.
If you have a problem with Schiphol Airport, please call haveyoursay @ bbc .co.uk .
You can also contact us in the following ways:
WhatsApp: +44 7756 165803
Tweet: @BBC_HaveYourSay
Submit Pictures / Videos to [email protected]
Upload your pictures / videos here
Send SMS or MMS to 61124 or +44 7624 800 100
Please read our Terms and Conditions and Privacy Policy