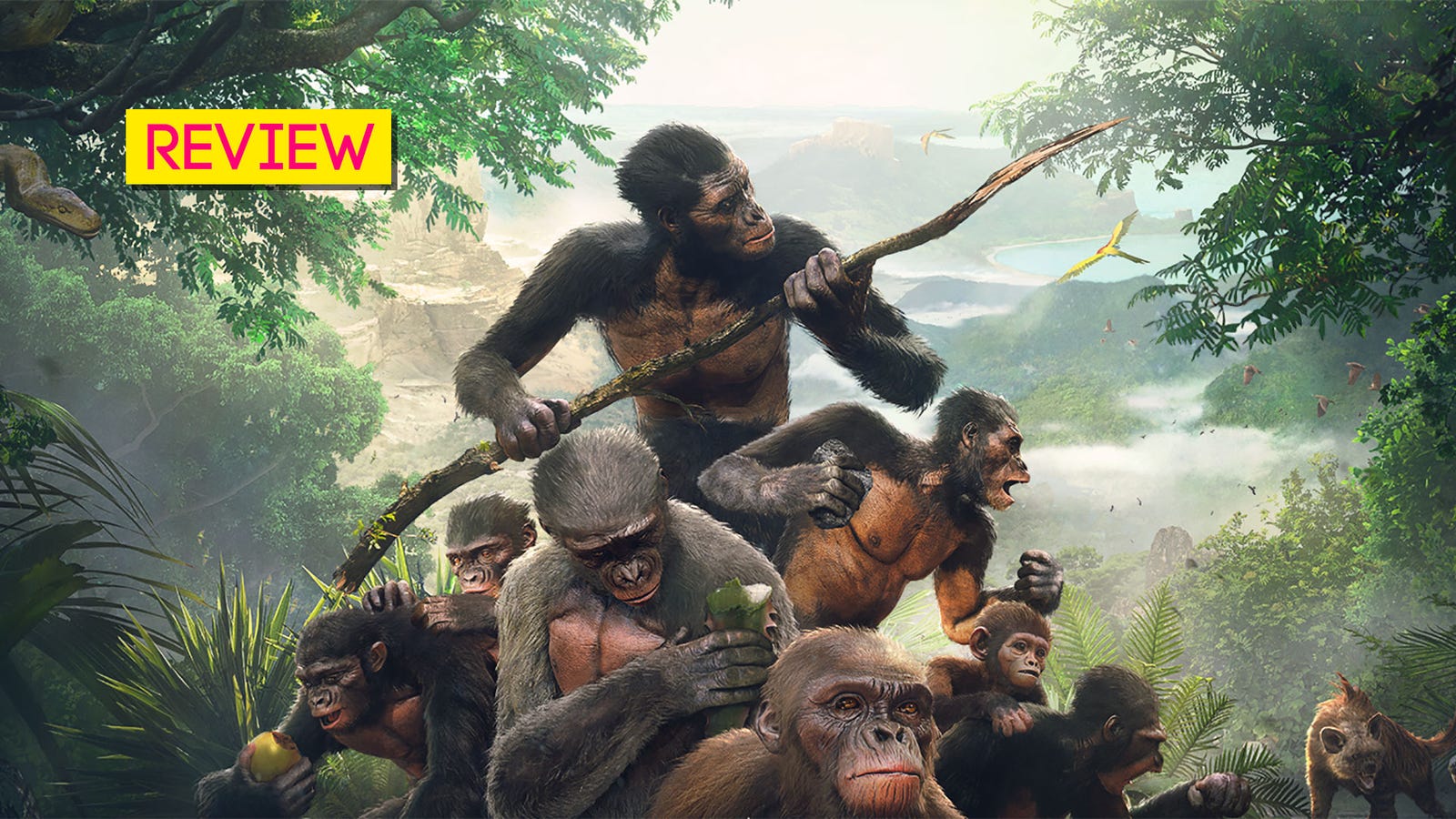 If humanity comes here, no wonder we are so confused.
Ancestors: The Odyssey of Humanity is the first published game by designer and director Patrice Désilet since leaving the Assassin's Creed . which he was instrumental in creating – almost a decade ago. It's also one of the most ambitious games I've ever played, good or bad.
The idea behind Ancestors is that it is a simulation of the beginning of man, in which the players take control of our game primitive ancestors and lead them from the animal kingdom in the earliest days of what we would recognize as humanity. However, it is not a strategy game, as this suggests. You literally play as one of the monkeys / men, moving them directly through the jungle and interacting with the world around you.
When you examine, sniff and peck at things, you finally learn how things look like work and where things are and how your character grows old, you will be able to reproduce millions of years and even to skip, both as direct ancestors and as evolutionary offspring.
From the first few moments on Ancestors feel like a great idea, a representation of a comprehensive and decisive moment in the history of our species on the ground floor, something fresh, fascinating and important. It's an idea that happens occasionally, especially at the beginning of the game, with moments of pure joy as you swing through trees for the first time, wondering how to make spears, make babies and turn a pile of leaves into a bed.
Unfortunately, the rest of the time Ancestors is a crunch.
Ancestors wants you to play through an incredibly complex and intricate process – the direct, hands-on progress of a species! – Still, his decision to tell the player virtually nothing about how to actually do that is revolting. And I do not mean that the presentation failed, but that we do not tell you anything on the loading screens.
Much of My Time with Ancestors – and this was a pre-release version, so I'm one of the few who played without FAQs and walkthroughs – was spent not knowing what to do Devil is the next to do or how I felt infinitely lost and frustrated.
I can see the reasons for this because our ancestors had no one to help them learn the world around them. But as a player, I hate it. Ancestors wants me to engage in an endless game of trial and error to find out what helps me (and what hurts me), but it's no fun or interesting because in this game Learning things only by simply learning, do them over and over again. It is education by brute force and repetition and it sucks.
---
Apart from his rare moments of brilliance, those fleeting seconds in which everything he tries to do comes together, Ancestors is a breeze. Their movements, which are sometimes graceful, are also often nullified, especially near rocks or cliffs. The danger is everywhere in the form of predators, but you can never interact directly with them, but only respond to awkward QTEs. You unlock new skills by repeating existing ones, but sometimes, without knowing how you're doing, it can take forever.
Contextual interactions (each button on the controller does something different, depending on where you are and what you are nearby.) The tutorial, in which you need to perform certain things in a specific order, never to you The user interface communicates excessively in some respects and is in other cases unhelpful.
Ancestors however, is worst when the opacity of the game, the punishment of the survival game and the technical unreliability come together. [19659016]] Until you're able to build effective weapons, this is a very bad time. "/>
Until you're able to build effective weapons, this is a very bad time.