The Anthem open demo starts tomorrow, so here's a quick look at the first expedition you'll be playing.
Anthem's final demo begins on February 1, and ends in February 3. You'll start at level 15, unlocking the different Javelin styles along the way.
Those who took part in the VIP demo wants to have all four Javelin unlocked for the open demo. To see more about Javelin classes, check out our Anthem guide page.
Triple Threat Expedition In this guide, we're going to look at the Triple Threat Expedition . You can make the choice of making this a private expedition with your friends, or you can hope that matchmaking works.
Anthem: Triple Threat Expedition
To begin this expedition, you'll need to talk to Matthias in Fort Tarsis.
Once you've done that, head over to the forge and set up your javelin, then climb into to the expedition. You'll be facing the Dominion for this expedition, so having at least one Colossus in your group would be beneficial.
The majority of this mission is fairly straight forward. Follow the markers, clear out the eyes and look for crates nearby that you can scan.
Towards the end of the expedition, you will reach a chamber with three identical flying members of the Dominion. Your Freelancer wants to comment on this as its important to the plot, but more on that later.
Defeat the three Dominions and head over to the Manifold. You'll see that it's guarded by a barrier and it's up to you and your squad to disable it.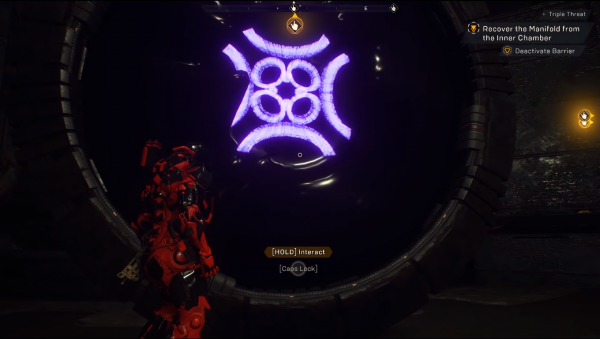 Around the chamber, you'll see that there are gates with glowing locks. Pick a gate each and interact with it. The gate wants to change, along with its color icon.
There is an icon near each lock, so it's as simple as matching the lock to the icon. [Icon]
If you're facing the Manifold, spin around and look at it in the front of it go to the gate on your left, and turn it to the yellow icon.
The Barrier will then deactivate and you can pick up the Manifesto, ending the mission.
Anthem releases on PC, PS4 and Xbox One on February 22.