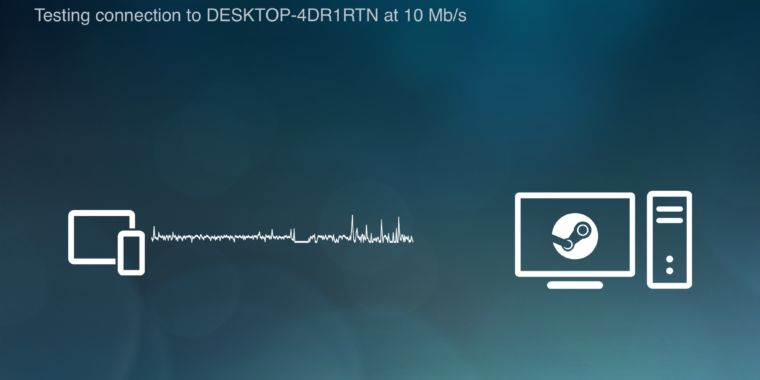 Valve's mobile Steam Link app, which lets stream PC games to other screens inside and outside the home, is now available on Apple's iOS and tvOS app stores.
The news comes almost a year after Apple revoked its approval for The Steam Link app to run on Apple hardware, citing what Valve said were "business conflicts with app guidelines that had not been realized by the original review team."
The extremely basic front-end interface that gets you into a world of PC game streaming.

Just like other in-home streaming options, you can toggle between prioritizing quality and speed.

Come on big money, big money, no whammies ….

On a nearby 5GHz router, the Network test was extremely happy with me.

On a completely wired connection on both ends, the "Fantastic!" actually went down to a more limited "Great!"

Oh snap! That 2.4GHz router is not up to streaming!

The Underrated Super Puzzle Platformer and other low-end games stream easily and with no apparent difference from the local play.

A high-end game like Doom suffered from frequent stutters and frame rate dips in our streaming test.

Playing in a lot of multi-second unplayable freezes, like this (see performance graph).
As we said in our review last year, the Steam Link app works acceptably well if you have the 5Ghz wireless router that's close to the target device. Even then, you may notice some screen-tearing and stuttering on high-res, high-FPS games that require the most video bandwidth.
The Steam Link app is a replacement for Valve's dedicated Steam Link hardware, which was quietly discontinued late last year after its late 2015 debut. Game streaming through Steam is also available on Android devices and any computer running the Steam client.
Source link