Eritrean asylum seekers call slogans as they protest in Tel Aviv, Israel, against racism and the government's intention to arrest and deport Eritrean asylum seekers. The signs read: "We are all refugees", "Black are not criminals" and "Enough with racism". | Ariel Schalit / AP
While the Israeli-Palestinian conflict is still the most prevalent divide within Israeli society, there are other issues – racist – divisive people. Being dark-skinned in Israel is a challenge. Blacks in Israel are regularly victims of racism and are viewed as a threat by authorities and politicians
Racist statements by Israel's leading political and religious leaders are widespread. On March 1
7, Yitzhak Yosef, one of Israel's chief rabbis, used the term "monkey" and the Hebrew equivalent of the N world in his weekly sermon to refer to black people. Such comments are not rare; In 2003, Israel's other Chief Rabbi Yisrael Lau used the N word on his first day in office to describe black athletes. A minister of government has called black immigrants "cancer." Officials usually refer to them as "infiltrators".
Ethiopian Jews, who are among the poorest people in Israel, are daily affected by police violence and discrimination by employers. The Ethiopian model Tahunia Rubel called Israel "one of the most racist countries in the world". After a study by dr. Erez Siniver earns Ethiopian Jews up to 40 percent less than Arab-Israeli citizens] Fentahun Assefa-Dawit, executive director of Tebeka, a legal aid organization for Ethiopian Israelis, says, "Some people [in Israel] have the idea that anyone from one other country comes, especially from a [developing] country, is incompetent when we have dark skin … Unfortunately, there are many people who are either ignorant or racist. "
In January 2014, an Israeli man went to an African refugee who bore his one-year-old baby in downtown Tel Aviv and was brutally stabbed baby in the head three times. Picked up by the police and asked why he attacked the toddler, the man replied, "They say a black baby, generally black, is a terrorist." He was not sentenced to prison because he was considered mentally unstable. 19659004] In another case, in February 2018, two Israelis were sentenced to death for brutal beatings against an African refugee, but were spared long prison sentences when the judge agreed to reduce the charges of murder and manslaughter.
As too many cases show, in Israel it sometimes seems as if black people could not possibly attain the status of a victim; Instead, they and all allegations of racism are viewed with suspicion. On March 19, Prime Minister Benjamin Netanyahu said in a public speech that the arrival of non-Jewish African refugees to Israel is far worse than serious attacks by Sinai terrorists.
Israeli Justice Minister Ayelet Shaked has recently posted on Facebook: "Israel is too small and has its own problems, it can not serve as a work agency for the African continent."
The government has a plan for more than 40,000 African refugees to deport: They are to bring 3,500 dollars and a plane ticket out of the country. If they do not accept the offer, they will be imprisoned.
It seems Israel was inspired by US President Donald Trump. In January, Netanyahu praised Trump's executive order to build a wall that would prevent undocumented migrants from entering the United States from Mexico. A month later, he announced that the Israeli authorities had launched the deportation of thousands of African immigrants: "We have expelled about 20,000, and now the mission is to expel the rest."
The United Nations High Commissioner for Refugees has criticized Israel for policies against African migrants and recently called on the country to consider alternatives to its current immigration. Netanyahu made an agreement with the U.N. to move half of the African migrants in Israel to Western countries. But he "zigzagged," as Israeli media called it, annulled the deal and left thousands who are undocumented with an unknown future.
Even prominent pro-Israel votes in the US, such as Alan Dershowitz and Abraham Foxman, warn the Netanyahu government to facilitate their plans. In a letter that appears to be more concerned with the public image of Israel than with the plight of the deportees, they recently wrote: "We fear that a mass displacement could cause unpredictable damage to the moral standing of Israel and Jews around the world." 19659004] The hostility to black people in Israel is not new. In recent years, the government has housed thousands of Eritrean and Sudanese migrants in Hardscrabble detention centers in the Negev desert. The goal seems to be to make life so unbearable that they will go on their own.
With the order to fly the planes deporting the refugees, many Israeli pilots rise against Netanyahu's mission to drive out African immigrants. They have publicly stated that they will "not send refugees to their deaths." Some have made public statements about their social media accounts. "I have joined many of my good friends to explain that I will not fly refugees to their deaths, I will not participate in this barbarism," El Al – pilot Iddo Elad wrote on his Facebook page.
"Of all of us, the Jews, we need to be attentive, empathetic, moral and public opinion leaders in the way we treat the migration of refugees who have suffered in their countries of origin and continue to suffer," wrote Captain Yoel Piterbarg, cited by the Israeli online magazine +972 .
A A recent survey found that the majority of Israelis living near African refugees – in the Tel Aviv metropolitan area and in the slums of southern Tel Aviv – oppose deportation.
Netanyahu's Plan Has Also Deplored Human Rights Groups, Holocaust Survivors, and Academics
Hundreds of Israeli rabbis have pledged to hide African asylum seekers in their homes as part of the Anne Frank Home Sanctuary movement founded by Rabbi Susan Silverman. In Nazi-occupied Amsterdam, Frank and her family temporarily avoided being deported to the death camps with the help of non-Jews in the 1940s.
"The Bible tells us 36 times that we need to take care of the stranger, which is absolutely a Jewish value," said Silverman, a rabbi from Judaism's liberal reform current.
To combat discrimination and stop the government's plan to deport them, black immigrants painted their faces white and recently protested in Tel Aviv. With desperation on their faces, they wanted to hear their voices after living in Israel for years and working in low-paid jobs that many Israelis avoid. Leaving the country is not on their agenda right now.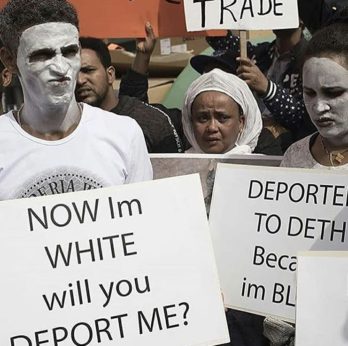 "We do not know what's waiting for us [in Rwanda and Uganda] …. We prefer to stay in jail instead [in Israel]," said Teklit Michael, a 29-year-old asylum seeker from Eritrea who lives in Tel Aviv, to Reuters.
Tesfum Goitom, 27, had heard horror stories from friends facing the plight in Rwanda, saying, "I'm really scared … I'm worried all the time they're going to drive me out, I'd rather go to jail here In that way, at least I will save my life. "
None of these problems, of course, keeps Netanyahu upright at night. He also claims that Sudanese and Eritrean asylum seekers agreeing to travel to a "third country" known as Rwanda or Uganda can legally live and work there. But in fact, a +972 magazine investigation earlier this year in those two states where most of the asylum seekers deported from Israel have been sent has proven that they are not only denied legal status, but they are often driven out of the country a few days after their arrival.
The government claims that deportations should "protect the Jewish and democratic character of Israel," but the modern state of Israel was a safe haven for Jews who had to flee persecution, largely built by immigrants. The mass deportation of refugees seems to be an obvious contradiction to the basic values ​​of the Jewish state.
As in the US and much of the Western world, Israel is being challenged by a debate between those involved in "Illegal" immigration and border security and those who demand compassion and humanity in dealing with refugees. But no policy based on such open racism, discrimination and violence can be justified. The killing of Palestinians continues to be masked in the name of "security concerns," but how can Israel explain the deportation and inhumane treatment of African immigrants in search of a better life?
<! – End of