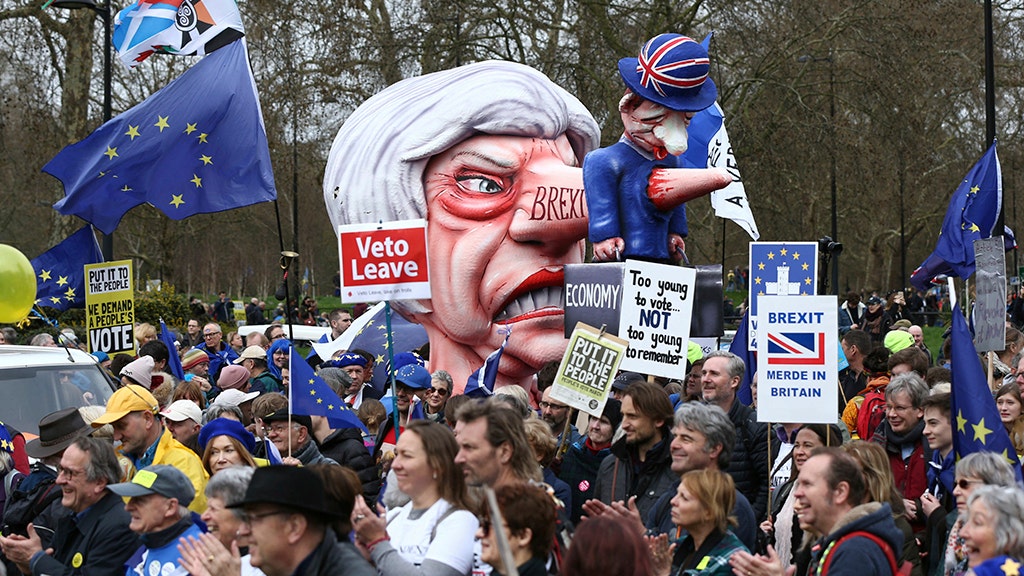 The Prime Minister Theresa May received the backing of several ministers who dismissed a "coup" against the embattled leader.
Chancellor Philip Hammond called "self-indulgent" and Brexit Secretary Stephen Barclay said the PM "is in charge," according to BBC News, while David Lidington, who has been touted as a replacement for May, said, "I am the 100 percent behind the prime minister."
Still, several cabinet members are plotting a coup against May and making plans to replace them with a caretaker leader until a proper election can take place later this year. BBC political editor Laura Kuenssberg tweeted that there was "serious maneuvering" going on.
HUNDREDS OF THOUSANDS PROTEST IN LONDON TO DEMAND A SECOND BREXIT VOTE
Britain had been set to leave the European Union on March 29 without a deal after May's negotiated agreement was voted down by lawmakers. That vote last week was May's second Brexit defeat in parliament. However, May received a lifeline last week when EU leaders agreed on a short-term Brexit extension.
Throngs of protesters filled the streets of London on Saturday demanding a second referendum.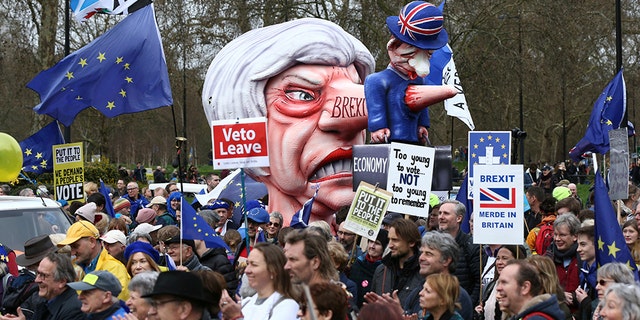 In the coming days, a range of different scenarios could play out, depending on how British lawmakers vote. They include, according to BBC News: Revoking Article 50 and canceling Brexit altogether, setting up a second referendum, May's deal plus a customs union, May's deal plus a customs union and single-market access, a Canada-style free trade deal, or Leaving the EU without a deal.
POPE FRANCIS PRAYS FOR PEACEFUL END TO NICARAGUA CRISIS
Hammond told BBC News that he would remove revoking Article 50 and a no-deal Brexit from the list, saying
In terms of a second referendum, Hammond said: "It is a coherent proposition and deserves to be considered, along with the other proposals." [19659003] This coming Friday is the day that Britain is set to leave the EU, the earliest that could happen now is April 12.