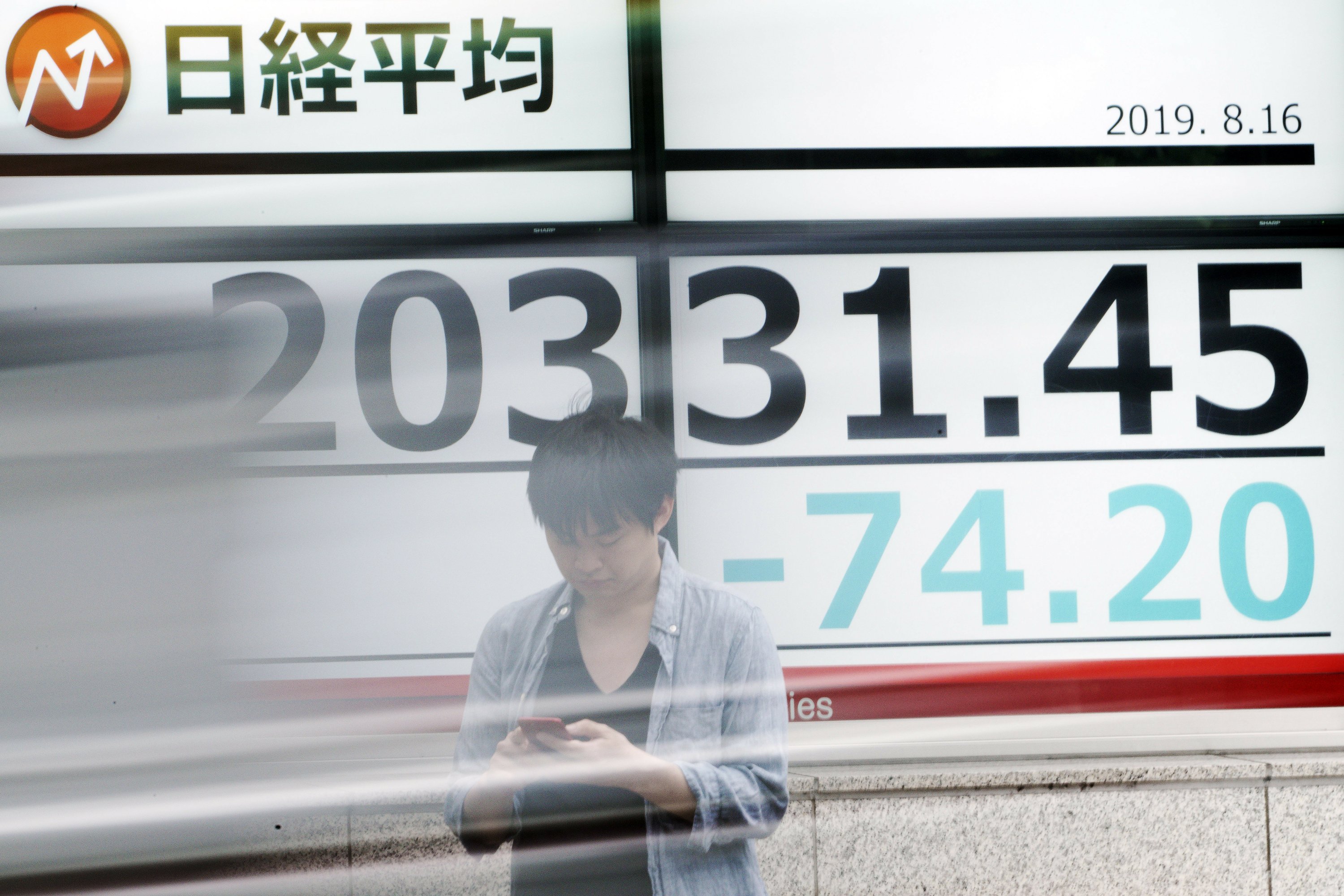 TOKYO (AP) – Asian equities were mixed on Friday as global market turmoil continued in the face of continued concerns about the US-China trade conflict. The Australian S & P / ASX 200 lost just 0.1% to 6,402.40, while the South Korean Kospi fell 0.8% to 1,923.56. Hong Kong's Hang Seng rose 0.8% to 25,701.58. The Shanghai Composite gained 0.7% to 2,834.85.
On Wall Street, stock indices swung between gains and losses until a late-day recovery gave the market a modest gain. Concerns over a possible recession collided with the hope that the strongest part of the US economy – shoppers shopping in stores and on the Internet – could continue, falling sharply in the early morning, staggering much of the day and then recovering slightly from her fall to the afternoon.
US Treasury bonds were among the loudest and earliest warnings of the economy.
The S & P 500 rose 7 points or 0.2% to 2,847.60. The Reference Index moved between 0.6% and 0.5%. The day before, it fell 2.9%. The Dow Jones Industrial Average, which posted its worst day of the year, gained 99.97 points, or 0.4%, to 25,579.39. The Nasdaq alliance fell 7.32 points or 0.1
% to 7,766.62, while the Russell 2000 index of smaller companies lost 5.87 points, or 0.4%, to 1,461.65.
Markets around the world have been pacing for weeks. Prices for everything, from stocks to gold to oil, have risen as investors have hesitated from one moment of uncertainty over Trump's trade war to another, what central banks will do with interest rates.
President Donald Trump defended his trade war once again and said: a The decision with China must "be concluded honestly on our terms".
With investors confident that a trade agreement between the world's two largest economies is imminent earlier this year, they are increasingly looking for tensions between the two economies to drag on for years to come.
"Nevertheless, given the still-increasing uncertainties between the US and China, we are well aware that signs of reduced risk aversion should not be confused with eliminating the risk," said Vishnu Varathan of Mizuho Bank in Singapore.
ENERGY:
The US crude oil price increased 62 cents to 55.99 USD. It fell 76 cents on Thursday to $ 54.47 a barrel. Brent crude, the international standard, rose 48 cents to 58.71 USD.
CURRENCIES:
The dollar barely changed at 106.20 Japanese yen, compared with 106.23 yen on Thursday. The euro weakened from $ 1,115 to $ 1,1103.
Source link