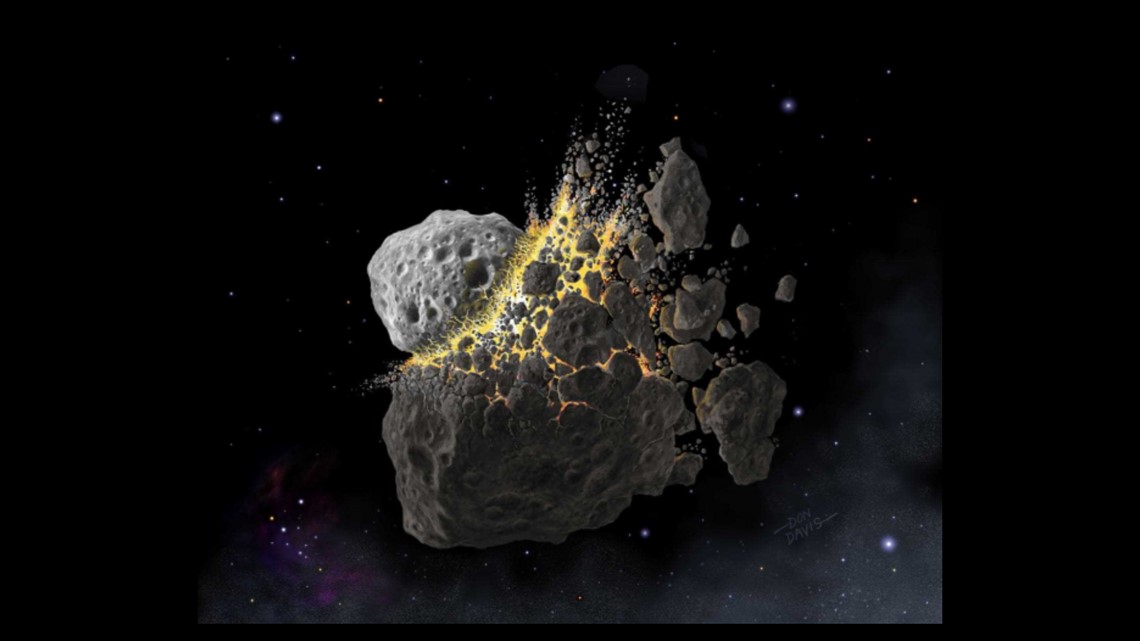 WASHINGTON – A group of Swedish researchers believe that a catastrophic asteroid collision of hundreds of millions of years ago could have the answer to the solution of climate change.
The international study investigates the consequences after a huge asteroid was crushed between Jupiter and Mars and large amounts of dust were sent through the solar system. The dust had a "blocking effect" on the sunlight that reached the earth, causing an ice age and producing climatic zones on Earth. Previously, the earth should have had a more homogeneous environment.
RELATED: 2 asteroids are to pass near Earth on Friday and Saturday
CONNECTION: We will vote them: Youth climate activists warn the world leaders
Researchers have discussed various artificial methods for restoring asteroid dust after a collision, e.g. For example, placing asteroids in orbits such as satellites on Earth and their "release of particulate matter" to block warming sunlight and thus hypothetically cool our warming planet.
"Our results show for the first time that such dust has, at times, dramatically cooled the Earth," said Birger Schmitz, a professor of geology at Lund University and head of the study understanding how this works, and this in turn can be used to assess whether model simulations are realistic.
(function () { var modules; var suppressModules = document.getElementById (& # 39; tegna_loadmodulesscript & # 39;). getAttribute ('data-suppress-modules' === & # 39; true & # 39 ;; true wrong;
if (suppressModules) { modules = [ 'alert-bar', 'error', 'page', 'grid', 'desktop-header', 'toolbar', 'weather-summary', 'navigation', 'throbber', 'utils', 'tegna-utils', 'fitted-headline', 'tracking', 'progress', 'tealium', 'live-indicator', 'taboola', 'ad' ] } else { modules = [ 'error', 'page', 'grid', 'desktop-header', 'toolbar', 'weather-summary', 'navigation', 'video', 'throbber', 'utils', 'fitted-headline', 'forecast', 'article', 'continuous-scroll', 'sharing', 'gallery', 'radar-gallery', 'forecast', 'article-crosspromo', 'featured-videos', 'chapter-slider', 'pollen', 'olympics-live-stream', 'three-day-outlook', 'current-weather', 'search-results', 'tracking', 'chapter-progress', 'progress', 'countdown-clock', 'longform-explore', 'media-gallery', 'social-sharing', 'weather-alerts', 'weather-interactive-radar', 'closings', 'tealium', 'alert-bar', 'cookie', 'sticky-sharing', 'live-indicator', 'sharethrough', 'taboola', 'elections', 'just-for-you', 'just-for-you-li', 'olympics-tv-listings', 'headline-list-with-abstract', 'text-only-headline-list', 'story-snapshot-with-abstract', 'snapshot', 'story-snapshot', 'special-content-headline-list', 'notfound', 'linked-image', 'article-recirculation', 'linked-image-with-title', 'newsletter-signup', 'linked-image-with-title', 'newsletter-signup-multiple', 'live-videos', 'breaking-news', 'weather-alerts', 'closings', 'media-gallery-alt', 'alert-center-menu', 'trending-list', 'toc', 'featured-radars', 'searchbox', 'hot-races', 'recirculation', 'photo', 'video-youtube', 'newsletter', 'universal-ad' ];
if (& 39; false & # 39; === & # 39; true & # 39;) { modules.push (& # 39; toast & # 39;); modules.push (& # 39; notifications & # 39;); } } / * var modules = [ 'error', 'desktop-header', 'navigation', 'page', 'grid', 'toolbar', 'video', 'throbber', 'utils', 'tegna-utils', 'continuous-scroll', 'gallery', 'tracking', 'tealium', 'sharethrough', 'datasphere', 'iframe', 'photo', 'video-youtube', 'newsletter-signup', 'newsletter-signup-multiple', 'ad' ]
Function inArray (needle, haystack) { var count = haystack.length; for (var i = 0; i <count; i ++) { if (haystack [i] === needle) {return true; } } return it incorrectly; }
var moduleElements = document.querySelectorAll (& # 39; [data-module] & # 39;); for (var i = 0; i <moduleElements.length; ++ i) { (function () { var thisModuleName = moduleElements [i] .getAttribute (& # 39; data module & # 39;); if (! inArray (thisModuleName, modules)) { modules.push (thisModuleName); } }) (); }
console.log (& # 39; ===== loading modules: & # 39 ;, modules); * / require.config ({ & # 39; baseUrl & # 39 ;: & # 39; / & 39 ;, & # 39; deps & # 39 ;: modules, "WaitSeconds": 30, & # 39; bundle & # 39 ;: { modules }, & # 39; path & # 39 ;: { & # 39; jquery & # 39 ;: & # 39; scripts / jquery-3.1.1.min & # 39 ;, # Jwplayer #: content / player / jwplayer.js? version = 3.15.2 & # 39 ;, & # 39; modules & # 39 ;: & # 39; views / dist / scripts / modules.min.js? version = 3.15.2 & # 39 ;, & # 39; facebook & # 39;: https: //connect.facebook.net/en_US/all&#39 ;, & # 39; twitter & # 39; https: //platform.twitter.com/widgets&#39 ;, Sl slick #: content content / libs / slick / slick.min #, #Dotdotdot #: content / libs / dotdotdot / jquery.dotdotdot.min #, & # 39; jqueryui & # 39 ;: & # 39; views / lib / jquery-ui / jquery-ui.min & # 39 ;, & # 39; comscore & # 39;: content / libs / comscore / comscore.min & # 39 ;, & Stickyfill & # 39; content / libs / stickyfill / stickyfill.min & # 39 ;, & # 39; youtube & # 39;: & # 39; https: //www.youtube.com/iframe_api? Noext & # 39 ;, # Firebase / app # 39; https://www.gstatic.com/firebasejs/6.1.1/firebase-app&#39 ;, # Firebase / messaging # 39; https: //www.gstatic.com/firebasejs/6.1.1/firebase-messaging' }, & # 39; shim & # 39 ;: { & # 39; Facebook & # 39;: { & # 39; export & # 39 ;: & # 39; FB & # 39; }, & # 39; twitter & # 39 ;: { "Exports": "twttr" }, & # 39; Youtube & # 39 ;: { "Exports": "YT" }, & # 39; jwplayer & # 39 ;: ['jquery'], & # 39; jqueryui & # 39 ;: { & # 39; deps & # 39 ;: ['jquery'] }, "Slick": ['jquery'], & # 39; dotdotdot & # 39 ;: ['jquery'] } }); }) ();
Source link