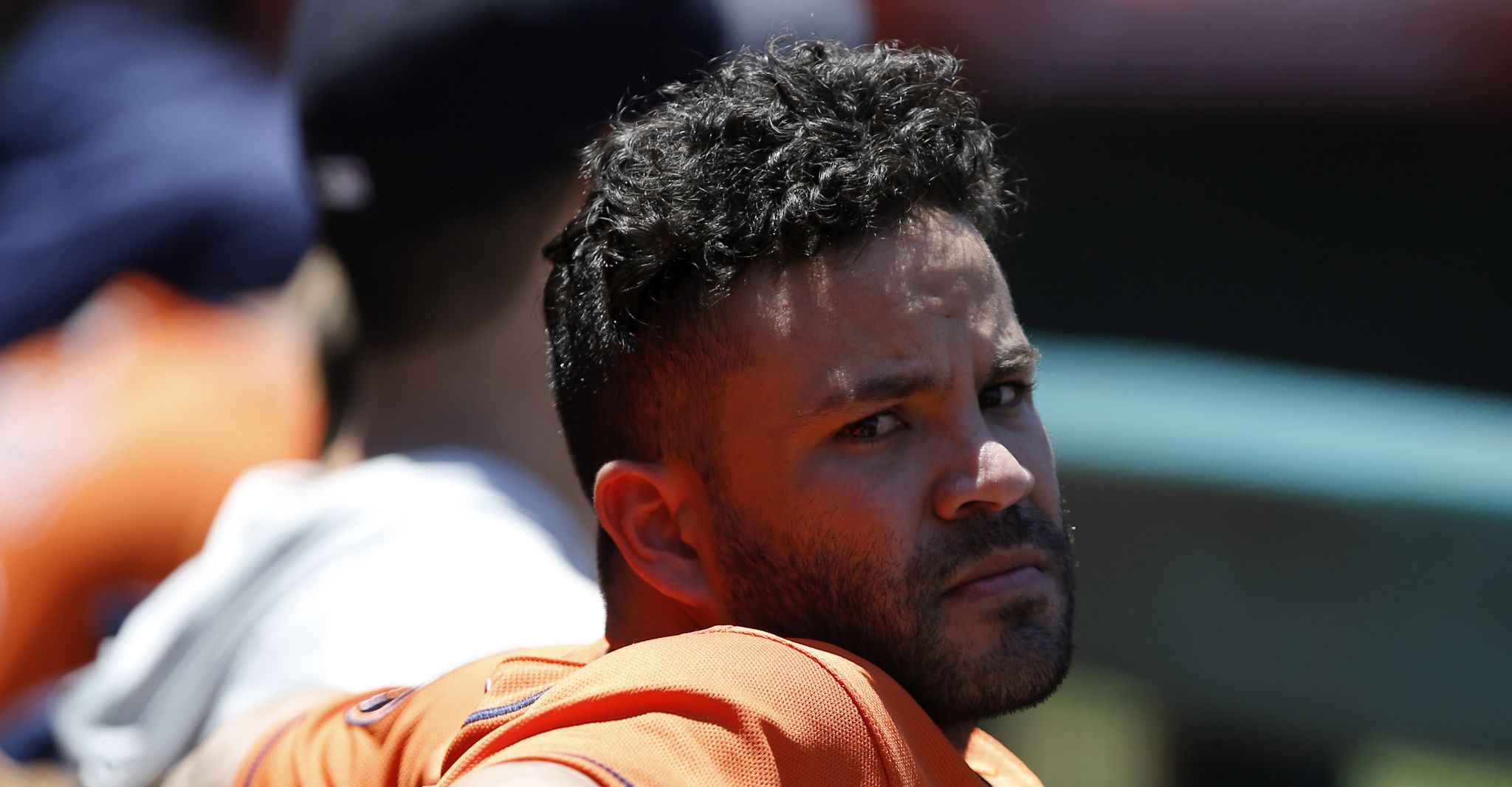 While his teammates took batting practice before another blowout loss to the Rangers, Jose Altuve stood in the hallway of his clubhouse and exuded optimism regarding the right knee that has nagged him for a couple of weeks.
"Compared to a couple days ago, I feel way better right now," Altuve said before Saturday's 7-3 loss. "I think it was worth it to take a couple days off to feel this good right now."
Four hours later, and for the first time in Altuve's eight-year major league career, the six-time All-Star and reigning American League MVP was placed on the 10-day disabled list.
"After I said that, the doctor came to check it out and he said he thought it was better to go on the DL," Altuve said after the game.
A corresponding move will be announced Sunday. Tyler White was scratched from the Class AAA Fresno lineup on Saturday night with no reason given.
Altuve has battled soreness in his right knee for almost a week. On Wednesday against the Rockies, manager A.J. Hinch removed his second baseman after the fifth inning when he noticed Altuve favoring the knee more than usual.
GAME RECAP: Astros endure another sloppy loss to Rangers
Hinch said he wrote the Astros' Saturday lineup on Friday night, so it was predetermined Altuve would be off for a second day, even though the diminutive infielder is beginning to feel like his old self.
"He feels better, dancing around and bouncing around and being very much himself today," Hinch said before the game. "I know he feels a ton better. I wrote the lineup last night, it was predetermined last night that he was going to sit another day, then we'll evaluate as we go."
To end his postgame news conference, Hinch announced Altuve's assignment to the disabled list. It is retroactive to July 26 and the earliest Altuve could return is on Aug. 5 against the Dodgers.
After Saturday's game, Altuve spoke for one minute and 13 seconds. He was asked if he underwent an X-ray or MRI.
"I don't know," he replied. "You'd have to ask them."
"Basic things like walking and going down stairs, it feels good," Altuve said. "I haven't done anything more than that."
The announcement arrives at a most inopportune time, before an eight-game road trip against stiff competition. It begins Monday with a three-game set against the Mariners, whom they lead by just 4.5 games in the division. After that, a World Series re-match at Dodger Stadium looms.
Altuve's middle infield mate — Carlos Correa — is still on the disabled list with lower back soreness, too, though he appears closer to a minor league rehab assignment. Correa missed his 26th consecutive game on Saturday.
"If they think it's better to go on the DL, for the team and me, in order for me to come back healthy and strong, that's what we'll do," Altuve said after the game.
"It's the first time in my career, I'm not like really happy about it … It is what it is. I wish I could be helping my team on the field. But I'm going to be traveling with my team everywhere they go and supporting them on the bench."
Source link