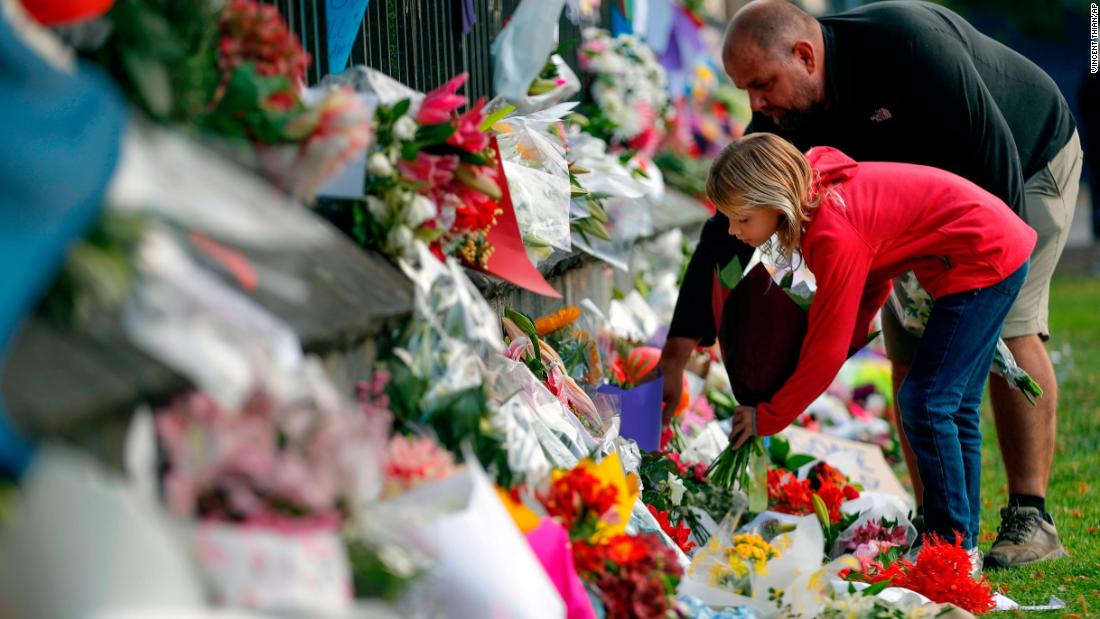 A few hours later, surrounded by laughing kids climbing over playground equipment, I checked my phone and saw a missed call from CNN, a message asking about the incident in Christchurch.
Stunned, I saw nine other suspected persons dead. While the shooter opened the fire on innocent believers, I had posted a video of my toddler who had learned how to ride a bike course, and a friend about me the heat complained.
One described how he was squeezed at the age of a little girl shot in her back: "… check tonight and I review the news again because I hope to hear that this child and the man who she has made it through the terrible events of today, "she wrote. [1
9659004] Many shared the image of two women – one in a hijab – hugging each other. The drawing is titled, "This is your home and you should have been safe here."
Friends in Wellington who had posted pictures of their children on the climate change march on Friday updated their feeds with photos of the Kilbirnie Mosque, where their children later planted flowers.
Banners with the words "New" were displayed on Facebook. Zealand is their home. You. Are. We "or" This is not what we are. Kia Kaha (be strong in the indigenous language of Te Reo Maori) Christchurch "was pasted over family photos.
People across the country have come together in larger groups to express unity, and vigils have been organized in cities, including Christchurch, Hamilton, Dunedin, Wellington, and Auckland.
There are GoFundMe sites collecting money for the victims, and more than $ 5.3 million (about $ 3.6 million) was spent on Monday through Monday local time
The Muslim community in New Zealand is small, and the 2013 census recorded 46,149 people associated with Islam from a population of 4,242,048 at that time.
"I have the feeling that we have lost our innocence"
In my neighborhood, the generosity of the community has made me the most conscious ,
My local Turkish cafe hugged local residents and shops in the first year of opening. The family that owns them invited dozens of them to Iftar during Ramadan. After fasting all day, they fed us and invited us to their tables to meet our neighbors. In the last month of Ramadan, they raised funds for the local women's shelter housing victims of domestic violence.
The day after the mosque attacks, I visited Hasan, the owner of the café – a family-oriented former professor.
The Hasan told me that the attack was not directed at the Muslim community or the Turkish, but in New Zealand as a whole. New Zealand Prime Minister Jacinda Ardern reiterated on the evening after the attack that New Zealand had been targeted for our tolerance, we needed to stand together and not allow ourselves to be separated from such violence.
I found that incredibly generous, but not surprising In the face of action, Hasan and his family had already adopted their adoptive home.
Nearby, a steady stream of people carried bouquets of flowers to the Ponsonby Mosque. A man knelt in front of the fence and covered his face with sobs. A couple stood with their arms crossed. Quietly.
In other places, flags were blowing with half the staff. A Rainbow Pride flag in a cafe, the Royal New Zealand Yacht Squadron emblem and the New Zealand flag on the Auckland Harbor Bridge fluttered deeply.
I dropped off a friend at Auckland Airport so she could fly back to South Island City Nelson She said there did not seem to be any extra security on her flight; It's a relatively small regional route, and her carry-on luggage was not even put through a scanner.
I flew the same route recently, and in a past life in London I had to take a break when a woman asked if she wanted to put her backpack "with a backpack" under my son's seat because of a few laptops But my trust in New Zealand as a terror-free haven meant that my reluctance was fleeting.
It's hard to believe that this loose posture continues, but we were – perhaps naively – immune to the separation and the Violence that has torn apart so many communities elsewhere.
"I feel we have lost our innocence," my friend said, and her partner, who was at Nelson Hospital, described the preparation for intensive care Treatment of patients relocated from Christchurch to make sacrifices for the victims of the attacks.
We are not used to dealing with gunshot wounds here
Canterbury District Health Board chief David Meates said Sunday that the hospital in Christchurch used seven acute operating theaters, while normally three would operate.
Thirty-eight planned operations for Monday are planned He moved to give room to the victims of the mosque attacks, he said.
In a statement, Meates took the time to tell the New Zealanders to look after them and others.
react normally, "he wrote," Be kind to one another – kindness is contagious. "
This kindness indeed comes from all sides.
Kiwis – the nickname for New Zealand people – who live overseas, have sent love messages disbelief A Seville-based friend who visited us on Saturday described how his phone was constantly lit up with condolence texts from Spain, some of people she barely knew.
People are grateful for the concern, confused, that we are on the receiving end, uncomfortable that such in a community that we believed was safe, horror was triggered.
This should happen nowhere
It was a surreal Weekend Life away from the direct effects of the attacks continues almost as usual: a birthday party on Sunday morning, balloons, candles, little kids dancing and caressing About toys. But also a guest who had to call a colleague for a missing since the attack colleague.
On Friday, my son's kindergarten gave me tips on how to take care of his pet guinea pig for the weekend. On Sunday he sent me an email describing how preschoolers can be helped in the face of Friday's tragedy.
Life is normal and yet so very, very unusual. It feels wrong to celebrate, but just as false, to make a shooter of the world more enjoyable than he already has.
This should not happen here. It should not happen anywhere.
The people I know cling to the hope that this is the work of an insane, delusional individual, that we not only had our head in the sand of hate and bigotry that winds below the surface.
But for me personally there is discomfort. I think back to the nineties, when a family of Muslim Somalis that I knew was repeatedly rejected by homeowners who tried to rent it. I offered to call them, but they insisted that they were Somali refugees. Again and again, this information ended the conversation abruptly.
That was before September 11 and before ISIS.
Anjum Rahman, spokeswoman for New Zealand Islamic Women's Council Anjum Rahman, said on Sunday that she was not surprised by the attack.
Rahman said that for about five years, the council had been using the government for help and protection against increasing discrimination in New Zealand with little success.
At a meeting in 2018, Council representatives talked about the effects of discrimination, the problems in our communities, the rise of the right, and the increasing amount of vitriol we saw online and in person, "she wrote. [19659024] Mourners plant flowers on a wall on Saturday in the Botanical Garden in Christchurch. " src-mini="//cdn.cnn.com/cnnnext/dam/assets/190317172110-nz-shooting-vigil-small-169.jpg" src-xsmall="//cdn.cnn.com/cnnnext/dam/assets/190317172110-nz-shooting-vigil-medium-plus-169.jpg" src-small="http://cdn.cnn.com/cnnnext/dam/assets/190317172110-nz-shooting-vigil-large-169.jpg" src-medium="//cdn.cnn.com/cnnnext/dam/assets/190317172110-nz-shooting-vigil-exlarge-169.jpg" src-large="//cdn.cnn.com/cnnnext/dam/assets/190317172110-nz-shooting-vigil-super-169.jpg" src-full16x9="//cdn.cnn.com/cnnnext/dam/assets/190317172110-nz-shooting-vigil-full-169.jpg" src-mini1x1="//cdn.cnn.com/cnnnext/dam/assets/190317172110-nz-shooting-vigil-small-11.jpg" data-demand-load="not-loaded" data-eq-pts="mini: 0, xsmall: 221, small: 308, medium: 461, large: 781″/>