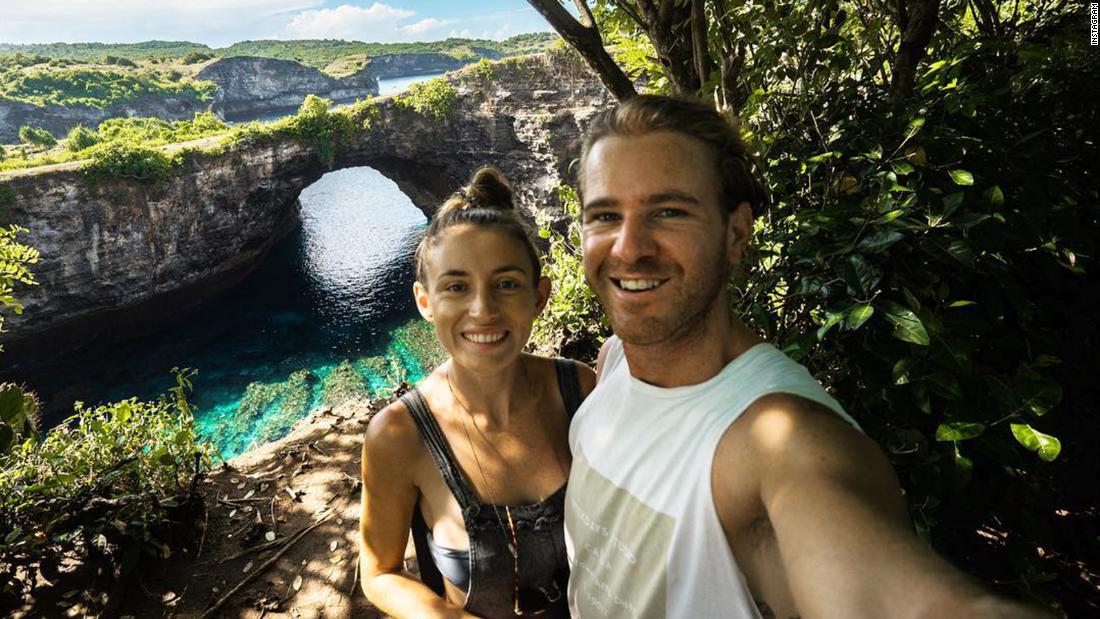 In a statement, the Australian Foreign Ministry (DFAT) confirmed that the Australians Mark Firkin and Jolie King were being held in Iran.
On Thursday, a source noted that the couple was arrested in July for allegedly taking illegal photos with a drone.
The pair often offers drone shots on its YouTube channel, which has 21,600 subscribers. In their most popular YouTube episode, they travel over the Karakoram Highway in Pakistan and have over 150,000 views.
According to her blog, The Way Overland, the couple planned to travel from Australia to Southeast and Central Asia to their final destination, the United Kingdom. The two have also documented their travels on Instagram, where they have 1
9,000 subscribers.
The couple has not posted anything on YouTube and Instagram since the end of June. Her last Instagram posts came from Kyrgyzstan. In their blog, the couple said they wanted to travel through Central Asia and Iran before moving on to Turkey.
In a statement by DFAT on Thursday, the couple's families said they wanted to "bring the couple home safely" as soon as possible. "DFAT provides consular assistance to the couple's families.
DFAT also provides consular assistance to a third Australian citizen in Iran, and is a British-Australian citizen who has been behind bars for almost a year, according to the Australian national broadcaster ABC.
In a statement, a DFAT spokeswoman asked Australian citizens and holders of dual citizenship with Australia to travel or travel through Iran to follow the government's latest travel advice.
According to the Smartraveller website published on the Monday was updated that the latest travel advice for Iran is "Rethink Your Travel Needs" because "there is a risk that foreigners, including Australians, will be arbitrarily arrested or arrested."
The UK Foreign Office would not do the ABC report confirm, however, said in a statement that British Foreign Minister D ominic Raab met with the Iranian ambassador on Wednesday and "expressed serious concerns about the number of citizens detained by Iran and their detention conditions".
Increased Tensions
The detentions are taking place amidst tensions between Iran and the United States and its allies, including Australia and the United Kingdom.
Washington has since the decision of US President Donald Trump to abandon the Iranian nuclear deal in 2018 seeks to use the pressure he calls "maximum pressure" to change Iran's behavior and limit its nuclear ambitions.
The beginning of this year came The tensions between the US and Iran rose to a level that sparked fears over the war, and oil prices rose as investors feared that oil tanker attacks could disrupt broadcasts on the Strait of Hormuz, which passes Iran and is the most important place on the Planet for global oil supply is.
Australia and the United Kingdom are also in tensions Last month, Australia agreed to launch a maritime security mission on the Strait of Hormuz with the United States and the United Kingdom Alistair Burt described the detentions as "hostage taking" during an interview with Radio 4 of the BBC.
"The policy of effective hostage-taking, and so on it makes it very difficult for those who want a different relationship with Iran to take the lead with those who look at it. It is incessantly hostile, "Burt added.
During an interview with Sky News on Wednesday, UK Secretary of Commerce Andrea Leadsom added that reports of detention were "extremely worrying".
"Iran is raising its stake again," said opposition Labor Party legislator Tulip Siddiq in a
post on Twitter
. "This is a wake-up call for our Prime Minister, the government and the ministers for urgent action to bring our innocent citizens home."
Nazanin Zaghari-Ratcliffe, a two-time British-Iranian citizen of Siddiq's constituency in London, has been detained in Iran since 2016 for espionage.
CNN's Matt Egan and Hilary McGann have contributed to this report.