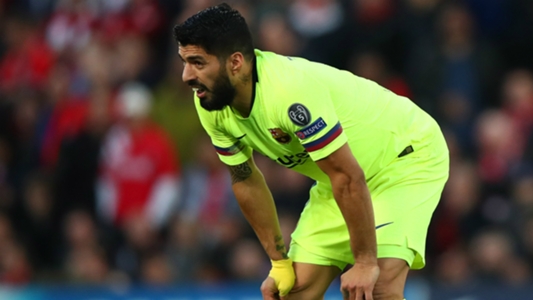 The Uruguayan used social media to underline his professionalism the day after his team's painful defeat of Valencia.
Luis Suarez gave an angry answer to questions about his involvement with Barcelona after he missed the Copa del Rey final because of knee surgery.
The Uruguayan striker had opted for surgery for a meniscal problem in his right knee a few days after leaving the Liverpool Champions League semi-finals.
The year-old failed to play in Barca's last two LaLiga games of the season against Getafe and Eibar and defeated the Copa del Rey on Saturday, beating Valencia 2-1.
There were proposals that Suarez had chosen to prepare for Copa America in Brazil, and that would not have happened had Barca reached the Champions League final, but he did criticized these proposals.
In a statement that was published on Social Media, Suarez described the day after losing to Valencia as a "day of grief and disappointment," insisting however that he was "very proud of all [his team-mates] that everything Possible tried to please our fans ".
He then stated, "I'm not much concerned with clarifying things that are said about me and reaching out to people, but this time, I feel obligated to do so, because I believe that many of the things that are said with bad intent and questioning are my professionalism.
Article below
"This year I started the season with cartilage discomfort that many people already know, and with the LARGE WORK of the medical staff of the club, without it I managed to endure it problem. Thank you very much for your work and your commitment.
Many thanks to all !!! #AlwaysProfessional pic.twitter.com/vtwqeUc0HG

̵

1; Luis Suarez (@ LuisSuarez9) May 26, 2019
"That's why I want to make it clear to all those who want to hurt me that the injury that led me to an operation has absolutely nothing to do with the cartilage, but with a meniscal tear that I suffered in a tie against Liverpool, so I was forced to go through the operating room against my will and to miss the final yesterday.
"Every day since my arrival at this club, I have shown that I am 100 percent, I give everything in every training [session] and in every match for this shield [badge]. Because it has always been that way and my dream is to be here! "