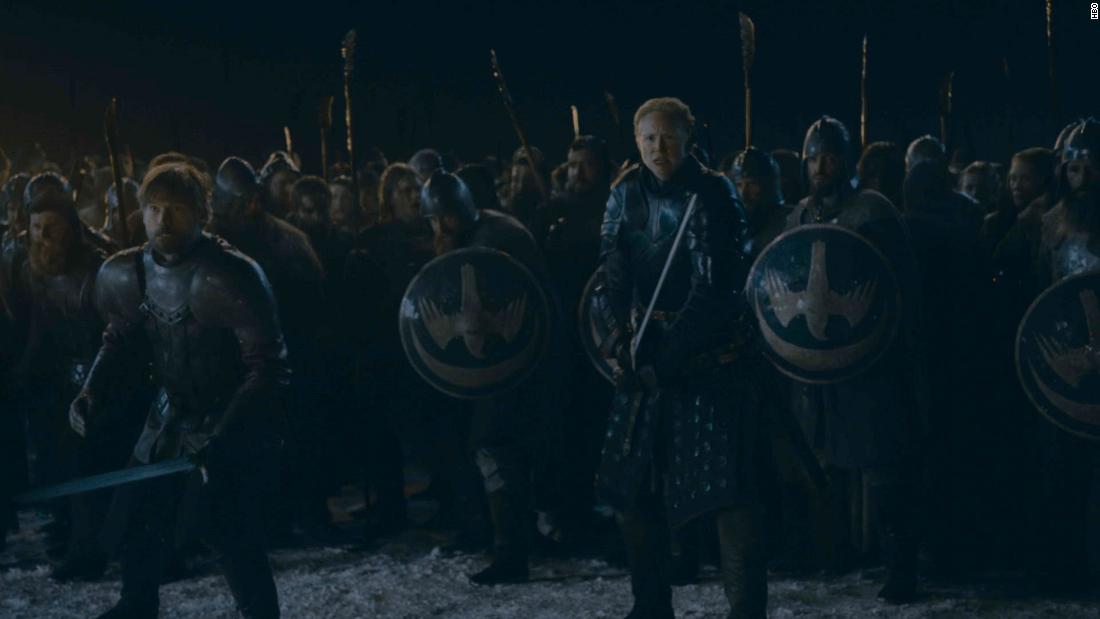 For diehard fans, every new "Game of Thrones" episode is scheduled, but the show on Sunday night is looking forward to an all-time fever.
The creators of the show said that almost the entire episode will be dedicated to an "abandonment" of an epic clash between a patchwork band of his human heroes, located in the northern castle of Winterfell, and an army of undead warriors set up by the unfathomable Night King.
The Battle of Winterfell is the glaring showdown that the entire HBO series has featured since the first season of 2011.
This is why everyone is so excited.
It's supposedly the longest fighting sequence ever made film
The first two episodes of this season were each less than an hour, with minimal bloodshed. This is about 80 minutes ̵
1; pretty much everything from head to head.
The producers of "Game of Thrones" believe that this is the longest sequential combat sequence ever set for a movie.
Director Miguel Sapochnik told Entertainment Weekly he tried to find a longer fight scene in a movie. Next was the 40-minute siege of Helm's Deep in "The Lord of the Rings: The Two Towers" of 2002, which has long been a gold standard for epic film fights.
The election of Sapochnik as a director has also raised expectations. He made "Hardhome" and "Battle of the Bastards" – undoubtedly the two most intense and acclaimed action sequences the show has ever made.
The episode required eleven weeks of night photography in Northern Ireland, where many "Thrones" are turned.
"What we asked the production team and the crew this year was never really made on TV or in a movie," co-executive producer Bryan Cogman told EW. "This final clash between the Army of the Dead and the Army of the Living is completely unprecedented and relentless, and a mix of genres even within the battle, there are sequences built within sequences," he added.
"It's exhausting, but I think it'll blow everyone away."
Some favorite characters will die
Unless you were really connected to the little Ned Umber. So far, no one has died of consequences in this past season.
That will change soon.
Two dozen main characters stand in Winterfell's path, and they are unlikely to survive. Who is most at risk? 19459002
[1945659]
or achieving a kind of closure that made it expendable.
Brienne was knighted by Jaime (sobs, sobs), bringing her complex mutual admiration to a natural end. It would not shock anyone to watch them die gallantly on the battlefield.
Ser Jorah has survived numerous battles, has been cured of grayscale, and now wears a Valyrian Steel Sword. He does not have much to do anymore. He has repeatedly sworn his life to protect Daenerys so that a heroic sacrifice would seem appropriate.
Beric has been killed six times and brought back to life by Thoros. Thoros is dead now. Goodbye, Beric.
Gray Worm vowed to bring his love Missandei to their native island Naath to scribble on the beach after the war. Never plan on war! It's the equivalent of "I'll be right back" in a horror movie.
Varys is just a way of hanging around. There is a surplus of advisers in Winterfell, and the show's authors do not seem to know what to do with him.
Gendry made kite weapons for all and helped Arya lose her virginity. Good job, Gendry! His work is done.
Theon volunteered as a bodyguard for Bran, who will be a human bait for the Night King. Good luck with it.
Then there's all the people – Sansa Tyrion Gilly etc – who are supposedly seeking refuge in the crypt under Winterfell. Everybody keeps saying how safe they will be down there, which is not very safe at all according to "Throne" logic. And do not let the possibility of the White Walkers breaking through the crypt and reviving all those dead Starks.

Three episodes survive after the Battle of Winterfell. The fact that this battle is coming now – and not during the last or penultimate episode – is extremely significant.

We can assume that the White Walkers will not obliterate everyone in the North, because nobody wants a night. Cersei finals.

As we suspected all along, the show's ultimate clash is unlikely to be with the Army of the Dead. It is between the ambitious people of Westeros who will eventually sit on the Iron Throne.

Yes, anyone who survives will have to do with Cersei who sips wine and assembles his army hired in the south. And if they're both alive, Jon Snow and his queen / lover / aunt / rival Daenerys also have a lot to do.

Then there is a popular fan-theory that the Night King is not even in Winterfell – that he has split his huge army in half and is traveling with his zombie kite to King's Landing, where one Million unwilling city dwellers are waiting to be turned into weights.

Due to their former Staredowns beyond the Wall, it is inevitable for Jon Snow and the Nightking are on their way to a solitary battle for death. But for Game of Thrones, which was characterized by confusing expectations, this could be too predictable.

One thing is certain: After Sunday, Westeros will never be the same again.
Source link