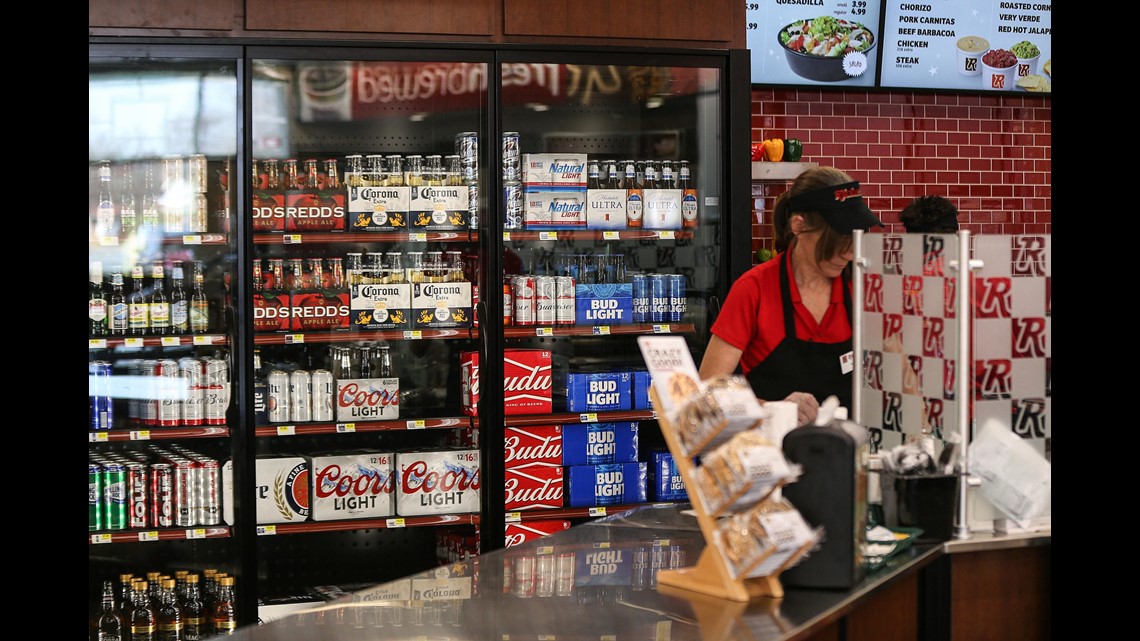 Cold beer is stored in refrigerators behind the counter at Ricker's Convenience Store in Columbus, Indiana, on Thursday, March 23, 2017. The waiters have to bring the beer to a table in the restaurant of the store. After the chain's lawyers recognized that the shops were good for selling cold beer, Ricker's and one in Sheridan, Indiana, were given the necessary licenses to serve cold beer for guests to eat in the restaurant or take away. The Columbus location also sells alcohol for consumption outside the restaurant. For many in the liquor industry, Ricker's use of this loophole seems like an attempt to enter an area that was previously the domain of liquor stores that are subject to additional regulations.
Jenna Watson / IndyStar
INDIANAPOLIS ̵
1; – Convenience stores pestered by Indiana's unusual liquor laws may have found another way to offer their customers cold beer – somehow.
Gas stations will sell reusable "Chill Indiana Bags" that "cool" beer when the customer reaches their destination.
For years, Indiana gas stations and supermarkets have been thwarted by a law requiring them to sell their beer at room temperature. Only liquor stores can offer beer for sale.
Convenience stores can not sell cold beer, so they sell bags that can quickly make beer cold.
Kaitlin Lange / IndyStar
Chill bags are the Indiana Petroleum Marketers and Convenience Store Association trying to attract attention under Indiana's laws and give customers a way to enjoy cold beer.
"Want cold beer? Say goodbye to styrofoam coolers and bulky ice packs, and fortunately goodbye to overpriced horror shops," an advertisement for the New Bag says:
The suggested retail price is $ 6 , 99, and customers can take the bags to any participating location for free ice cream.
Retirement Planning: The belief in social security myths could make you poorer in retirement
More: Nationalburger Tag: Juicy Burger Offers Monday collides with Memorial Day
More: Patriotism on Wheels: Cars as Painted American Flags
During the 2018 legislature, lawmakers approved the sale of alcohol on Sunday, a major change for a state that often joked because it ve However, a provision that allowed petrol stations to sell cold beer was quickly shut down.
Legislators will investigate possible changes to Indiana's liquor laws this summer and fall under commission.
"This should not be seen as a solution to our fight against cold beer as this fight continues." There is no reason for public policy to allow liquor stores to sell cold beer, but the right to food and convenience stores denying, "said Scott Imus, Executive Director of IPCA. "This innovative approach does not break the cold ban because the customer cools the beer after the purchase."
Chill bags are not the first attempt to circumvent the law.
In 2016, a gas station chain started selling burritos in a small restaurant area in their stores. That allowed the chain, Ricker, the kind of liquor license that restaurants use to sell alcohol, including cold beer. As soon as lawmakers found out they drafted legislation to prevent Ricker from selling cold beer, a debate about Indiana's liquor encouraging laws.
In the debates, the owners of convenience stores emphasized that the sale of cold beer was important in order to remain competitive.
"Our business has evolved over the years and has remained competitive," said Chuck Taylor Jr. Family owns 22 convenience stores under the Chuckles brand. "Why are Indiana beer laws stuck in the 1930s?"
Copyright 2017 USATODAY.com
(function () { var modules = [ 'error', 'page', 'grid', 'desktop-header', 'toolbar', 'weather-summary', 'navigation', 'video', 'throbber', 'utils', 'fitted-headline', 'forecast', 'article', 'continuous-scroll', 'sharing', 'gallery', 'radar-gallery', 'forecast', 'article-crosspromo', 'featured-videos', 'chapter-slider', 'pollen', 'olympics-live-stream', 'three-day-outlook', 'current-weather', 'search-results', 'tracking', 'chapter-progress', 'progress', 'countdown-clock', 'longform-explore', 'media-gallery', 'social-sharing', 'weather-alerts', 'weather-interactive-radar', 'closings', 'tealium', 'alert-bar', 'cookie', 'sticky-sharing', 'live-indicator', 'sharethrough', 'taboola', 'elections', 'just-for-you', 'just-for-you-li', 'olympics-tv-listings', 'headline-list-with-abstract', 'text-only-headline-list', 'story-snapshot-with-abstract', 'snapshot', 'story-snapshot', 'special-content-headline-list', 'notfound', 'linked-image', 'follow-story', 'article-recirculation', 'linked-image-with-title', 'newsletter-signup', 'linked-image-with-title', 'newsletter-signup-multiple', 'live-videos', 'breaking-news', 'weather-alerts', 'closings', 'media-gallery-alt' ]; require.config ({ & # 39; baseUrl & # 39 ;: & # 39; / & 39 ;, & # 39; Deps & # 39 ;: modules, "WaitSeconds": 30, & # 39; bundle & # 39 ;: { "Modules": modules }, "Ways": { & # 39; jquery & # 39 ;: & # 39; scripts / jquery-3.1.1 & # 39 ;, & # 39; jwplayer & # 39 ;: & # 39; content / player / jwplayer.js? version = 2.8.0 & # 39 ;, & # 39; Modules & 39 ;: & # 39; Views / dist / scripts / modules.min.js? version = 2.8.0 & # 39 ;, "facebook": "https://connect.facebook.net/en_US/all", & # 39; twitter & # 39;: https: //platform.twitter.com/widgets&#39 ;, Shine & # 39 ;: & # 39; content / libs / slick / slick.min & # 39 ;, "dotdotdot": "content / libs / dotdotdot / jquery.dotdotdot.min", & # 39; jqueryui & # 39 ;: & # 39; calls / lib / jquery-ui / jquery-ui.min & # 39 ;, "Comscore": "content / libs / comscore / comscore.min" & # 39; stickyfill & # 39 ;: & # 39; content / libs / stickyfill / stickyfill.min & # 39 ;; }, "Shim": { & # 39; Facebook & # 39;: { & # 39; exports & # 39 ;: & # 39; FB & # 39; }, & # 39; chirp & # 39 ;: { "Exports": "twttr" }, & # 39; jwplayer & # 39 ;: ['jquery'], "jqueryui": { & # 39; missed & # 39 ;: ['jquery'] }, & # 39; slick & # 39 ;: ['jquery'], "dotdotdot": ['jquery'] } }); }) ();
Source link