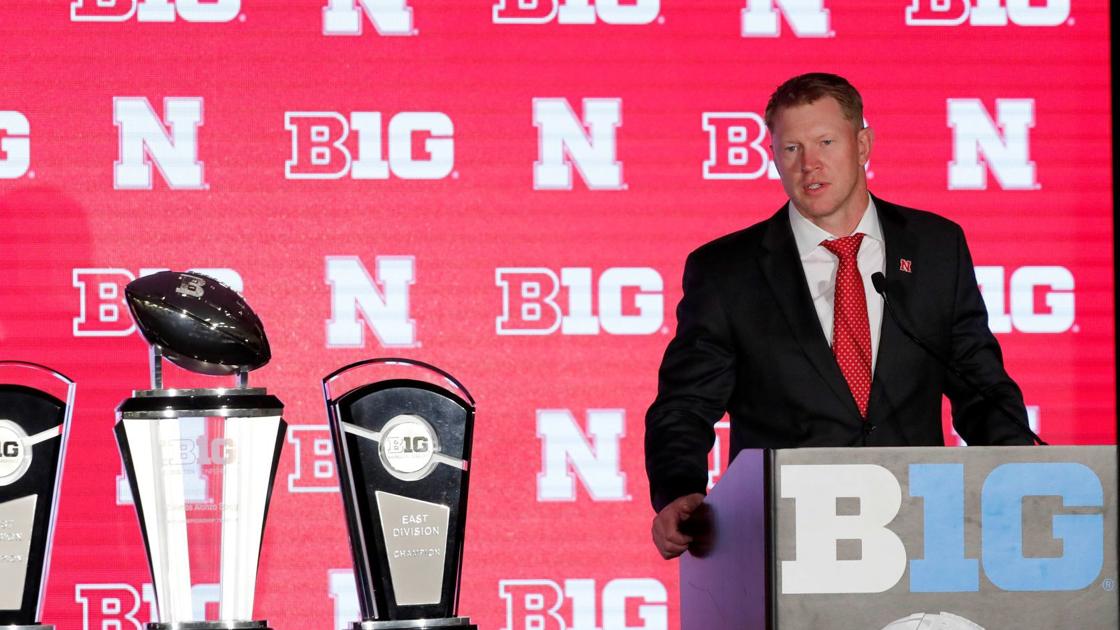 We are close. Nebraska's home game against South Alabama on 31 August is approaching. The autumn camp starts on the 2nd of August.
But first there are the Big Ten Media Days. It is the warm-up phase before kick-off.
Scott Frost and the Huskers are in Chicago on Thursday and there is a lot of preparatory hype around the second year for the NU.
Check here during the Big Ten Media Days for how we offer you up-to-date coverage.
1

1:15 am: The Nebraska contingent had trouble arriving in Chicago on Thursday morning. The original flight from Lincoln to Chicago Midway was diverted to Peoria, Ill., As storms hit the Chicago area, causing significant delays in both Midway and O & Hare.
The contingent flew from Peoria to Gary, Indiana, and landed just before 11am. That would probably get them to the city center in time for the scheduled lunch conference from Frost. If they are not here at noon, frost slips back later in the trainer lineup.
Overall, a long morning for the NU continent. but it should not throw too much out of the schedule.
Delany notes: Jim Delany, the Big Ten commissioner, is in office on January 1, addressing the reporters here in Chicago on Thursday morning.
* According to Delany, the Big Ten have no intention of returning from a nine-game league program to an eight-game model, even as pressure increases. The league has been excluded from the College Football Playoff for the past two years.
Similarly, Delany said he would support a recent proposal from Big 12 Commissioner Bob Bowlsby, who said teams would have to play 10 or more Power Five opponents per season to qualify for the playoffs.
Delany said he expected a smooth transition from him to future Commissioner Kevin Warren. Warren will start in September and work alongside Delany until January before assuming full responsibility.
"I do not think it will be embarrassing," Delany said. "I am incredibly impressed with what he has done in his life, his ability and the person he is, and I think he fits in well."
* Delany supports a standardized weekly injury report for players, but said the NCAA had investigated the problem and decided not to accept it.
* BTN President Francois McGillicuddy said the network is planning an "expanded on-site coverage" of Nebraska's home game against Iowa on Black Friday. It's the first time the game has been played on BTN, and McGillicuddy said the network is excited to have the game as part of its package this fall.
12:20 pm: Scott Frost, coach of Nebraska, was strangely asked about Nebraska's recruiting efforts in Michigan. Frost said the Huskers did not focus on specific areas in the country. The Huskers will look to Jamaica or Kazakhstan for good players, Frost said.
12:22 pm: Three questions in, Frost was asked about the expectations and parallels to his second year at UCF (a 13-0 season).
"These two teams have nothing to do with each other and I will never make comparisons," said Frost. "I do not think our children are under pressure, I think they're excited to play."
13:09 : Minnesota coach PJ Fleck quoted the temperature of the Big Ten West as saying One I Can Feel How Nebraska Comes.
14:04 : Frost said it's unclear whether Rutger's tight-end transfer Travis Vokolek will attempt to relinquish an immediate renunciation of the game. 14:05 : Frost said he does not think a decision on Maurice Washington's game status will have to be taken until the season opener on August 31. Washington has been working with the squad this summer.
2: 08 pm : Frost does not want to get into Cam Jürgens' current state of health, but reiterated that he can be special when he's healthy.
15:15 pm : Nebraska's Mo Barry on high expectations of the team dur the media: "If someone on the team thinks we're rock stars, I do not know what he's thinking. I do not think so either. [194559003] 15:18: Scott Frost on Huskers' delays on Thursday: "It gave me a chance to watch the British Open for an hour. [194559009] 15:21: Frost said there are many outstanding leaders on the defensive side of the ball.
15:23 pm: Frost said he is a mandatory one-year suspension for players who want to move to other schools. "Having children that come into question immediately scares me," he said. "I think we are coming to a point where there is a free agency in college football and teams are recruiting players from other teams, and it can get very chaotic."
BTN will broadcast more than 14 hours of Chicago program, including press conferences. BTN will also have coaches and players visiting the BTN Studio for BTN Live: Football Media Day Special.