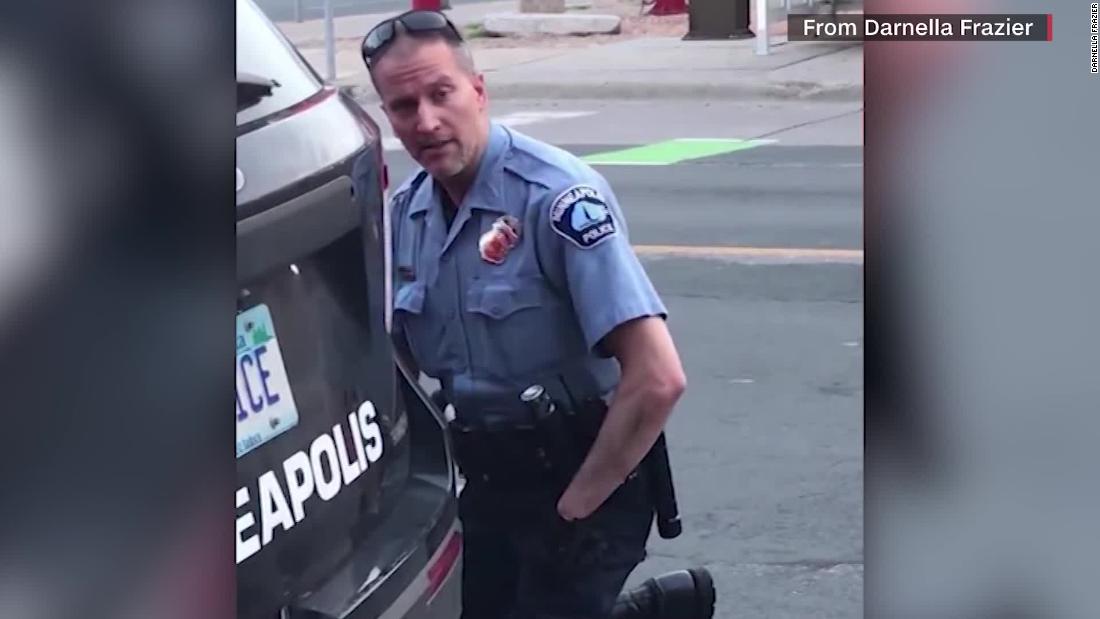 Floyd sobbed when the officers initially pulled him out of the vehicle he was in, and at some point the officer Derek Chauvin appears to be using his knee Lean on Floyd's neck in pressure. Floyd's last words, which could not be seen in a previously published transcript, were: "I cannot breathe."
The two videos watched by CNN on Wednesday begin when Minneapolis police officers Thomas Lane and J. Alexander Kueng respond to a call for a "fake bill" used in a local market.
Within 36 seconds of speaking to a store clerk, officers stand at the door of the car that George Floyd was in and shout, "Now put your hands up!" after a first tap with a flashlight. Floyd sobs the officers sobbing and at some point lays his head on the steering wheel.
About three minutes after the video started, Floyd was violently pulled out of the car when the officials tried to handcuff him. This happened after he asked the officers sobbing to lead him to the patrol car.
The video seen by CNN shows that when officers Lane and Kueng try to put Floyd in the patrol car, a big fight arises. Kueng physically tries to push Floyd into the car while Lane goes to the other side of the vehicle and reaches for him to pull him while Floyd screams through and through. This is the first "I can't breathe" that we hear from Floyd with a gurgling breath.
Eventually Floyd fails on Lane's side and at this point the other officers, Thao and Chauvin, appear on video, and then Chauvin, Kueng and Lane work to hold Floyd back. This is when Floyd falls into the familiar spot seen in the cell phone video, and about 11 minutes and 23 seconds in Lane's body camera, Chauvin's knee goes on Floyd's neck.
Floyd has been tied up for almost 8 minutes and while Chauvin is already reluctant, he seems to be increasing the pressure on Floyd's neck and rolling his torso from an upright position.
About 16 minutes after the footage started, Floyd's last words can be heard: "Man, I can't breathe." A little more than 9 minutes after the knee hit Floyd's neck, paramedics are seen, and a minute later Floyd's limp, completely motionless body is loaded into the ambulance.
The Minneapolis Police Department has not released a video of the incident, which is part of an active investigation by the Bureau of Criminal Apprehension into the actions of officers responding to a call for help.
The judge provided body cam recordings
Lane and Kueng's police camera footage was filed with the court last week by Lane's lawyer to prove Lane's motion to dismiss the former official. However, the court only published the written records.
Hennepin's district judge Peter Cahill, who heads the cases against four former Minneapolis police officers accused of Floyd's death, released Lane and Kueng's body camera footage to the public on Wednesday.
Cahill has so far refused to allow news organizations to publish the footage. A coalition of media companies, including CNN, submitted an application on Monday demanding the immediate release of the two body-worn camera videos.
Floyd died on May 25 after Chauvin knelt on Floyd's neck for almost eight minutes. Lane and Kueng had helped hold Floyd back, and former officer Tou Thao was nearby.
Chauvin is charged with second degree murder, third degree murder, and second degree manslaughter. Lane, Kueng and Thao are accused of supporting and promoting second degree murder and second degree homicide.
All four officers were released.
Chauvin's lawyer declined to comment on Wednesday.
Lane asked twice if Lane's lawyer Earl Gray asked if Floyd should be on his side. Chauvin, a training officer and 20-year-old veteran, told Lane to keep him there until the ambulance arrived, according to the request. Chauvin assured Lane that Floyd was fine and Lane could see no "visible deliberate infliction of harm," the request said.
Gray said in the request that his client did not know that Chauvin had committed a crime while holding Floyd back. The lawyer said the decision to withhold Floyd was reasonably justified according to the request.
Source link