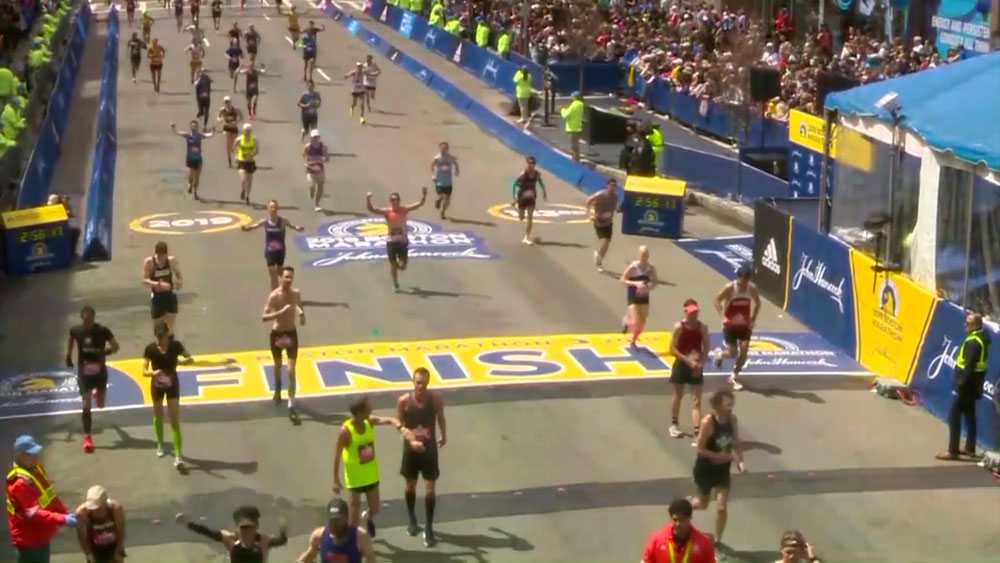 The Mayor of Boston, Marty Walsh, announced on Thursday the cancellation of the 2020 Boston Marathon and said the race was "not feasible this year because of the coronavirus pandemic." The 124th edition of the annual race was originally scheduled for April 20 and was postponed to September 14 in March. Throughout the month, as the city and state pushed ahead with reopening plans, the re-scheduled date was an option. Walsh said Thursday that officials agreed that the city and other communities along the route were unable to host the race safely. "The traditional one-day run of the 124th Boston Marathon is not possible this year for public health reasons. There is no way to keep this unusual racing format without getting a large number of people around. While our goal and hope was to make progress, contain the virus and restore our economy, this kind of event on September 1
4 or at any time this year would not be responsible or realistic, "said Walsh. The mayor estimated that the marathon would normally bring an event to an inflow of $ 200 million into the economy. "Our top priority continues to be protecting the health of the community and our employees, participants, volunteers, viewers and supporters," said Tom Grilk, C.E.O. the Boston Athletic Association. BAA officials said registered participants will be offered refunds and a "virtual" edition of the race will be organized. The virtual race can be carried out by participants at any time between September 7th and 14th. Participants who can demonstrate that they have completed 26.2 miles within six hours will receive a medal, bib, and jersey. The race typically attracts more than 30,000 runners from around the world, from decorated professionals and Olympic athletes to amateur runners who collect money and raise awareness of charities along the famous 26.2-mile route through eight communities. The marathon has been completely canceled or postponed only once – in 1918, when a military relay race took place during the First World War. "This is a challenge, but the Boston Marathon is about overcoming tough challenges. It is a symbol of the resilience of our city and our Commonwealth," said Walsh. "So it's our job to dig deep like a marathon runner like 2013 and keep that spirit alive." The BAA said it also canceled its 5 km, which was originally scheduled for April 18 and planned for September 12. As of Thursday, 12,634 COVID-19 cases were reported in Boston. Of these, 627 patients died and 6,272 recovered. PHNjcmlwdCBpZD0iaW5mb2dyYW1fMF85MTUyMTg3My03NmRhLTQ0ZmUtOTA0Ny1mMTllZWFlZGFjNmQiIHRpdGxlPSJDb3JvbmF2aXJ1cyBpbiBNYXNzYWNodXNldHRzIiBzcmM9Imh0dHBzOi8vZS5pbmZvZ3JhbS5jb20vanMvZGlzdC9lbWJlZC5qcz9yeXoiIHR5cGU9InRleHQvamF2YXNjcmlwdCI + + PC9zY3JpcHQ new data are released daily at 16:00
BOSTON –
The Mayor of Boston, Marty Walsh, announced on Thursday the cancellation of the 2020 Boston Marathon and said the race was "not feasible this year because of the coronavirus pandemic."
The 124th edition of the annual race was originally scheduled for April 20 and was postponed to September 14 in March. Throughout the month, as the city and state pushed ahead with reopening plans, the re-scheduled date was an option.
Walsh said on Thursday that officials agreed that the city and other communities along the route were unable to host the race safely.
"The traditional one-day run of the 124th Boston Marathon is not possible this year for public health reasons. There is no way to keep this unusual racing format without getting a large number of people around. While our goal and hope was to make progress, contain the virus and restore our economy, this kind of event on September 14 or at any time this year would not be responsible or realistic, "said Walsh.
The mayor estimated that the marathon would normally bring an inflow of $ 200 million to the economy.
"Our top priority continues to be protecting the health of the community and our employees, participants, volunteers, viewers and supporters," said Tom Grilk, C.E.O. the Boston Athletic Association.
BAA officials said registered participants will be offered refunds and a "virtual" edition of the race will be organized. The virtual race can be carried out by the participants at any time between September 7th and 14th. Participants who can demonstrate that they have completed 26.2 miles within six hours will receive a runner's medal, bib, and jersey.
The race typically attracts more than 30,000 runners from around the world, from decorated professionals and Olympic athletes to amateur runners who collect money and raise awareness of charities along the famous 26.2-mile route through eight communities.
The marathon has only been completely canceled or postponed once – in 1918, when a military relay race took place in the First World War.
"This is a challenge, but the Boston Marathon is about overcoming tough challenges. It is a symbol of the resilience of our city and our Commonwealth," said Walsh. "So it's our job to dig deep like a marathon runner like 2013 and keep that spirit alive."
The BAA announced that it has also canceled its 5 km, which were originally scheduled for April 18 and postponed for September 12.
---
As of Thursday, 12,634 COVID-19 cases were reported in Boston. Of these, 627 patients died and 6,272 recovered.
New data are published daily at around 4:00 p.m.
Source link