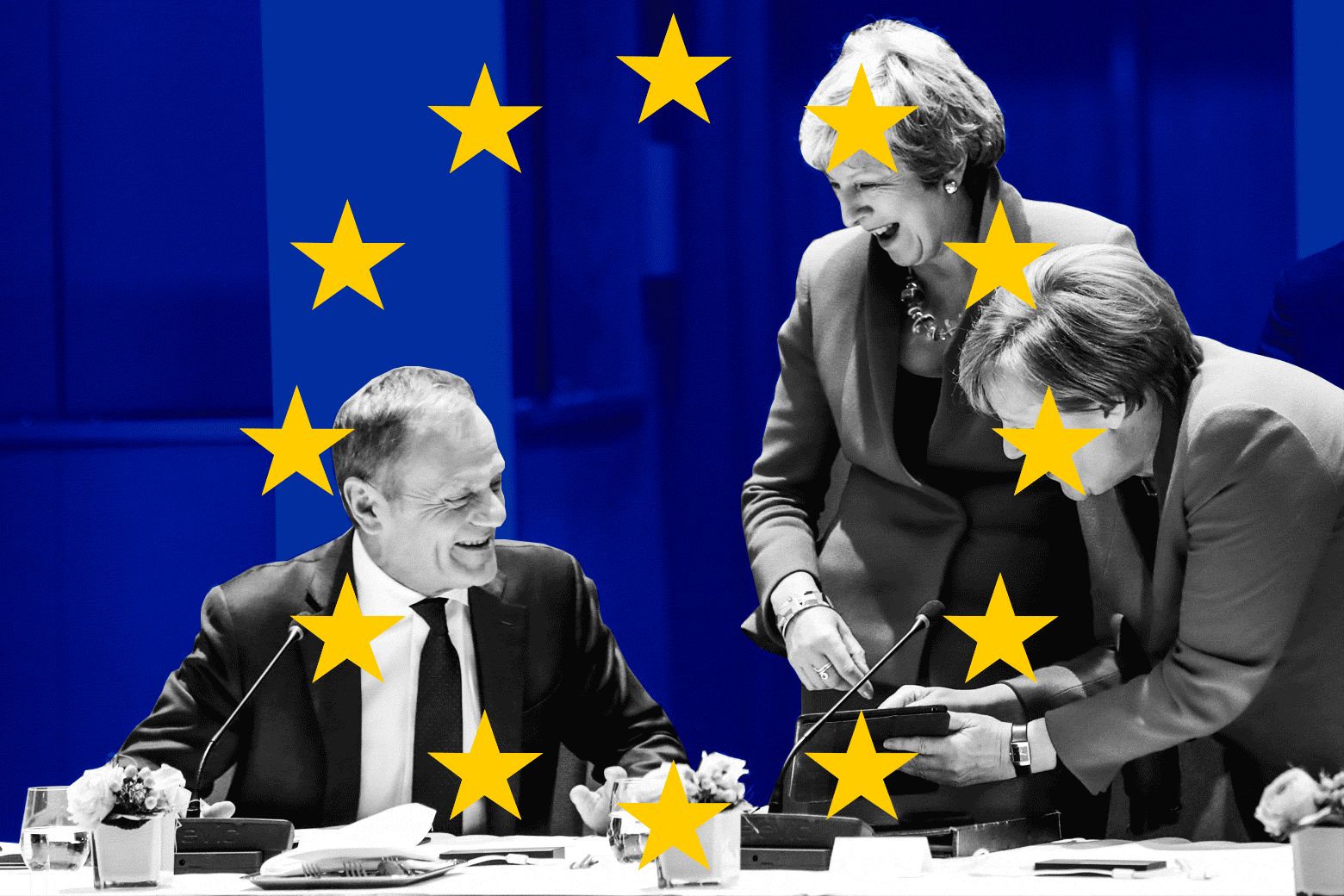 Brexit will continue! This is the big news from the Brussels summit which marks the beginning of a new phase in the United Kingdom's tortured efforts to extricate itself from the European Union. In recent days, the question has arisen as to whether this would be the "short" extension that Theresa May demanded, or a "long" extension of nine to twelve months that European leaders increasingly felt was necessary. It was a kind of medium-sized: The new date of Brexit is October 31, so in six months.
Throw out your flowcharts – there are no maps for the direction we're going now.
Today's Summit : May flew to Brussels on Wednesday to demand a delay in the Brexit deadline of 12 April. This date itself was an extension of the original deadline of 29 March.
In her speech to the heads of state and government of the 27 other EU Member States, May called for an extension until 30 June, the last possible date on which Britain could leave without participating in the forthcoming elections to the European Parliament. This date was already more or less declined before May boarded the plane, and May signaled on her arrival that she would be open to a prolonged "flextension" that leaves her plenty of time to get her controversial withdrawal agreement through parliament and allow Britain to go straight after.
After May filed her case, she had to leave the room, while the other leaders ate shells and judged their performance. They were reportedly unconvinced that in cross-party talks with Labor Party leader Jeremy Corbyn, they had made enough progress to give their consent until May.
Most leaders preferred a long extension, but Frenchman Emmanuel Macron, who made his best impression of Henry Fonda, argued to the other 26 leaders in the room that the extension should be short in order to end the Brexit , Fearing that a British-born Britain would turn out to be a spoiler in the coming months, the French said in the final deal that Britain would "obey the rules and act as an EU member."
In the end, six months were reached as a compromise. A Brexit could take place earlier, if May can get her approval by the parliament. Also, the President of the European Council, Donald Tusk, did not rule out another extension in October, so we may need to do it again.
Despite increasing frustrations with the British, the potential impact of a "no-deal" exposure on UK trading partners – Germany alone could, according to a study – lose up to 100,000 jobs, as well as the fears associated with a tough process are the limit in Ireland, it is worth giving the British a little more time to find out.
Today's WTF is happening now?: The declaration coming out of the summit leaves the United States with the same three options it has had for some time. The parliament can pass the resignation agreement of May, which is now rejected three times. It can leave the EU without a deal. Or it can completely revoke Brexit.
May still hopes that she will receive the first option by May 22, the day before the EU elections, and will continue talks with Labor Party leader Jeremy Corbyn to achieve this ,
Labor wants the government to seek a permanent customs union with Europe to avoid trade disruption and keep the Irish border open. This demand got a boost today when Irish Prime Minister Leo Varadkar said that Britain, as a member of the Customs Union, could have a say in foreign trade agreements with other countries. However, the Customs Union is still a red line for May and is bitterly rejected by Brexiteers. If the clock is re-hired, presumably the pressure of newly encouraged survivors will increase to hold a new referendum or referendum, although there would not be much time for the organization.
A no-deal Brexit is still off the table, but right now it looks pretty unlikely.
Today's Power Struggle: Just in time for the return of Game of Thrones the plan to follow May has begun.
The PM lost most of their support for failing to deliver Brexit on time – their application for renewal was approved thanks to Labor's vote – and the Conservative Party is likely to defeat local elections on May 2 Unfortunately for the Tories, they stay with her: May survived a party vote of no confidence in December, which means they can not hold any more until December after the Brexit deadline.
But May will not necessarily last that long. She said to the House a few weeks ago that "as Prime Minister, I am unwilling to postpone Brexit until June 30," indicating that she would resign if it took longer. She could also resign after the elections of 2 May. On Wednesday, she refused to ask Brussels, at the request of Laura Kuenssberg, the BBC, if she would remain Prime Minister if she could not deliver Brexit by June.
If she can actually reach an agreement with Corbyn to accept the resignation contract, she could resign afterwards. Finally, in March, she offered to resign if Parliament had given her consent, even though this was in very different circumstances and it is not clear whether the offer still exists.
When May finally resigns, alone or under pressure, at least twelve ministers are ready to fight for their job, with leaders such as former Foreign Minister and Arch-Brexitian Boris Johnson, Interior Minister Sajid Javid, and the former Brexit Secretary Dominic Raab.
Today in Ease: Angela Merkel laughs by May and Donald Tusk with a photo on her iPad:
It turned out to be a funny German joke about the similarity her jokes were jackets.
Days until the next deadline: 205
Help us continue to handle the news and topics that are important to you – and
get ad-free podcasts and bonus segments,
Member-only content and other great benefits.
Join Slate Plus