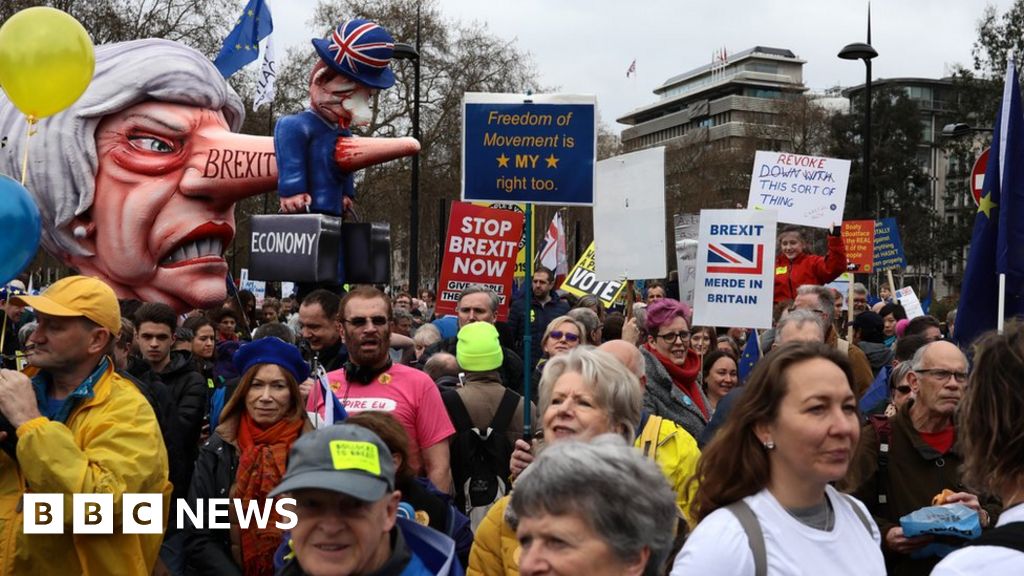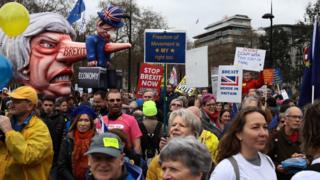 Tens of thousands are marching through central London, calling for another EU referendum as MEPs seek a way out of Brexit deadlock.
Demonstrators of the "Put it to the People" campaign march from Park Lane to Parliament Square before gathering in front of Parliament.
It comes after the EU has agreed to delay Britain's exit from the EU.
PM Theresa May has said that she will give up plans for another vote on her Brexit deal if there are not enough MPs there to support it.
If this agreement is not passed by MEPs, the UK will have to come up with an alternative plan or leave the face without a contract on April.
A record-breaking online petition on Parliament's website calling for the repeal of Brexit by revoking Article 50 has received more than 4.1
8 million signatures.
Liberal Democrat MEP Layla Moran said the petition could "give oxygen" campaign for another Brexit referendum.
Speakers at the rally include Labor Vice-President Tom Watson, Scottish Prime Minister Nicola Sturgeon, London Mayor Sadiq Khan, former Tory and Independent MP Anna Soubry, and former Attorney General Dominic Grieve.
Ms. Sturgeon said it was now "the moment of maximum opportunity" to avoid a no-deal Brexit.
Mr Watson is expected to be promised to support Mrs May's agreement if she agrees to hold a referendum on it.
He is expected to say, "I have come to the reluctant view that this and the only problem can be solved. In the eyes of the public, legitimacy has the legitimacy that people sign it themselves."
Ms. Soubry told the BBC, "It's good to see Tom Watson on the march today … I honestly believe this is the only way forward."
She added, "It's unbearable Situation in which we find ourselves, and I'm afraid Theresa is the problem.
"I'm not saying the government should go, because that's the last thing we want, but I think she has to go, and we need a temporary prime minister who can call on the British people to put the country first – that's what we are all going for today, a plebiscite.
Ms. Soubry also said that Ms. May had made a "desperately bad mistake" blaming Brexit's delay on MEPs in her televised speech on Wednesday.