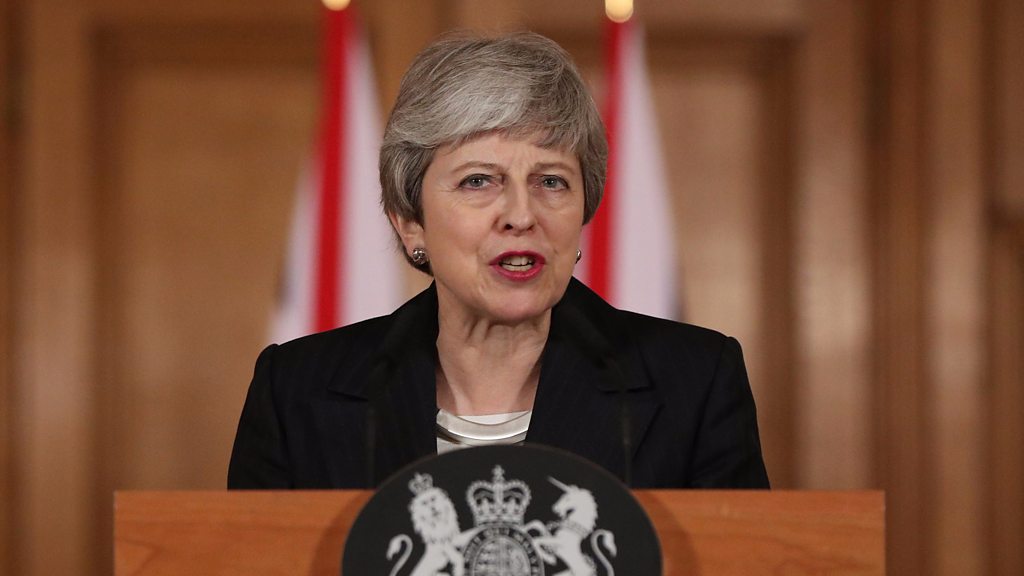 Theresa May talked to the public directly about Brexit: "I'm on your side."
The PM said downing Street people are "tired of war and political games," and it was "high time" for MPs to take a decision on what to do next. [19659004] Earlier, Ms. May had written to EU Council President Donald Tusk, requesting that Brexit be postponed until June 30.
She said the shift was a "matter of great personal regret."
The Prime Minister reiterated that he was not prepared to extend Brexit until then ̵
1; despite appeals from some MPs for a longer extension to give time for a change of direction.
The UK will leave the EU on 29 March on 29 March, unless the law is changed.
All other 27 EU members would have to agree to an extension after that date.
Mr Tusk said he believes the EU would agree to a short extension, but only if the resignation contract negotiated by Theresa May is signed by MPs next week.
It has already been rejected twice.
Time to Decision
In her statement, Ms. May said, "I am absolutely convinced that you have enough of the public."
"They are tired of the warlike struggles, tired of the political games and the Arcane Procedural series, tired of MPs who talk about nothing but Brexit, if you have real concerns about our children's schools, our National Health Service and the knife crime.
"You want that I agree with that, I'm on your side."
The Prime Minister said it was "time for MPs to decide" if they wanted to leave with their deal, not a deal If they did not want to go at all – the latter warned, public confidence in politics could cause "irreparable harm".
"So far, Parliament has done everything possible to avoid making a decision," said Ms May.
"An application for amendment and an amendment after an amendment was tabled without Parliament having decided what it wants All Members were ready to say what they did not want. "
She appealed to MPs to support their deal and told the public: "They just want us to keep going and that's what I really want to do."
Source link