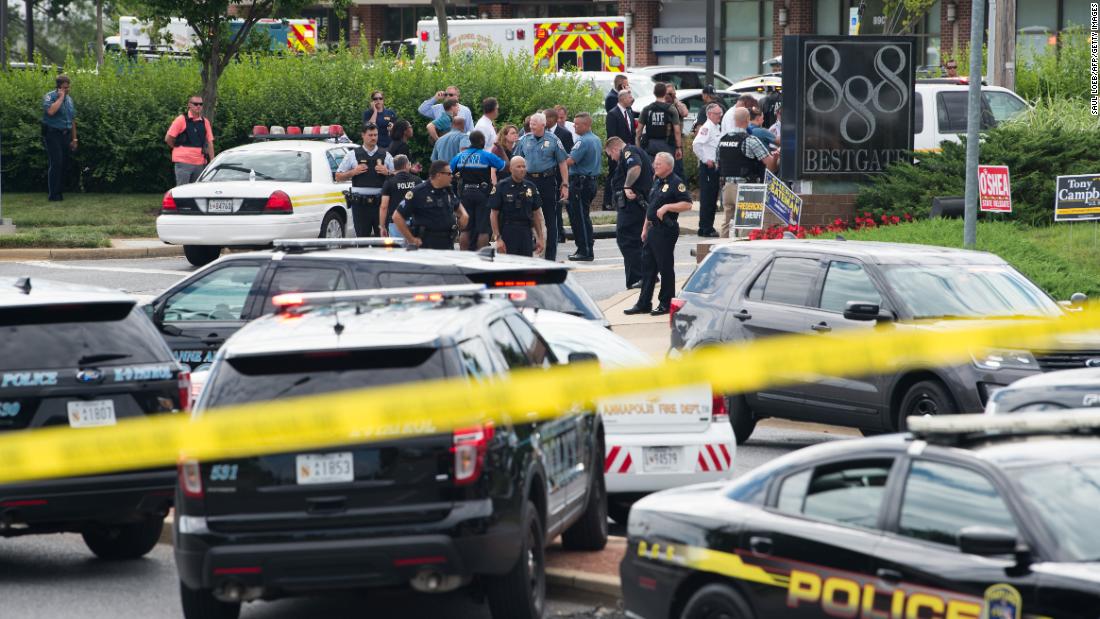 Jarrod Warren Ramos, the suspect in what the police called a "targeted attack" on the newspaper Annapolis, Maryland, was indicted in five court cases for first-degree murder.
Ramos, 38, is expected to have a bond hearing on Friday at 10.30 ET in Annapolis.
On Thursday, the shooter entered the building housing the Capital Gazette, armed with a shotgun and smoke grenades, and opened the fire, police said. The suspect was found under a desk in the building, Anne Arundel County Executive Steven Shoe told CNN. He was detained in police custody and was interviewed by detectives on Thursday night, said Anne Arundel's deputy police chief, Bill Krampf.
The five who were killed are: Robert Hiaasen, 59, a deputy editor; Gerald Fischman, 61
, editor; John McNamara, 56, an employee writer; Rebecca Smith, 34, a saleswoman and Wendi Winters, 65, who has worked in special publications.
Three others were taken to hospitals after the attack.
Capital Gazette: "Yes, we make a damn newspaper"
Hours after the shooting, the Capital Gazette, a newsroom in mourning, published a newspaper with a front page containing the photos of the five Employees who were killed.
"We are heartbroken, devastated, our colleagues and friends are gone, no matter how deep our loss is, compared to the grief felt by the families of our friends" Capital editor Rick Hutzell quotes history on his front page.
The shooter fired through the Newsroom's glass door, Phil Davis, a Capital Gazette reporter tweeted shortly after filming. "There is nothing more terrible than hearing that several people are shot while sitting under your desk and listening to the revolver being reloaded," he wrote.
The newspaper, which was hit by the attack, tweeted defiantly on Thursday: "Yeah, we'll release a damn paper tomorrow."
Several coworkers and reporters from sister newspaper The Baltimore Sun were working on stories for Friday's paper.
"His intention was to do damage"
Anne Arundel County police had not published the suspect's name, but several law enforcement agencies and later a court record identified him as Ramos.
Two law enforcement agencies said his fingerprints had been altered, making it difficult to identify him in this way. According to a law enforcement agency, he was identified using facial recognition software.
court documents showed that Ramos filed a defamation lawsuit against the newspaper in 2012. The dispute was about an article in the "Capital Gazette" in which he set out his guilty charge in a 2011 harassment case.
Titled "Jarrod wants to be your friend," the story was written by author Eric Hartley's staff, and details the case in which Ramos repeatedly contacted a former high school classmate via Facebook, according to court documents.
Court records show Ramos filed a complaint against Hartley and the newspaper in July 2012, claiming that he was defamed by the story.
A Twitter account with Ramos' name and handle @EricHartleyFrnd is called Ramos & # 39; considered. said a law enforcement source. The report had tweeted several times about the newspaper and Hartley.
The "Capital Gazette" had only been threatened with violence in social media since Thursday, said Krampf.
"This was a targeted attack on the Capital Gazette," he said.
He said the police were unaware that the shooter was targeting someone and could not confirm whether the suspect had known any of the newspaper's employees or had only targeted publication.
The suspect "possibly" had a connection to
"This person was ready to shoot people, his intent was to do damage," he said.
When the investigation continued on Thursday night, Krampf said there were no further threats to the Capital Gazette or the region.
A newsroom mourns
The newspaper's journalists tweeted tributes and memories of their peers.
"The capital is not a big newsroom, there are about 20 new employees, a few more advertisements, we're close, we're family, I'm devastated," tweeted Danielle Ohl, a reporter.
In a Facebook post, author Carl Hiaasen said he was "devastated" to confirm the death of his brother Rob Hiaasen, who is affectionately called "Big Rob" because he towered over people.
As a journalist, he was a gifted career, and he deeply believed in the craft and mission of serving the public's right to news, "wrote Hiaasen.
CNN's Joe Sutton, Darran Simon, Sophie Tatum , Shimon Prokupecz, David Shortell, Evan Perez, Adrienne Winston, Ayana Archie, Josh Campbell, Saeed Ahmed, Brian Stelter, and Dave Alsup all contributed to the report.
Source link