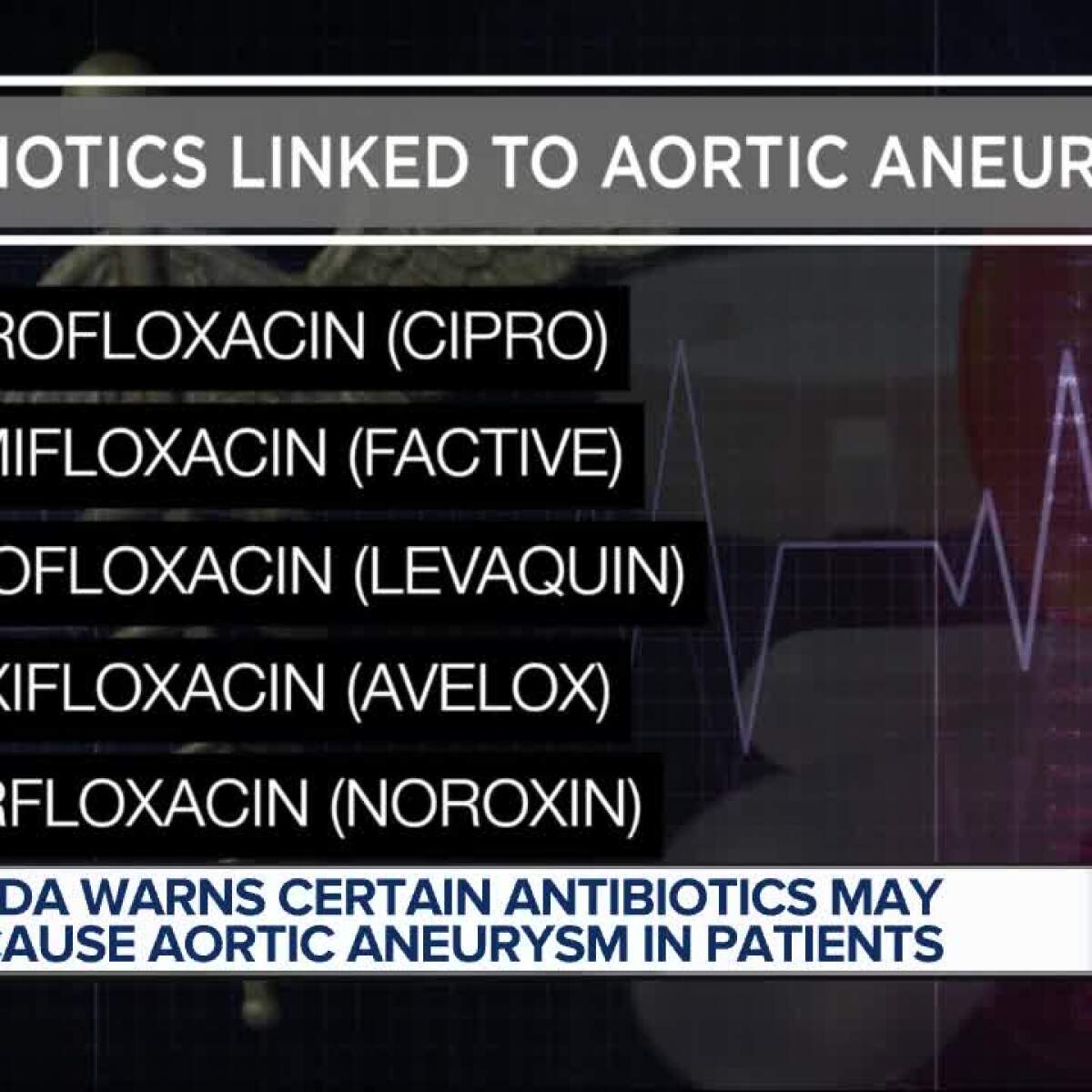 Antibiotics are powerful, they fight infections and save lives. However, the US Food and Drug Administration warns that a common class of antibiotics could cause an aortic aneurysm. And this could lead to deadly bleeding.
The class of antibiotics is called fluoroquinolone. They are used to treat a variety of conditions including pneumonia, urinary tract infections, respiratory infections, and the plague. Now, fluoroquinolone antibiotics are sold under different drug names. Therefore, check your medicines for names like:
Ciprofloxacin (Cipro)
Gemifloxacin (Factive)
Levofloxacin (Levaquin)
Moxifloxacinoronoxonine (Noroxin)
Ofloxacin (Floxin)
The FDA investigated the latest research and focused on trials between 201
5 and 2018. They found that patients given a fluoroquinolone had twice as often an aortic aneurysm.
The aorta is a main blood vessel. Your task is to transport blood from your heart into your body. If you have an aortic aneurysm, it means that unusual bulging or ballooning has occurred in the aorta wall. If it gets big enough, it can burst and it can lead to dangerous bleeding or even death.
People at increased risk include the elderly, people with high blood pressure, people who have aneurysms or are clogging blood vessels. Patients with peripheral atherosclerotic vascular disease and patients with genetic disorders such as Marfan syndrome and Ehlers-Danlos syndrome.
If you are taking this medicine, please do not stop taking it before you discuss it with your doctor, as these may be the only antibiotic treatment to fight your illness.
However, if you experience symptoms such as sudden, severe, and persistent chest, chest, or back pain, you need immediate emergency attention.
Fluoroquinolones have been used for 30 years, and overall the risk of an aortic aneurysm is low. If you are not in the high-risk category, this antibiotic could still be a good option for combating bacterial infections.
window.fbAsyncInit = function () { FB.init ({
appId: & # 39; 117981068372285 & # 39 ;,
xfbml: true, Version: & # 39; v2.9 & # 39; }); };
(Function (d, s, id) { var js, fjs = d.getElementsByTagName (s) [0]; if (d.getElementById (id)) {return;} js = d.createElement (s); js.id = id; js.src = "http://connect.facebook.net/en_US/sdk.js"; fjs.parentNode.insertBefore (js, fjs); } (Document, & # 39; script & # 39 ;, & # 39; facebook-jssdk & # 39;)));
Source link