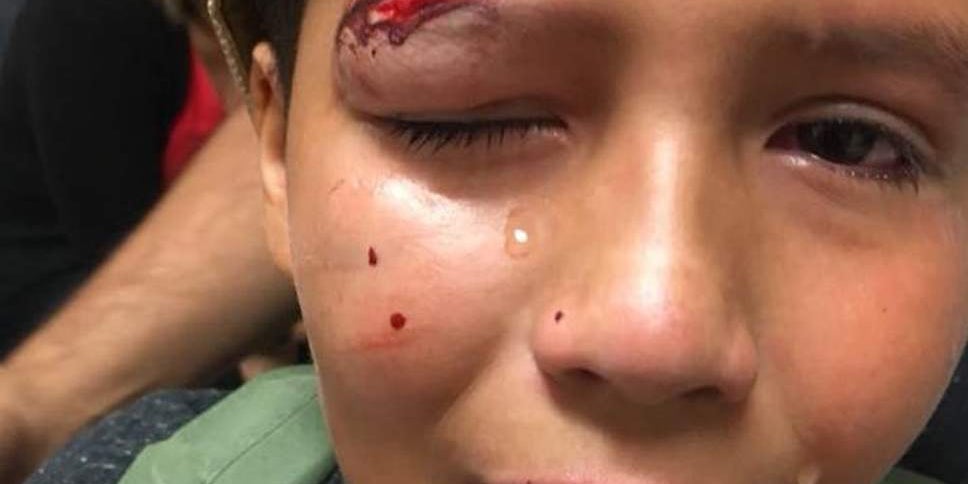 A California child graciously bullied at school said he did not resist because "it's not the Jedi way."
10-year-old Aiden Vasquez, Student at Two Bunch Palms The primary school at Desert Hot Springs has had to undergo medical treatment for bullying.
In a Facebook post from his mother, Lizette Casanova, she claims that Aiden had to be sewn on the face last year after being pushed and "downed" in the playground.
She now wants to bring charges against the school.
After ABC 13 Aiden had to be sewn in the fresh cut of his eyebrow, as can be seen in the picture above.
However, when his mother asked him why he did not resist, the child cited Star Wars as an influence on his abstinence from violence.
Speaking to KMIR he said:
I told my mother, I have it from Star Wars, that it's not the Jedi kind.
According to Aiden, the incident occurred only days after the new school year, after the bully He picked up his backpack, causing Aiden to be pressed against the wall and cut his face.
His mother then called for an end to the bullying and explained why her son did not want to use force to solve the problem.
On Facebook she wrote:
For those who tell me to tell my son that he is fighting back or hurting the child [sic] we are not that kind of people.

I do not have to fight with fists to prove a point. My son is incredibly talented and that's all I have to teach him to hug him. He will be someone who will someday trust and believe! #StopBullying
The article on bullying and AIDS's defamation lawsuit is now viral and has been shared on Facebook more than 16,000 times.
It even received an answer from the most famous Jedi of all, Luke Skywalker – aka Mark Hamill – who offered his support to the Star Wars fan on Twitter.
HT New York Post
---
More: Kelly Marie Tran owns & # 39; real & # 39; Name and stands tall in the face of online harassment