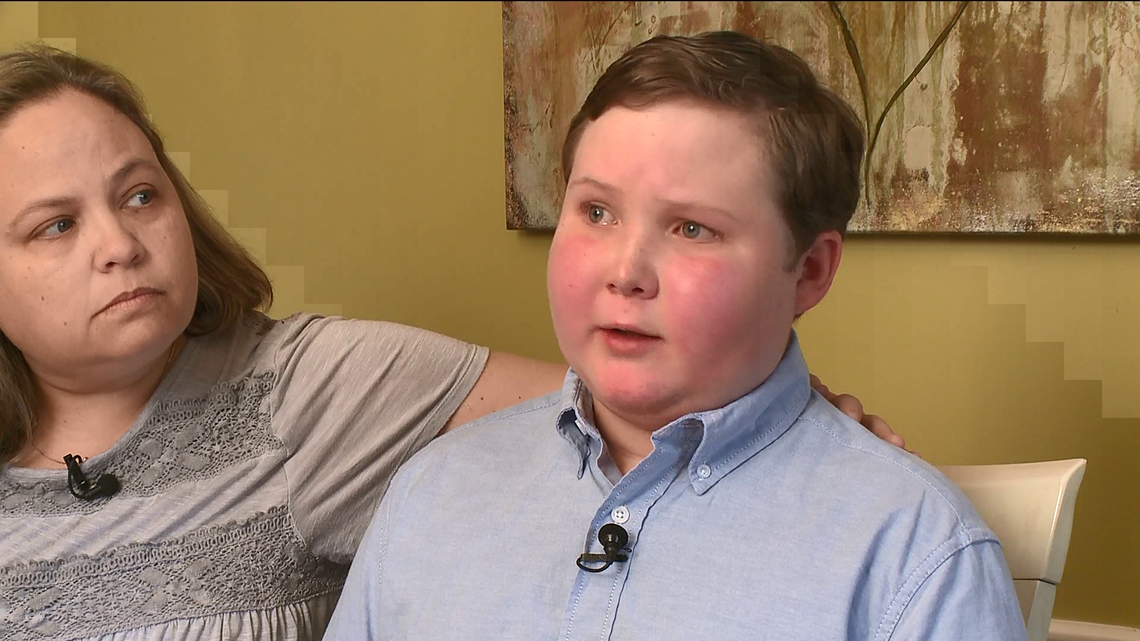 ATLANTA – Indignation spreads across the country as life-saving medicines are denied to children fighting cancer.
These children know that they do not get the medicines they need and are afraid. Now, their families have launched a petition asking for government help.
The problem is a lack of vincristine, the drug drug most commonly used to treat childhood cancer in the US, and another that is working to ramp up production to offset this.
This leaves Ethan Daniels and his family on hold because they are just arriving for treatment to learn that this will not happen due to low supplies.
It has been proven that it helps children like Ethan to fight cancer. Therefore, these parents, as well as others, want someone to fix this problem as soon as possible. It is said that Ethan has enough to worry about in eighth grade. He should not have to worry if he will survive or not.
"I'm really scared, I'm scared for myself, I'm scared for my friends," said Ethan. "I'm scared of any child fighting cancer."
Provided by Ethan Daniels
He was on stool at the cancer center on Tuesday when his oncologist told him they did not have enough of the critical treatment.
"There are no options, Vincristine does not have a compatible drug," said his mother Kelli. "There is no substitute for the crisis.
Since that day, Kelli has spent every single minute figuring out what to do.
" It makes me angry, it scares me. "She said, 'And it just makes me sick, that something that works, it works, and saves lives every day and is not available.'
" That should not happen, "Ethan added. The drug is so important – it changes life. It saves lives. It is, as my mother said, "the backbone of all chemos" and all treatments, and now it just stops? I am just afraid.
The Daniels work with the Rally Foundation for Childhood Cancer Research to call the Food and Drug Administration, its members of Congress, and anyone who will listen to find a solution.
"Children are sick of it To fight cancer. They need their medicines, "said Dean Crowe, CEO of the Rally Foundation. And as Americans, we should have medicines for them. "
CONNECTED: Hospitals face a shortage of cancer medicines needed to treat children
Other countries in Europe have a surplus of vincristine, but the federal government and the FDA would have to make an exception to bring this drug to the United States.
A letter published Friday releases the only company The drug, Pfizer, said it will deliver more at the end of October, but no one can answer the Daniels or another family fighting cancer say when it will be short – or what the absence of these cans means for their children 19659002] "We have to do better," said Kelli.
"Yes, we have to do it better, "her son replied.
(function () { var modules; var suppressModules = document.getElementById (& # 39; tegna_loadmodulesscript & # 39;). getAttribute ('data-suppress-modules' === & # 39; true & # 39 ;; true wrong;
if (suppressModules) { modules = [ 'alert-bar', 'error', 'page', 'grid', 'desktop-header', 'toolbar', 'weather-summary', 'navigation', 'throbber', 'utils', 'tegna-utils', 'fitted-headline', 'tracking', 'progress', 'tealium', 'live-indicator', 'taboola', 'ad' ] } else { modules = [ 'error', 'page', 'grid', 'desktop-header', 'toolbar', 'weather-summary', 'navigation', 'video', 'throbber', 'utils', 'fitted-headline', 'forecast', 'article', 'continuous-scroll', 'sharing', 'gallery', 'radar-gallery', 'forecast', 'article-crosspromo', 'featured-videos', 'chapter-slider', 'pollen', 'olympics-live-stream', 'three-day-outlook', 'current-weather', 'search-results', 'tracking', 'chapter-progress', 'progress', 'countdown-clock', 'longform-explore', 'media-gallery', 'social-sharing', 'weather-alerts', 'weather-interactive-radar', 'closings', 'tealium', 'alert-bar', 'cookie', 'sticky-sharing', 'live-indicator', 'sharethrough', 'taboola', 'elections', 'just-for-you', 'just-for-you-li', 'olympics-tv-listings', 'headline-list-with-abstract', 'text-only-headline-list', 'story-snapshot-with-abstract', 'snapshot', 'story-snapshot', 'special-content-headline-list', 'notfound', 'linked-image', 'article-recirculation', 'linked-image-with-title', 'newsletter-signup', 'linked-image-with-title', 'newsletter-signup-multiple', 'live-videos', 'breaking-news', 'weather-alerts', 'closings', 'media-gallery-alt', 'alert-center-menu', 'trending-list', 'toc', 'featured-radars', 'searchbox', 'hot-races', 'recirculation', 'photo', 'video-youtube', 'newsletter', 'universal-ad' ];
if (& 39; true & # 39; === & # 39; true & # 39;) { modules.push (& # 39; toast & # 39;); modules.push (& # 39; notifications & # 39;); } } / * var modules = [ 'error', 'desktop-header', 'navigation', 'page', 'grid', 'toolbar', 'video', 'throbber', 'utils', 'tegna-utils', 'continuous-scroll', 'gallery', 'tracking', 'tealium', 'sharethrough', 'datasphere', 'iframe', 'photo', 'video-youtube', 'newsletter-signup', 'newsletter-signup-multiple', 'ad' ]
Function inArray (needle, haystack) { var count = haystack.length; for (var i = 0; i <count; i ++) { if (haystack [i] === needle) {return true; } } return it incorrectly; }
var moduleElements = document.querySelectorAll (& # 39; [data-module] & # 39;); for (var i = 0; i <moduleElements.length; ++ i) { (function () { var thisModuleName = moduleElements [i] .getAttribute (& # 39; data module & # 39;); if (! inArray (thisModuleName, modules)) { modules.push (thisModuleName); } }) (); }
console.log (& # 39; ===== loading modules: & # 39 ;, modules); * / require.config ({ & # 39; baseUrl & # 39 ;: & # 39; / & 39 ;, & # 39; deps & # 39 ;: modules, "WaitSeconds": 30, & # 39; bundle & # 39 ;: { modules }, & # 39; path & # 39 ;: { & # 39; jquery & # 39 ;: & # 39; scripts / jquery-3.1.1.min & # 39 ;, # Jwplayer #: content / player / jwplayer.js? version = 3.20.2 & # 39 ;, & # 39; modules & # 39 ;: & # 39; views / dist / scripts / modules.min.js? version = 3.20.2 & # 39 ;, & # 39; facebook & # 39;: https: //connect.facebook.net/en_US/all&#39 ;, & # 39; twitter & # 39; https: //platform.twitter.com/widgets&#39 ;, Sl slick #: content content / libs / slick / slick.min #, #Dotdotdot #: content / libs / dotdotdot / jquery.dotdotdot.min #, & # 39; jqueryui & # 39 ;: & # 39; views / lib / jquery-ui / jquery-ui.min & # 39 ;, & # 39; comscore & # 39;: content / libs / comscore / comscore.min & # 39 ;, & Stickyfill & # 39; content / libs / stickyfill / stickyfill.min & # 39 ;, & # 39; youtube & # 39;: & # 39; https: //www.youtube.com/iframe_api? Noext & # 39 ;, # Firebase / app # 39; https://www.gstatic.com/firebasejs/6.1.1/firebase-app&#39 ;, # Firebase / messaging # 39; https: //www.gstatic.com/firebasejs/6.1.1/firebase-messaging' }, & # 39; shim & # 39 ;: { & # 39; Facebook & # 39;: { & # 39; export & # 39 ;: & # 39; FB & # 39; }, & # 39; twitter & # 39 ;: { "Exports": "twttr" }, & # 39; Youtube & # 39 ;: { "Exports": "YT" }, & # 39; jwplayer & # 39 ;: ['jquery'], & # 39; jqueryui & # 39 ;: { & # 39; deps & # 39 ;: ['jquery'] }, "Slick": ['jquery'], & # 39; dotdotdot & # 39 ;: ['jquery'] } }); }) ();
Source link