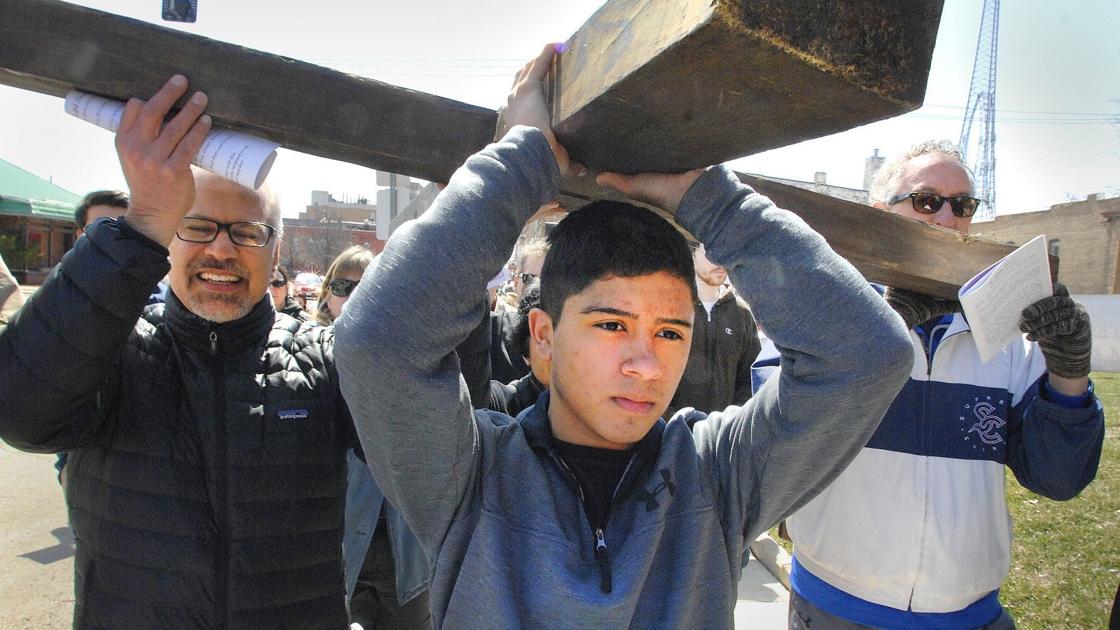 BLOOMINGTON – Even in the darkest of days there is light.
That was a message from nearly 200 people who prayed as they alternately wore a 200-pound wooden cross on Main Street in downtown Bloomington on Friday afternoon.
"With all the nonsense that goes on in the world with children, it is important to put Jesus in their lives and let them know that there is a place to go where the place is Jesus "Emily Casali from Bloomington said the public prayer with her children Gabby and Bobby and her niece and her nephew Adi and Mark Aberle of Mohammed
" When you go to a dark place, there is always a light and that's what it teaches you "The Stations of the Cross took place on Good Friday, the day Christians believe Jesus was crucified, followed by his resurrection at Easter two days later.
The Way of the Cross refers to 1
4 steps on Jesus' way to the day of his crucifixion. Stations begin by condemning Jesus to death and recall events such as when he fell, when he got help carrying his cross, when he comforted and died others.
Christians pray at each station. While most Stations of the Cross are in churches, sometimes they are outside.
On Friday, participants – many members of the Catholic communities of Bloomington-Normal – stopped to kneel and pray on Main Street from time to time] The people alternately wore the cross, mostly in groups of five. The number of participants grew to almost 200 when the faithful reached the Holy Trinity.
"This is an opportunity to spiritually experience the steps of Christ and walk again," said Father Joseph Baker, deputy pastor of the Catholic Church of St. Mary, who led the walking stations. "It's an opportunity to take faith outside the four walls of the church."
"It is important to think of Good Friday because Jesus' passion and death bring salvation to all of us," Baker said. Christians believe that Jesus died for our sins.
"We get strength through his cross to carry our cross," Baker said.
"There were a lot of people under me, but it was still hard," Gabby Casali, 10, said he helped carry the cross. "I thought about wanting to be a better person."
"You should think about yourself and make sure you have Jesus in your life and try not to sin," said Gabby.
"Physically it hurt, there was a sharp pain in my arms," ​​said Lael Salinas Jr., 16, of Bloomington, who wore the cross. He made stops with his siblings and their parents, Lael and Alice Salinas.
"Mental has helped me get closer to Christ," said Lael Salinas Jr.
Alice Salinas said, "It gave me the opportunity to shut things I was fighting against and ask for forgiveness."
"We only have one job," Lael Salinas Sr. said. "And that's loving each other."
"God is calling us to be the best version of ourselves," he continued best message for today is love each other. "
Follow Paul Swiech on Twitter: @pg_swiech
Source link