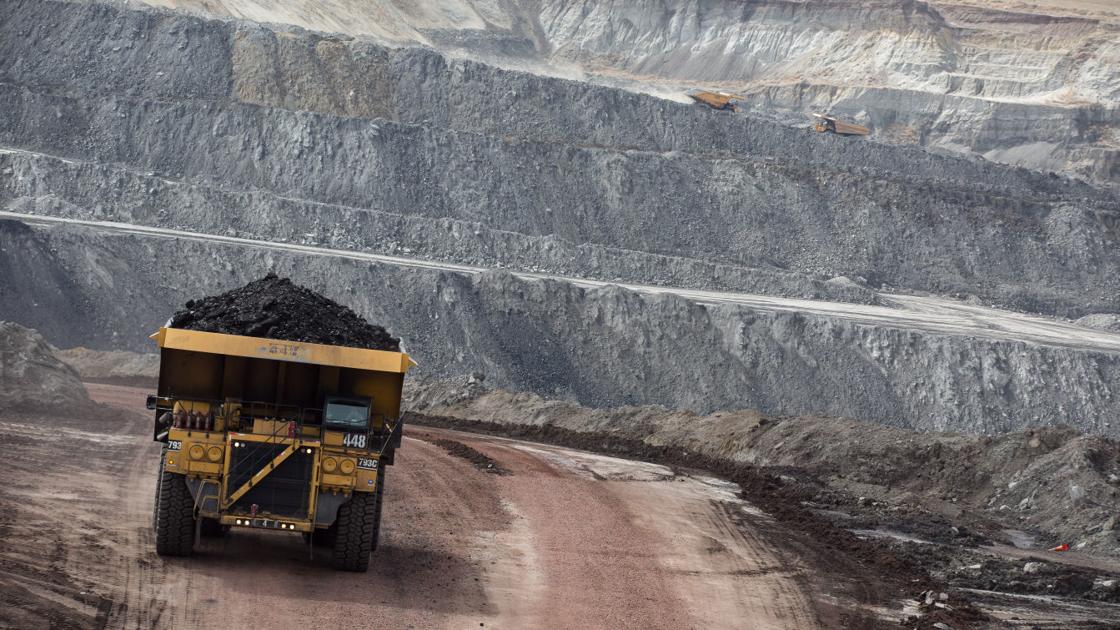 Two coal mines in Wyoming closed on Monday afternoon and sent 700 workers home after their owner filed for bankruptcy. This was the final blow for a region plagued by an economic downturn in the fossil fuel sector.
Blackjewel LLC, which operates the Eagle Butte and Belle Ayr mines near Gillette, sent the workers home after a bank had denied the company $ 20 million in funding to continue operations during the bankruptcy process, CEO said Jeffery Hoop.
"Really what we are worried about are the workers affected and, like 201
6, we will do everything we can to ensure that they are taken care of, regardless of whether it is a retraining with higher education or services for Workers act, "City of Gillette spokesman Geno Palazzari said Monday night
Blackjewel is guilty of at least $ 500 million in debt, including approximately $ 6 million to employees. The financial problems of the company and much of the coal sector are due to increased competition from natural gas and renewable energies.
"The effects of this bankruptcy may be felt (by) taxpayers and sellers in Wyoming," said Clark Williams-Derry, Director of Energy Finance at the Sightline Institute, a Seattle-based environmental think tank. "And maybe the millions and millions of dollars that Campbell (County) owes will not get them."
Hoop bought the Wyoming coal mines two years ago from Contura Energy. Another Hoop company, Revelation Energy LLC, operates mines in West Virginia, Kentucky and Virginia.
Hoop told the Star Tribune at a Monday morning hearing that the United Bank of West Virginia denied the company $ 20 million in funding to continue mining in the meantime.
On Monday afternoon, the company sent workers home from the mines.
"We just told them that the mines are out of service until further notice. We continue to try to solve the problem," Hoop said.
According to Hoop, the workers received checks at checkout this week.
"United Bank was really insensitive. They killed (about) 700 people, (they) really turned their lives upside down, "Hoop added.
A United Bank spokesman could not be reached on Monday evening for comment immediately.
Industry in decline
Blackjewel is the fifth coal producer in Wyoming to have filed for bankruptcy in recent years. Based in Bristol, Tennessee, Australia, Alpha Natural Resources filed for bankruptcy in 2015, followed by Peabody Energy and Arch Coal in 2016. Westmoreland Coal, which operates the Kemmerer Mine in southwestern Wyoming, filed for bankruptcy in October.
Even with half of Wyoming's coal country in a consolidation phase and the other half in bankruptcy, few experts expect such a rapid decline in the once lucrative Powder River Basin, including Rob Godby, Professor and Director of the University of Wyoming Energy Economics and Public Policies Center.
"Until a few years ago everyone, including me, knew that the thermal power from coal was decreasing, but the Powder River Basin was considered the healthiest of the coal-producing areas. Godby said. "The people in Wyoming took that for granted."
A decade ago, Campbell County produced over 400 million tons of coal. Last year, production dropped to 283 million, according to the Wyoming Mining Association.
As the price of coal and demand for the commodity sank, a major lender to Blackjewel recently pulled back, adding to the already unstable financial picture of the company. According to company statement
Hoop's first response was to Nonetheless, the common documents published before the hearing are nevertheless optimistic.
"We are confident that this restructuring will consolidate Blackjewels position as a significant participant in the US coal market," he said in a statement. "(The Company) will remain a major player in the US hard coal mining industry for the foreseeable future."
Difficult decisions
The choices are for smaller, debt-backed coal companies struggling in a shrinking market. Despite an unprecedented flood of Wyoming coal sector filings in recent years, none of the major coal companies in the catchment area have closed. Blackjewel announced that it would continue coal mining during the financial "restructuring".
"All mines (in the basin) are still producing, and the market is only two-thirds as high as before," said Godby.
This is partly because decommissioning is accompanied by mandatory and costly recovery, which is often more expensive than operating the coal mine itself.
"(The companies) between a rock and a hard place," he added added.
However, according to Godby, Campbell County and Blackjewels, with around 700 employees in Wyoming, are the most at stake. Senior secured creditors often have initial repayments during bankruptcy proceedings.
While Blackjewel owns and operates the mines in Campbell County, Contura still holds mining permits. Due to landowners' concerns about Blackjewel's wealth shortfall and its volatile environmental past, the state still has to complete the transfer. Blackjewel was late to apply for the transfer for months after the ownership had changed hands.
From the inception of the transfer of ownership, Blackjewel remained with his ad valorem taxes to the county and recorded a tax debt of $ 37 million. This spring, the county and the company signed a new financial agreement. However, Monday's announcement casts doubt on these recent conciliatory efforts.
The Powder River Basin Resource Council, a group of landowners in Wyoming, will closely monitor the company's responsibility to the country and its workers.
"We are concerned about who will continue the mining efforts in both mines and whether the financial guarantees will cover the hundreds of millions of dollars in mining bonds," said group spokeswoman Robin Bagley in a statement. "It will have serious consequences for the state, but directly for Campbell County and its inhabitants."
Gov. Mark Gordon said he has committed to working with the Department of Workforce to help employees, and with the Department of Environmental Quality to ensure that an appropriate bond is made.
and our immediate concern was with them, "Gordon said in a statement. "We are not unprepared for these circumstances and endeavor to do everything for the diligent employees of these mines."