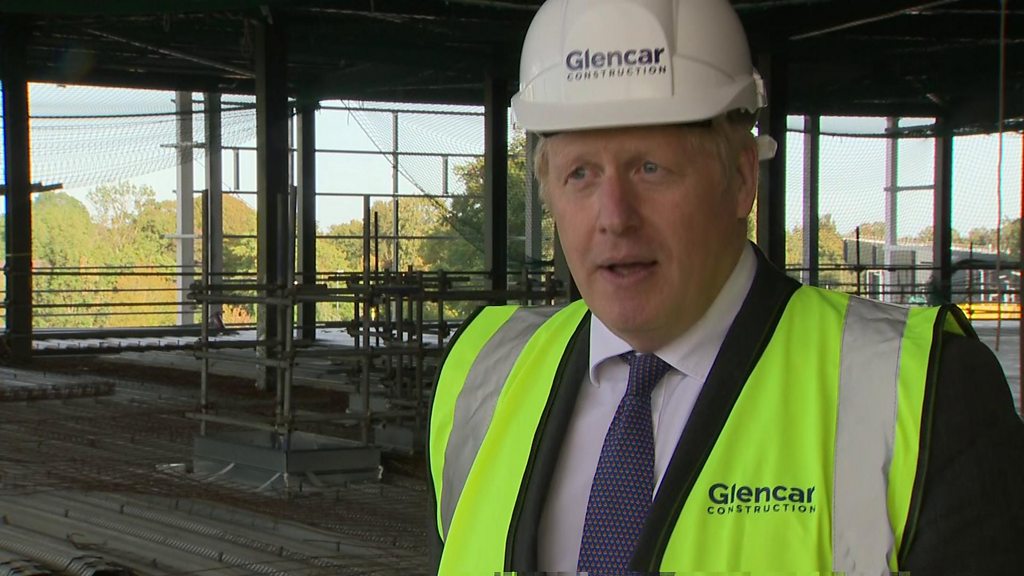 Britain is "now seeing a second wave" of Covid-19, Prime Minister Boris Johnson said, adding, "It was inevitable that we would see it in this country."
Mr Johnson said he did not want to "take major lockdown measures," but that tighter social distancing restrictions may be required.
It is anticipated that a new three tier set of constraints will be considered.
The plan would aim to avoid a national lockdown but could end household-to-household contact.
The first tier would be the level of action currently in place in most of England ̵
1; with social distancing being the main aspect.
The second tier would include what is currently being imposed in the Northeast – curfews on restaurants and a ban on household meetings.
The final third stage would include stricter lockdown measures.
It is believed that "Tier 2" is likely to be rolled out across the UK – albeit more regionally rather than as a "national curfew".
A report of a meeting at which the measures were discussed has been sent to the BBC. It was stated that the government's protection policy was also being "actively reviewed" and that a decision could soon be taken on further measures to protect those in need of protection.
Any further shielding decisions are likely to be much more tailored than before.
With the virus expected to be more severe in winter, officials are trying to take action that could last through spring.
"Hard to keep this up"
It comes from the fact that the UK has recorded an additional 4,322 confirmed Covid-19 cases.
"When you look at what is happening, of course you are wondering if we have to go further than the rule of six we introduced," said the Prime Minister, referring to the measures introduced on Monday.
He added that "the British have done a great job – they have brought this peak down through discipline" but that "people find it difficult to maintain this, it is difficult to maintain that discipline for a long time".
In Oxfordshire, Mr Johnson continued: "If we look at that particular curve and what is happening now, of course we will keep everything updated. I don't want to get into a second national ban at all, it is that." The last thing anyone wants.
"I don't want to take any major lockdowns at all, we want to keep the schools open and it's fantastic that the schools are back to what they did. We want to keep the economy open as much as possible." We want to keep the company running.
"The only way we can do that, of course, is if people follow the directions."
Earlier, BBC Political Editor Laura Kuenssberg said the government was considering a brief period of stricter rules that could be announced next week.
Referred to as "suspension" by the government, these measures could include reintroducing restrictions on public spaces for a period of several weeks, while schools and workplaces remain open.
One of the ideas proposed by the Government's Scientific Advisory Group on Emergencies (Sage) was the closure of some parts of the hospitality industry.
New measures to contain the spread of the virus have now been put in place in parts of the North West, Midlands and West Yorkshire.
This includes Lancashire (excluding Blackpool), Merseyside and the Cheshire boroughs of Warrington and Halton.
New restrictions will also be introduced in Wolverhampton, Oadby and Wigston in Leicestershire and all parts of Bradford, Kirklees and Calderdale.
Some areas of West Yorkshire were restricted as early as early August but were relaxed. You are now subject to these new rules.
In total, nearly 4.7 million people are affected by the new restrictions, which prohibit separate households from meeting at home or in private gardens.
Source link