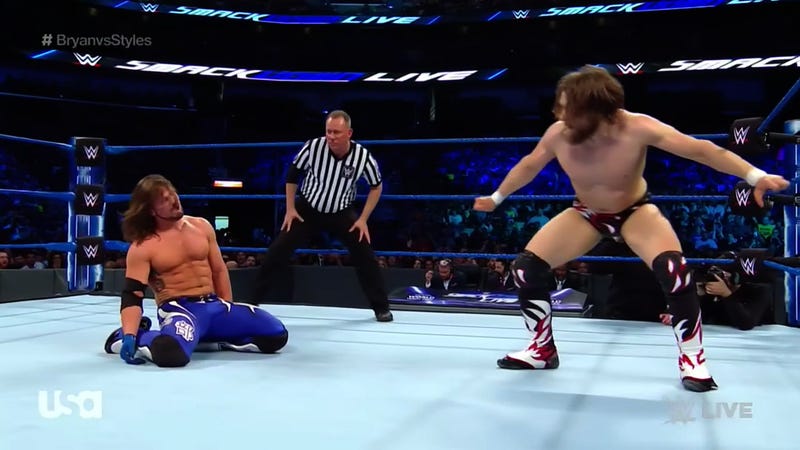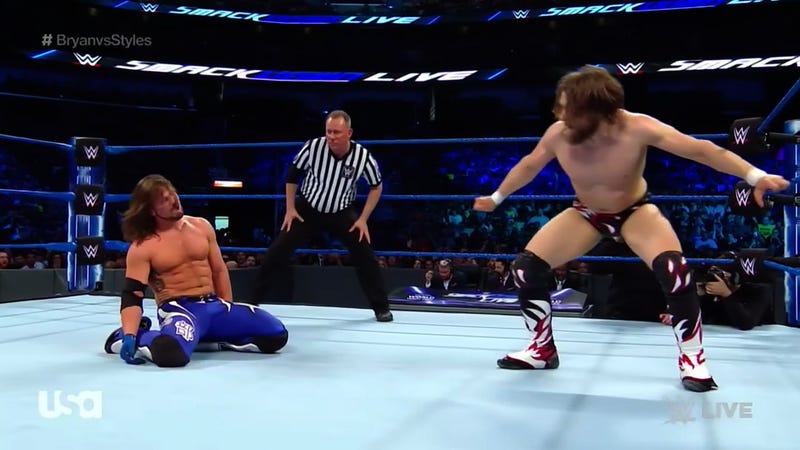 One of the unfortunate disadvantages of the crowded WrestleMania 34 card: Daniel Bryan's return to wrestling was lost in the mix. It was probably inevitable. Where else would Bryan return, but at WrestleMania in New Orleans, where he won the WWE championship four years ago?
His match, working with Shane McMahon to beat Kevin Owens and Sami Zayn, went well. He looked good. It was great to see him in a ring again. But when his game ended, there were four more games on the card.
Last night, WWE gave us a treat: Bryan's first singles match in three years was against a man he'd never met before in a WWE ring: AJ Styles, the current WWE champion. It was a real dream match made by a new SmackDown GM Paige (retired the night before).
It was a pleasure! It opened with a large mat-based segment that looked as if it belonged in a bingo hall rather than in the basketball arena of New Orleans. Bryan and Styles have shown why they are one of WWE's most beloved wrestlers. Kicks in wrestling tend to look like crap; Bryan's are great. Styles, for his part, hit an incredible dropkick that looked like Bryan had lost his face.
Was I a little nervous when Bryan made any movements that might have involved his head? Of course! One point at the end, where Styles turned a top-rope-back suplex, had scared me for a second. But Bryan did not look really rusty. He wrestled similarly to the past. It was great to see him back in the ring, especially against A.J. Styles
We may not see it for a while. Shinsuke Nakamura, who missed a small slap against Styles after losing a title shot at WrestleMania, ended the game by attacking both men. If I had to guess, I'd say Bryan will visit during the "Superstar Shake-up" next week while Nakamura and Styles continue their feud SmackDown a little treat, to end the WrestleMania weekend. It was great to see Daniel Bryan wrestle again this weekend. It will be great to see him wrestling.
Source link