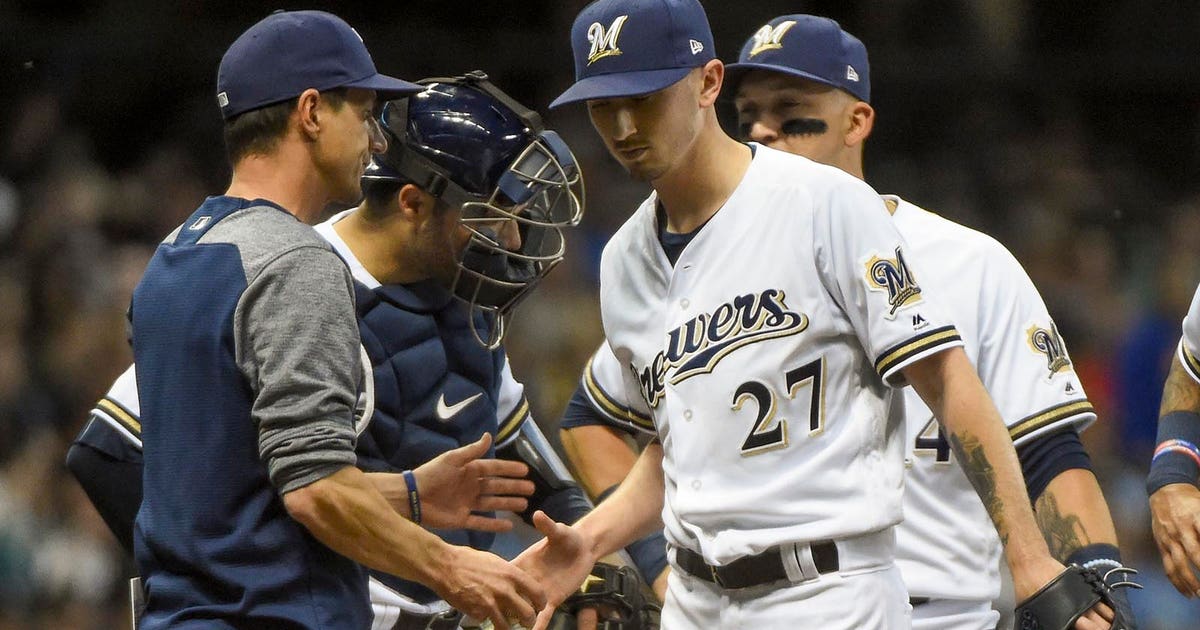 MILWAUKEE – Brandon Nimmo is strong in staying in the daily line-up of the New York Mets.
Nimmo reached the base five times, Steven Matz threw six solid innings and the Mets defeated the Milwaukee Brewers 5-0 on Thursday night.
Nimmo raised his on-base percentage to .450, best in the majors among players with at least 100 record appearances, with a career-high four hits and a walk. The 25-year-old outfielder has had a triple and two doubles, and has reached base eight times in a row.
"I'm in a good position right now," Nimmo said. "I'm really glad that I managed to get some traffic for (Asdrubal Cabrera) behind me, he has been wearing that insult for a while."
Nimmo, as the leadoff hitter of the past two weeks, has had a consistent playing time, which, he said, has increased his performance.
"I have found a really good rhythm," he said.
Nimmo's performance was praised by manager Mickey Callaway, who will make some tough decisions with the outfield of Mets when Yoenis Cespedes returns from the disabled list.
"If you have a man who can be as patient as he can be and walk and make extra baseball hits, that will be a really valuable player," Callaway said.
Cabrera and Wilmer Flores each had two RBIs.
Matz (2-3) met his longest season outing. His two victories this season have come against the NL Central-leading Brewers.
"I feel more comfortable outside and am able to attack the zone a bit more," Matz said.
It was important to be injury free, said Matz, who underwent surgery last August to reduce and decompress the ulnar nerve at his elbow.
"I'm just very thankful that I'm healthy and can work on things," Matz said.
The Mets came into the field only in the third set, when Nimmo tripled the penultimate Zach Davies (2-4) and hit Flores' sacrificial flag.
New York built the lead in the fifth round on Cabrera 2-0. Davies, who returned from a nearly one-month stint on the list of disabled people due to inflammation of the right rotator cuff, was hunted down. The Mets added another run in the inning to Flores' run-scoring single-off reliever Dan Jennings.
Davies gave up four runs and six hits in four innings. He hit two and went two in the shortest finish of his seven starts this season.
"The order was not there pretty much all night," Davies said.
Devin Mesoraco drove a double in seventh Jorge Lopez to increase the lead to 5-0.
Matz gave four hits while beating two doughs and two went. He threw 94 pitches, one from his season high.
Relievers Paul Sewald and Jacob Rhame combined for three innings to complete the lockout.
The Brewers were held in the ninth without a hit from the fifth inning to Hernan Perez's # 39 start-off single.

FAMILY SUPPORT
Callaway provided support for the closer Jeurys Familia, who blew his fourth day of the season against the Miami Marlins in a 2-1 win on Wednesday. "If you look at the numbers, he's our best helper," Callaway said. "In the year in which he had 51 games, his numbers (this year) are much better. He has a career year in numbers."
CLOSE CALL
With the bases loaded in the first inning, Mets' catcher Mesoraco slammed a passenger in the middle who nearly hit Davies in the head. He fell to the ground after deflecting the ball with his glove, then scrambled to his feet to throw Mesoraco first.
"He had the means to stay calm and play the game," said Milwaukee manager Craig Counsell. "It looked like a cruise right at his head."
GREEK FREAK
Milwaukee Bucks & # 39; All-Star Giannis Antetokounmpo attended the game.
TRAINER ROOM
Mets: Juan Lagares was operated on Wednesday in Manhattan to repair a complete tear of the left big toe plantar plate.
Brewers: Ryan Brown was picked up from the disabled list again in the left field. He had one of four thugs. … 3B Travis Shaw has brought the night to rest.
UP NEXT
Mets: Noah Syndergaard (4-1, 2.91 ERA) is 2-0 with a .49 ERA in three career starts against the Brewers. He struck eight consecutive Milwaukee strokes in an April 15 start.
Brewers: Junior Guerra (3-3, 2.98) is 1-0 with a .71 ERA in two career starts against the Mets.