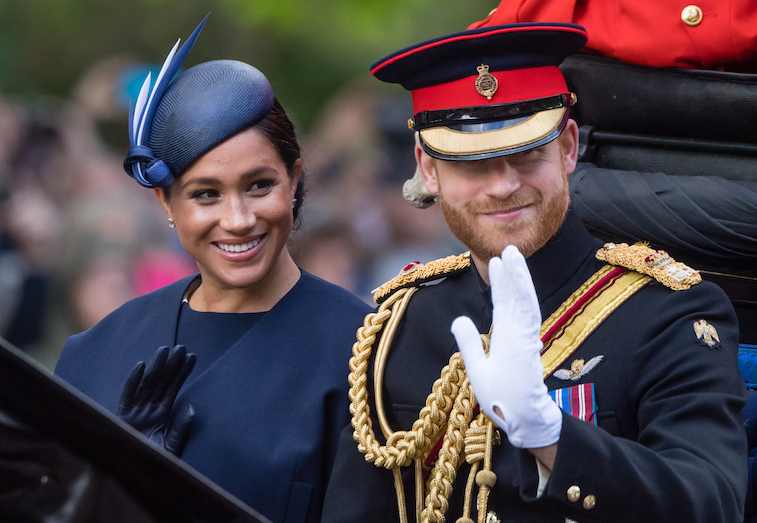 Meghan Markle reappeared in public for the first time in over a month, performing on Trooping the Color weekend. The event was the first time that Markle attended a public event since the birth of Baby Archie on May 6.
The fans noticed that Meghan wore a very special piece of jewelry on her finger. Fans speculate that this is a push present given to her by her husband. But is that what this ring is? And if so, what exactly is a push gift?
What is a push gift?
If you have not heard the term push gift, do not worry, you are not alone. Although push gifts have become increasingly popular in recent years, this is not yet a widespread tradition in the United States.
Push gifts are usually given to commemorate the birth of a new child. The gift is given by the father to the mother, either shortly before the birth of her child or immediately thereafter.
Although there are no specific guidelines as to which type of push gift should be given, jewelry is a common gift.
It's not just about jewelry
Jewelry is timeless and a sweet and meaningful push gift. A delicate ring or a delicate necklace is not always the right companion for some celebrities. In recent years we have seen some pretty sophisticated push gifts.
After giving birth to her first child Stormi, Kylie Jenner received a $ 1.4 million Ferrari from her friend Travis Scott in 2018. Singer Pink was also the recipient of a non-traditional push gift. Her husband gave her a custom motorcycle after the couple had their first child in 2017.
Push gifts have become a royal tradition.
While push gifts have only recently gained in popularity in the US, they have enjoyed great popularity with the royal family for several decades. At the birth of Prince Charles in 1948
Queen Elizabeth received a bouquet of red roses and a festive bottle of champagne.
When Prince William and Kate Middleton greeted their first child in 2013, Kate received a beautiful pendant engraved with the name of Prince George. Two years later, after the birth of Princess Charlotte, Kate received a pair of tourmaline, green amethyst and diamond earrings.
After the birth of Prince Louis in 2018, the Duchess was seen wearing a stunning citrine ring on her finger.
Does Meghan Markle deserve a push gift?
Push gifts are hotly debated. Some consider the gift as a thoughtful sign of the baby's father and as a meaningful keepsake to celebrate the new baby. Advocates also argue that the mother has been through a lot during the nine months of pregnancy and in the end "deserves" a small gift.
But on the other hand, many people argue that a push gift is just another marketing scam to get people to buy another gift. Some even say that the concept of push gifts was promoted by jewelers to boost sales. Still, some insist that the gift of a happy, healthy baby is abundant.
The decision to buy a push gift should be made with love and care. If it really is something the father wants to do to show his love for the mother, then who should stop him? Whether Meghan's new ring is a push gift or not, if it's a gift from Harry, it's a gift he wanted from his child's mother. And that's really all that matters.