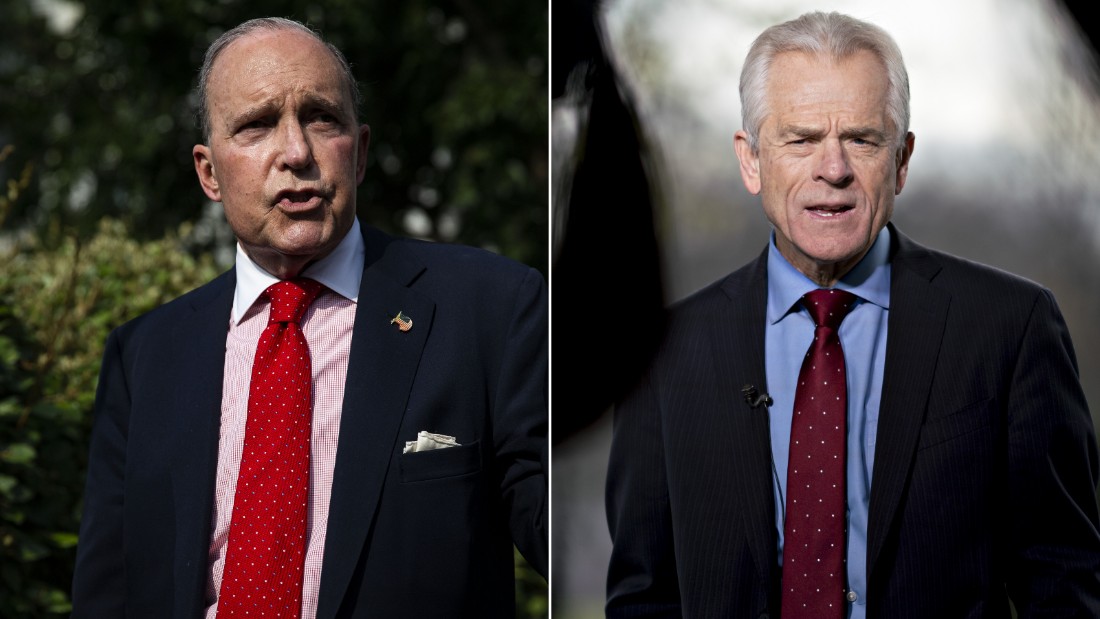 The Dow fell 400 points or 1.6% on Friday afternoon. The Nasdaq lost 2%, while the S & P 500 fell 1.5%.
Stocks traded earlier on Friday, but the market fell sharply after the trump government's conflicting messages about trading.
While White House economic adviser Larry Kudlow made an optimistic comment on the CNBC talks in China, trade adviser Peter Navarro simultaneously warned CNN of higher tariffs if problems were not resolved during the 90-day negotiation period.
"We got a mixed bunch of mixed messages from people in the same administration," said Art Hogan, chief market strategist at B. Riley FBR. "We are not sure who to listen to."
Concern over the fallout from the trade war and the hopes for progress have made Wall Street a wild ride lately. The ceasefire between the US and China sent the shares skyrocketing on Monday. But doubts over the ceasefire helped to put the Dow on Tuesday by almost 800 points in the red. And then the Dow fell to 785 points on Thursday before staging a huge comeback.
Senior government officials have switched on the trade front between good and bad policemen.
Kudlow told CNBC on Friday that trade talks with China are "extremely promising."
Kudlow, Trump's National Economic Council Director, said Trump has announced that it will extend the 90-day window of negotiation "There is good, solid movement and good action."
Navarro, the White House's hawk, struck CNN differently. Asked if the administration would disappear if problems with China were not resolved within 90 days, Navarro suggested that Trump "simply increase the existing tariffs on Chinese goods worth $ 200 billion".
If China does not change its trade routes, "we have a president who will stand it," Navarro said.
Navarro also campaigned for the nearly $ 12 billion that the United States has inflicted on tariffs, even though this money is paid primarily by American consumers and businesses.
The comments have not eliminated the uncertainty on Wall Street. Trading sensitive stocks, including Apple (AAPL), Boeing (BA) and Caterpillar (CAT), fell more than 2%.
"We keep getting conflicting reports from these guys," said Joe Saluzzi, co-head of trading at Themis Trading. "The markets are confused."
Trump himself has contributed to the confusion. While Trump had spoken of a desire to conclude a deal with China, the president also worried some investors by calling himself "Tariff Man" on Tuesday on Twitter. This tweet has been blamed for helping to push the market down.
But on Thursday evening, Trump said on Twitter that he agreed with a recent encouraging statement from China expressing the confidence of a trade agreement within 90 days.
"Today is a microcosm of what we had the whole week: mixed messages," said Hogan. "Every message has contradicted itself."
Hogan pointed to the confusion over a central issue: when the 90-day bargaining session began. Initially, Kudlow suggested that the period began on January 1st. The White House later corrected Kudlow to clarify that 90 days began with dinner on December 1st.
On Friday, the stock market would have fallen more, if that had not been the case for a rally in the energy sector. Oil stocks such as EOG Resources (EOG) and Anadarko Petroleum (APC) rose after OPEC and its allies reached a deal to significantly reduce production. US oil prices rose 4% in the news.
Source link