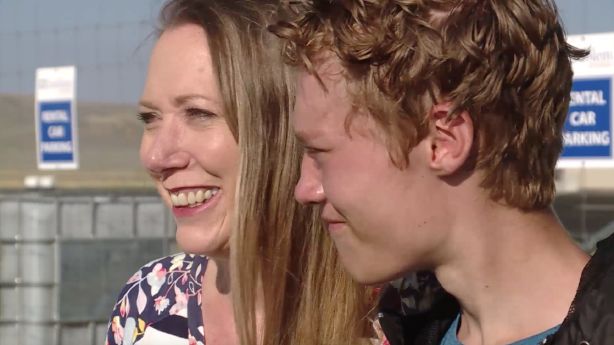 PINEDALE, Wyoming – A small group of people in search of a missing Draper Teen told him that it was "a miracle" they had found him on Sunday night, the teenager recalled on Monday.
Garrett Hunter, 13, was in "tough terrain" about 1 mile away from his original camp in a catchment area near Junction Lake southeast of Shoshone National Forest, according to Sublett County Sheriff Sgt. Travis Bingham
The The group that found him – four members of The Church of Jesus Christ of Latter-day Saints, to which Garrett belonged – searched an area south of where others had been looking for the adolescent.
"It was really great," Garrett recalls. "Like, Hallelujah, I'm free at home! … you were so happy to see me as they said it was a miracle they found me."
His mother, Karen, was there for Garrett after he was taken to safety Monday morning.
"We're so happy and overjoyed and just happy that he's home," she said.
The teenager had wandered with members of a scout troop in the Wind River area near Elkhart Park on Saturday morning when he was off the pack to use the bathroom. When he returned, the group was gone.
"Of course I panicked," he said. "I had some weight on me, so I threw away my tent and some garbage and went up the mountain."
Garrett was reported missing on Saturday afternoon. Over time, he began to wonder if he would ever leave the wilderness or if he would ever see his family again.
He kept his backpack and a sleeping bag, and also had something to eat and a water filter that allowed him to pour water until he was found. He said he ate ants and barked for extra food until he was found.
"It was the first time I tasted beetles, they really were not that bad," he said.
Garrett was rescued from the mountain area early Monday morning when it was light enough for the operation. Bingham said the terrain where Garrett was found was too difficult for a helicopter, which made the rescue take longer.
When asked what people should know if they ever got lost, Garrett gave some emergency tips a card with you and a knife in case you got stuck. "
Post: Andrew Adams, KSL TV
×
Photos
Source link