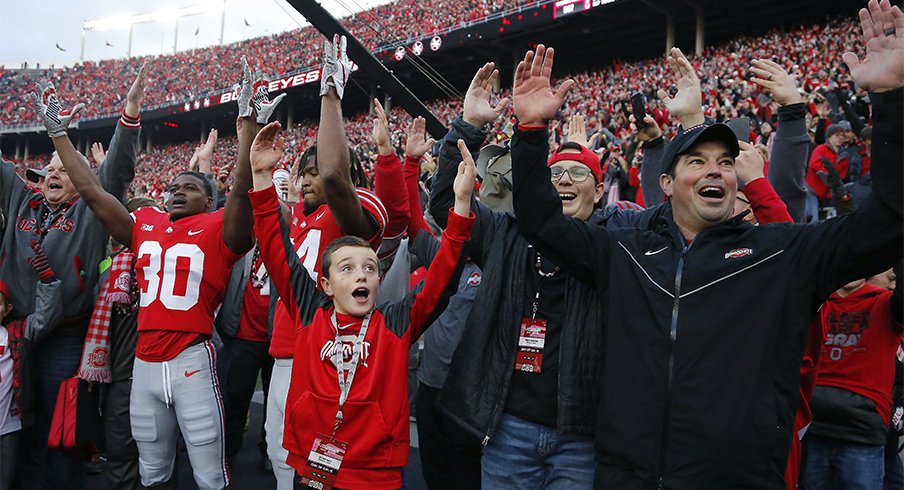 It's early signing period eve and the next three days are going to be the most pivotal moments for the 2019 recruiting class. The expectation is that the vast majority (70-80 percent) of the country's prospects will sign with their school of choice between Wednesday and Friday. While others are still waiting to let the world know their intentions.
The Buckeyes have 16 commitments in the fold and now it's looking like 14 of those are solid with their pledges. Four-star defensive back Jordan Armor is on the way and West Virginia's offensive lineman Doug Nester is exploring his options. There is not any concern on four-star athlete Steele Chambers, but at last check it out.
This is a bit different and those who have used to Ohio State bring in 25ish signees. It may be tricky to get the class up to 20, but the January buildup on the traditional signing day could certainly change things.
With all that being said, there are several storylines to watch in the coming days.
---
Harrison Saga Coming to a Close

The time is finally here. Lewis Center's Zach Harrison wants to send his letter of intent to one of the Big Ten's top programs. Earlier today Olentangy North announced that there will be a 12:30 p.m. livestream but there's no going to a ceremony or anything open to the public .
The kid does not talk about his recruitment and genuinely seems to dislike the whole process. Ohio State, Michigan, and Penn State have all been rumored to be out at one point or another, and he could have gone with any of the three schools.
The latest vibes out of the Lewis Center can only be read as a positive for the Buckeyes.
Larry Johnson, Al-Washington, and James Franklin have been briefed on the recruitment process. Does he want to get away from home? Is he worried about losing to Ohio State? Does he understand that Johnson's can help him reach his max potential?
We could find some good news.
Flips Hard to Come By

Ohio State has made its sights set on a few targets that are committed elsewhere. Nick Broeker, on offensive tackle from Springfield, Ill., Is on Ole Miss commit who's been considering the Buckeyes. The three-star is expected to sign on Thursday. A December official to Columbus did not take place, but he may very well stick with the Rebels.
Toledo's Cavon Butler is pledged to Kentucky and his recruitment has been an interesting one. Right now Ohio State is not pushing for the defensive tackle but I suppose there's a chance – work on unlikely one – he gets the green light before the end of the early period. With things on the Jaden McKenzie front, Butler wants to end up in Lexington or East Lansing.
Clayton Northmont's Jestin Jacobs is committed to Iowa and there's absolutely no indication that Ohio State wants to be the landing spot. The four-star has been to Columbus twice since last month's offer, but it certainly looks like Kirk Ferentz and the Hawkeye staff have done enough to secure Ohio's No. 7 prospect. Barring something unforeseen, the Army All-American wants to sign with Iowa on Wednesday.
Battle Verdict Looming

We've got a lot of Jordan Battle at this point. The St. Thomas Aquinas four-star was an Urban Meyer recruitment more than anyone else in the 2019 class. Even before Meyer's retirement there were some questions about his status, and those have only been intensified post-retirement.
But is there a chance the Buckeyes can keep the prized defender in the fold? I'd say it's unlikely and he's likely to end up in Tuscaloosa, but the fact that he's not flipped yet is at least giving us a glimmer of hope. Ohio State checked in with last week and rumors that the staff was informed that he will not be heading to Columbus. Most expected a flip to happen soon thereafter, but we're still waiting for it to take place.
Alabama takes three corners and two safeties, and one thing is to wonder how many defensive backs the Tide can take; especially when the class already sits at 24 and there are several other high-caliber targets on the board.
Surprise, Surprise?

As always, it's never the wise to rule out the chance of a surprise. Darius Slade in 2014. Is there anything on the horizon for this week (besides what's already going on with Justin Fields)?
Ohio University Tyler Foster is maybe the guy to watch. Is there any reason to think the Pickerington native is on the verge of a flip? Not necessarily, and the main reason we have been on the road for the past two months.
The Timing of It All

What we know now is that the Harrison live stream will air at 12:30 p.m. Mentor's early ceremony starts at 9:00 a.m. so that's when Noah Potter and Ryan Jacoby want to make things official. Cade Stover wants to be signing at 3:00 p.m. Four-star quarterback Dwan Mathis is slated to sign at 9:00 a.m. if it's just to be seen the Justin Fields rumors could change things on that front. Buford, Georgia's Harry Miller wants to be around 11:00 a.m.
Tomorrow wants to be a great day. #GoBucks

– Garrett Wilson (@GarrettWilson_V) December 18, 2018
There's going to be a lot of activity throughout the Ohio State Twitter accounts are official. We'll obviously have plenty of updates as well so be sure to stay dialed into 11W as the faxes come in.