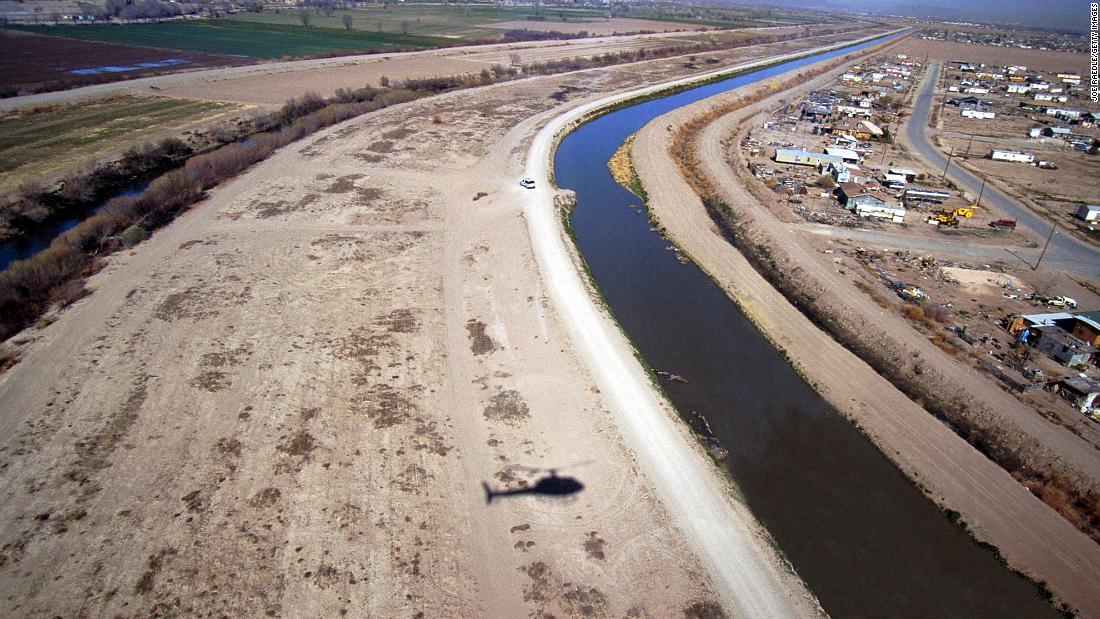 One of the main water sources is the Rio Grande. As a rule, the river can supply up to half of the city's water needs. However, climate change is making it increasingly difficult and driving the city to seek new sources of water. Now, El Paso is well on its way to becoming the first large city in the United States to treat its wastewater and direct it back into the taps.
Rising temperatures make the drought region even more susceptible to drought, according to the latest national climate assessment of the federal government . El Paso was already challenged to balance the demands of around 700,000 thirsty El Pasoans and the needs of agriculture and industry. In addition, El Paso must face the fact that climate change literally dries up one of the most important sources of water.
"We are doing less of it now than we did in the '80s or' 90s," said J. Phillip King, a professor of civil engineering at the University of New Mexico. King has been tracking the river's water levels over the last 27 years as a consultant to the Elephant Butte Irrigation District. The district manages the water distribution of 90,000 hectares of farmland along the Rio Grande Valley in New Mexico and Texas.
King told CNN Chief Medical Officer Sanjay Gupta that there is simply less snowmelt from the north of New Mexico and south Colorado to feed the river. Since 1
958, the amount of snow melt that reached the Rio Grande at the beginning of April [25] fell by 25% due to less snow cover and evaporation.
What happens in the Rio Grande is not unique. It is a phenomenon that is happening throughout the western United States.
King described the Rio Grande as a harbinger of what was to come. "You know, we are already critically exhausted here and you can imagine the Colorado as a couple of years away from a similar fate," he said.
Drought is nothing new for the 1,800-mile-long river. The Rio Grande has survived severe and prolonged droughts, King said. But a rise in temperature leads to a warmer and drier climate. This not only means potentially less snowfall, but also a greater chance of evaporating the water.
The federal government estimates that temperatures in the region could rise by another 8 degrees Fahrenheit by 2100.
The dwindling reserves are in the Elephant Butte Reservoir outside of Truth or Consequences, New Mexico. The reservoir is located on the Rio Grande and is the largest recreational lake in the state. It holds water for farmers from north of El Paso to Colorado. It has a capacity of about 2 million hectares, said King. Currently it is 3 to 4% of full capacity. Buildings that were built as offices during dam construction in the early 20th century were previously lost in the 1980s. Now they serve as lookouts for an almost empty pool.
Looking for alternatives
If you rely on the river like the city of El Paso, you will inevitably have to look for alternative sources of water.
It's something El Paso is used to. When Ed Acrhuleta took over the management of the water utility El Paso in 1989, he knew that drought was a problem. To create a long-term plan, he needed a long-term outlook. An assessment by the Texas Water Development Board revealed that the city is unlikely to run out of water by 2020 if it continues to drain groundwater from its aquifers.
"I thought we need to reverse the degradation of the aquifer, we need to stabilize that aquifer, and we need to diversify our resources," he told Gupta.
The expansion of the water portfolio was the mission of Archuleta. Instead of relying solely on pumped groundwater, Archuleta expanded El Paso's water portfolio.
Farmers in the western United States usually organized a system of rights or allotments to use water outside the river, including the Rio Grande. The rights were linked to the property. As a result, the El Paso utility began leasing water rights from farmers. The utility company also bought farmland that carried these rights.
David Gutzler, a professor of climatology at the University of New Mexico, compared an expanded water portfolio with a financial one. "If you can mix and match, use one or the other," said Gutzler. And it's the flexibility that ultimately makes cities more resilient, he said.
But in a move that was more visionary than just looking for water, Archuleta made water.
He pleaded with the Federal Government for funds to create the world's largest domestic desalination plant. The Kay Bailey Hutchison desalination plant was named after the Texas Senator, who helped Archuleta get involved with the plant in DC.
According to El Paso Water hydrologists, among the 10 million hectares of freshwater in the Hueco Bolson Aquifer it relies on, there is an additional 30 million hectares of brackish water that can be treated and used as drinking water.
It is estimated that the entire state of Texas has nearly 3 billion hectares of salt water available. That's more than 20,000 times the amount of water that El Paso consumed this year.
Production of Water
Today, the Kay Bailey Hutchison plant produces up to 27 million liters of water per day. The plant scales its production according to how much water is present in the river and in the aquifers. Next year, El Paso expects that desalination will provide 7% to 9% of the water.
"Built for growth, this property was built to protect against drought and essentially gives El Paso insurance against drought," said Archuleta.
He also preached a Gospel of Conservation. With a mascot named Willie, the drop of water, he started community work programs and founded a museum about water, where children from the area could visit and learn where their water came from.
The city paid its inhabitants to turn their grassy courtyards into rocky landscapes. The El Paso paper published the names of users of floods.
When Archuleta retired in 2013, water consumption per person had fallen by about 35%. El Paso uses less water today than it did 24 years ago, even though 170,000 people are more to serve.
Drinking Treated Wastewater
Today El Paso is ready to take the next step in expanding its water portfolio. A closed loop system will be set up to treat wastewater and convert it directly into drinking water. Water professionals refer to it as "direct reuse of drinking water" or "advanced purification".
"It's the logical next step for us," said Gilbert Trejo, technical director of El Paso Water.
El Paso; Orange County, California; Scottsdale, Arizona, and several other utilities across the country treat wastewater and pump it back into the aquifer to finally drink it. Trejo says it could take about five years for the water to be filtered through the soil before being pumped out and treated according to clean drinking water standards.
This treated water is also commonly used for irrigation and industry purposes.
El Paso builds a completely enclosed facility. The treated waste water is not pumped back into the aquifer, but additionally filtered and then passed into drinking water pipes.
"We see that this water is clear and of good quality," said Trejo Gupta. "The next thing we have to do is take high-quality water that we produce in a state-of-the-art facility, then treat it a little more with several treatment methods so that we can drink it."
According to the EPA, the amount of wastewater generated in large cities can be as much as 50% to 60% of the total water supply, which is a huge resource for cities like El Paso that are flushing for water.
To ensure that the water is free from pathogens or microbes, the treated wastewater is passed through several filtration stages, including UV and carbon filtration. Studies have shown that treated water is less likely to contaminate than untreated river or lake water.
The efforts of other communities in Texas and California to use the "direct reuse of drinking water" have not always hit the ground due to the "ice candy" factor. A community buy-in is the key to launching these projects, said Justin Mattingly of the Water Research Foundation. "These are public bodies, they belong to the public, so they could intimidate the public."
Archueltas heritage of water conservation and education has prepared El Paso for this moment.
"Everyone sees that we are in the desert, that we are in a dry climate, rain is scarce … So if we tell our customers we do everything possible and treat and do every water resource around us it's safe for consumption, they take it pretty well. "
By the year 2030, El Paso Water expects that 10% of the water supply will come from desalination and 6% will come from advanced purification.
Trejo told Gupta that it is not just the future of El Paso, it is also the future for many other cities who are facing water.
"Thanks to technology, we can handle [water] at a very high level and make drinking very safe – in every city, water is really around us."
Source link