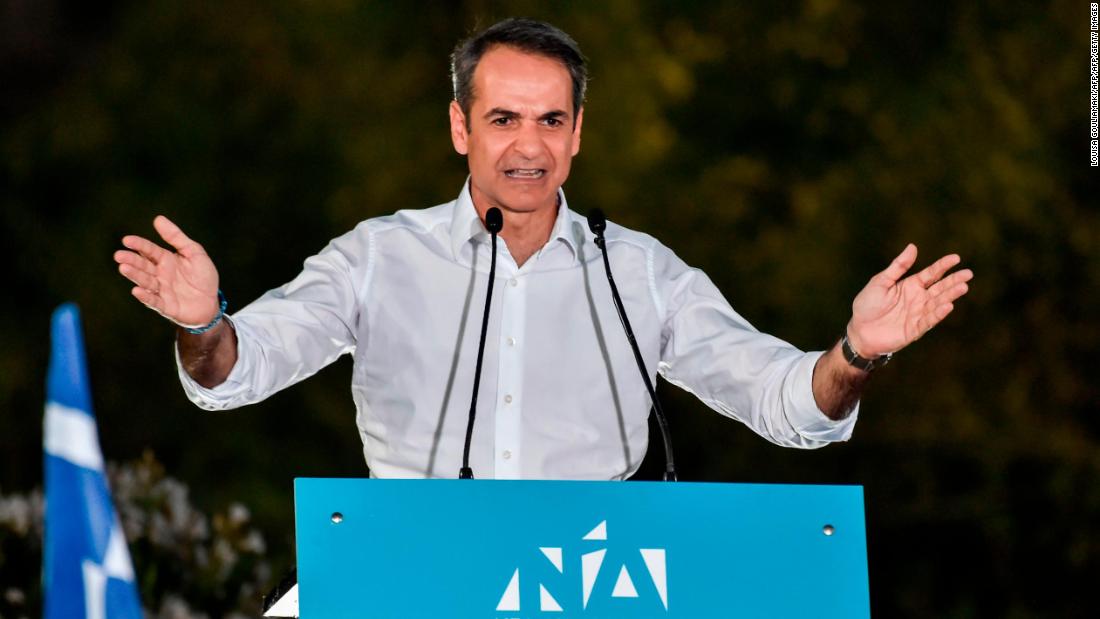 Initial results give New Democracy 39.6% of the vote, a strong mandate in a country that has been ruled by fragile coalitions for a decade.
Prime Minister Alexis Tsipras admitted a defeat in a live TV show and said, "The result has been found … but we will come back."
Kyriakos Mitsotakis of New Democracy thanked the Greek people in a victory speech with the words: "I know the difficulties ahead … I do not ask for a reprieve because we do not have time for it." He added, "Transparency and motivation will return to Greece and the voice of our country will be heard in Europe."
Mitsotakis is sworn in as Prime Minister at 13.00. Monday (6 pm ET).
The results indicate a complete reversal of happiness in Greece, with the return to a party that was a pillar of the Greek bailout. First projections for the ruling Syriza, coalition of the Radical Left, give her 31
.6% of the vote. In May, Syriza called for an early election after a heavy blow in the European elections.
Mitsotakis is the scion of a political dynasty in Greece, whose father also held the leadership under the same party.
After studying at Harvard and Stanford, Mitsotakis worked in the banking sector before embarking on his political career, serving as Minister of Administrative Reforms between 2013 and 2015.
Mitsotakis, a liberal reformist, promises to rename the country and change his image as Europe's problem child after an eight-year depression in which the economy has shrunk by 25% – the worst decline in a developed economy since the end of World War II ,
Mitsotakis says his priority is to revive the economy by lowering taxes and regulations while attracting investment.
The economic recovery in Greece is underway, albeit still weak, and for the next three years only an annual growth of about 2% is forecast. Mitsotakis' plan is to implement rapid changes such as privatization and turn Greece into a more business-friendly country.
He will then go to the country's lenders to negotiate a new deal. "I think I can negotiate more financial space with the Europeans and the markets show that they are very excited that we come to power," he said. Much of his success depends on his completing this deal.
Old Guard
Despite all his reform plans, Mitsotakis comes from the same political establishment that has plunged Greece into crisis, and the vote for the market-friendly old guard is equally a protest vote against a government that promised too much and did not deliver. a message to populists worldwide that things can change and then change again.
In retrospect, Mitsotakis' strategy feels like a recipe for success for the Greeks.
After two rescue programs and years of cutbacks and violent protests in January 2015, Greece sailed into uncharted waters, rejecting old-style politics and a hard-line tightening policy under the then-center-right New Democracy government.
People voted for a radical change promised by Syriza and her leader Tsipras, a charismatic spokesman. The little-known party was voted on an anti-bailout platform that promised to confront the country's lenders and put an end to austerity without much success.
Greece's populism odyssey led to bank bills and talks about the Grexit, the exit of the country from the European Monetary Union. The negotiations were imminent. The banks closed for days and capital controls were introduced.
At the last minute, when Syriza was in chaos after a referendum that could have led Greece out of the EU, it reversed and signed a third rescue agreement, followed by an early election. In September 2015, a second Syriza government was re-elected, leading to further austerity measures and tax increases to meet budgetary targets.
The events of the summer of 2015 meant for many Greeks to change the end of the illusion that this would be possible to resist. Like Tsipras back then, the Greeks are now turning around.
"Greece has already had first-hand experience of economic populism and now rejects it and turns to pragmatism," says George Pagoulatos, a professor at the Athens University of Economics. "The vote in 2015 was one of hope, despair, then idealism collapsed, now people are focusing on who they think can make a difference."
Greek tragedy
In other parts of Europe that watched the fall of Greece from a safe distance, the legacy of the "Greek tragedy" continues to serve as a collective call for Brexitians and as a warning story for right-wing populists. It has also exposed some of the deepest tears in the European Union, with far-right nationalists making huge profits in the May European elections.
In Greece itself, support for extremism is decreasing. Greece was one of the first European countries to bring a far-right, anti-immigrant party to parliament in 2012. Support for the Golden Dawn party was fueled by desperate economic conditions and a refugee crisis in which about 1 million refugees entered Europe through Greece's shores between 2015 and 2016.
The election results show a sharp decline for Golden Dawn, and although nationalism has played a crucial role in this election, he has adopted a softer tone. Nevertheless, Tsipras sparked a strong national mood in Greece and received a high political prize for his highly unpopular decision to ratify an agreement to end a decades-long name dispute with his neighbor, the newly-designated Republic of Northern Macedonia.
Nepotism, corruption scandals Accusations of intervention in the judiciary have also taken their toll. Tsipras' expected moment of fame, as Greece left its final rescue program in the summer of 2018, was dramatically overshadowed by the deadly forest fires that killed more than a hundred people in the Greater Athens area. Instead of a planned fireworks Tsipras had to deal with a big public outcry over the management of the tragedy.
Populism comes to an end?
Greece was the first country in the last decade to bring populism on a grand scale to the European mainstream arena. Now it is the first to reject this resolutely, which could mean in an election result the beginning of the end for extreme populism in Europe.
"Greece's experience of populism and the extreme right-wing nature has enabled the country to emerge from the biggest crisis in the Eurozone with greater maturity," says Nick Malkoutzis, political publisher of MacroPolis. "It feels like a cycle ends and the country returns to political normalcy."
After so many years of crisis, the Greeks are longing for stability, he adds.
In the new era of pragmatism in Greece, Mitsotakis embodies the country's proactive, comprehensive reform plan that will lead the country out of the economic maze. However, he is judged by a country that can no longer be easily courted by empty promises.
Source link