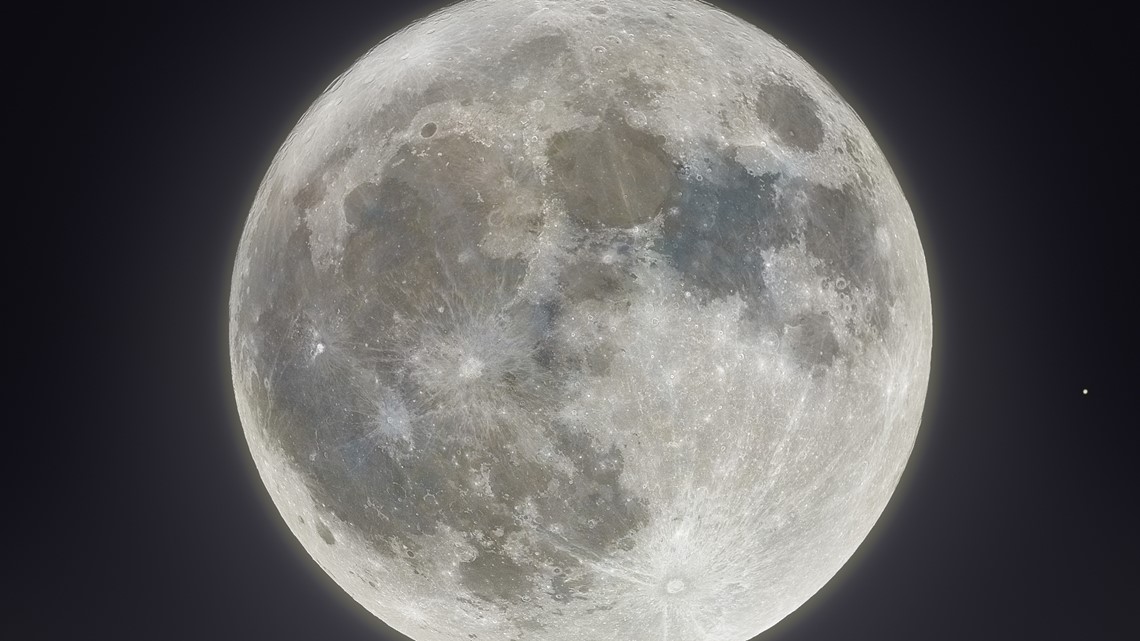 ELK GROVE, California – What started out for Andrew McCarthy has become a passionate hobby that he can now share with thousands of people from around the world.
"I love to be I think it's good that people can hopefully share something inspiring at a time when there is a tendency to be split." McCarthy said.
McCarthy considers himself an amateur astrophotographer, but his 123,000 followers on Instagram may think differently.
"I'm delighted to be able to offer my Instagram followers something that keeps asking me about these different celestial events, especially when the Moon is about to coincide with Friday the 1
3th," McCarthy adds.
RELATED: The full moon on Friday, the 13th, will not occur for 30 years.
Friday is the last time you can see a full moon on Friday, the 13th, 30 years.
"It's Friday the 1st 3rd and there's a full moon – but for superstitious people there's no need to worry," said NASA's Moon Report on Twitter.
RELATED: The New Lodi Moon Walking Exhibit Celebrates the 50th Anniversary of Apollo 11 with Hundreds
The Harvest Moon usually falls in September, but may occasionally rise in early October.
It's interesting that it's on Friday, the 13th, but otherwise it's just a coincidence, "said McCarthy," From a scientific point of view, it does not mean much, but it's exciting to get a picture of the moon make and have it THE Friday the 13th Moon. "
from Friday, the 13th full moon, created from a mix of 4,000 16-megapixel images.
Courtesy of Andrew McCarthy
ALSO VIEW:
The Moonwalking exhibit in Lodi shows hundreds of families celebrating the 50th anniversary of Apollo 11
(function () { var modules; var suppressModules = document.getElementById (& # 39; tegna_loadmodulesscript & # 39;). getAttribute ('data-suppress-modules' === & # 39; true & # 39 ;; true wrong;
if (suppressModules) { modules = [ 'alert-bar', 'error', 'page', 'grid', 'desktop-header', 'toolbar', 'weather-summary', 'navigation', 'throbber', 'utils', 'tegna-utils', 'fitted-headline', 'tracking', 'progress', 'tealium', 'live-indicator', 'taboola', 'ad' ] } else { modules = [ 'error', 'page', 'grid', 'desktop-header', 'toolbar', 'weather-summary', 'navigation', 'video', 'throbber', 'utils', 'fitted-headline', 'forecast', 'article', 'continuous-scroll', 'sharing', 'gallery', 'radar-gallery', 'forecast', 'article-crosspromo', 'featured-videos', 'chapter-slider', 'pollen', 'olympics-live-stream', 'three-day-outlook', 'current-weather', 'search-results', 'tracking', 'chapter-progress', 'progress', 'countdown-clock', 'longform-explore', 'media-gallery', 'social-sharing', 'weather-alerts', 'weather-interactive-radar', 'closings', 'tealium', 'alert-bar', 'cookie', 'sticky-sharing', 'live-indicator', 'sharethrough', 'taboola', 'elections', 'just-for-you', 'just-for-you-li', 'olympics-tv-listings', 'headline-list-with-abstract', 'text-only-headline-list', 'story-snapshot-with-abstract', 'snapshot', 'story-snapshot', 'special-content-headline-list', 'notfound', 'linked-image', 'article-recirculation', 'linked-image-with-title', 'newsletter-signup', 'linked-image-with-title', 'newsletter-signup-multiple', 'live-videos', 'breaking-news', 'weather-alerts', 'closings', 'media-gallery-alt', 'alert-center-menu', 'trending-list', 'toc', 'featured-radars', 'searchbox', 'hot-races', 'recirculation', 'photo', 'video-youtube', 'newsletter', 'universal-ad' ]; } / * var modules = [ 'error', 'desktop-header', 'navigation', 'page', 'grid', 'toolbar', 'video', 'throbber', 'utils', 'tegna-utils', 'continuous-scroll', 'gallery', 'tracking', 'tealium', 'sharethrough', 'datasphere', 'iframe', 'photo', 'video-youtube', 'newsletter-signup', 'newsletter-signup-multiple', 'ad' ]
Function inArray (needle, haystack) { var count = haystack.length; for (var i = 0; i <count; i ++) { if (haystack [i] === needle) {return true; } } return it incorrectly; }
var moduleElements = document.querySelectorAll (& # 39; [data-module] & # 39 ;;); for (var i = 0; i <moduleElements.length; ++ i) { (function () { var thisModuleName = moduleElements [i] .getAttribute (& # 39; data module & # 39;); if (! inArray (thisModuleName, modules)) { modules.push (thisModuleName); } }) (); }
console.log (& # 39; ===== loading modules: & # 39 ;, modules); * / require.config ({ & # 39; baseUrl & # 39 ;: & # 39; / & 39 ;, & # 39; deps & # 39 ;: modules, "WaitSeconds": 30, & # 39; bundle & # 39 ;: { modules }, & # 39; path & # 39 ;: { & # 39; jquery & # 39 ;: & # 39; scripts / jquery-3.1.1.min & # 39 ;, # Jwplayer #: content / player / jwplayer.js? version = 3.14.4 & # 39 ;, & # 39; modules & # 39 ;: & # 39; views / dist / scripts / modules.min.js? version = 3.14.4 & # 39 ;, & # 39; facebook & # 39;: https: //connect.facebook.net/en_US/all&#39 ;, & # 39; twitter & # 39; https: //platform.twitter.com/widgets&#39 ;, Sl slick #: content content / libs / slick / slick.min #, #Dotdotdot #: content / libs / dotdotdot / jquery.dotdotdot.min # & # 39; jqueryui & # 39 ;: & # 39; views / lib / jquery-ui / jquery-ui.min & # 39 ;, & # 39; comscore & # 39;: content / libs / comscore / comscore.min & # 39 ;, & Stickyfill & # 39; content / libs / stickyfill / stickyfill.min & # 39 ;, & # 39; youtube & # 39;: & # 39; https: //www.youtube.com/iframe_api? Noext & # 39; }, & # 39; shim & # 39 ;: { & # 39; Facebook & # 39;: { & # 39; export & # 39 ;: & # 39; FB & # 39; }, & # 39; twitter & # 39 ;: { "Exports": "twttr" }, & # 39; Youtube & # 39 ;: { "Exports": "YT" }, & # 39; jwplayer & # 39 ;: ['jquery'], & # 39; jqueryui & # 39 ;: { & # 39; deps & # 39 ;: ['jquery'] }, "Slick": ['jquery'], & # 39; dotdotdot & # 39 ;: ['jquery'] } }); }) ();
Source link