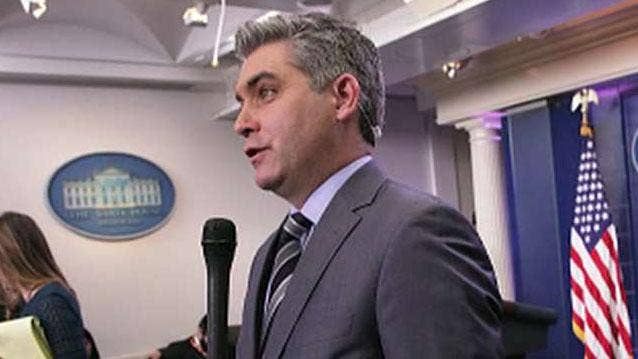 A former CNN producer pushed Twitter on Friday to chase away Jim Acosta, the network's White House correspondent, for Acosta's "selfish antics." He said they "give a bad name to all good journalists". 1
9659004] Posts by Steve Krakauer, a former senior digital producer for the network, who is now a top executive at Commerce House, a Dallas-based advertising company, was sparked off a question by Acosta President Donald Trump on Friday White House Event on Business and Tax Reductions
Trump used the event as an opportunity to condone the victims and survivors of Thursday's tragedy in the Capital Gazette offices, where five employees were murdered by a later-killed shooter
Acosta tried to combine the shootings with earlier criticisms that Trump had made against the media, including calling them "the enemy of the people."
When the audience on television applauded the end of the President's speech, Acosta shouted from the back of the room: [MrPresidentstopcallingustheenemyofthepeoplesir?SirPresidentwillyouceasetocallthepresstheenemyofthepeoplesir?"
The question did not come from Trump.
"Really an embarrassment on several levels," Krakauer tweeted about Acosta's performance. [19659008] He continued in a following tweet: "On a day when journalists could honor the memory of tragic comrades from reporters who have come from a dysentery person with a vendetta for years, Acosta tries to blame Trump wrote Krakauer [19659008] After the White House, Acosta tweeted about his own achievement: "I tried to ask the president if he would stop calling us the enemy of the people, he did not answer," wrote Acosta.
He added, "We also had a few people who calmed down in the audience, of course we are not annoyed."
Acosta is not a controversy. Earlier in the week, the reporter drew cries of "Go home!" At a Trump Rally in South Carolina. And "Wrong news, Jim!"
A rally guru, identified as Maria Rojas, confronted him personally with Acosta, who does not respect the land.
"I respect the United States, yes, I do," Acosta told the woman in videos posted by an Associated Press reporter.
Those who want more opportunity to vote on Acosta can tune in to CNN's "Reliable Sources" program on Sunday, where presenter Brian Stelter will interview his CNN colleague Jim Acosta.
Fox News Nicole Darrah contributed to this story.
Source link