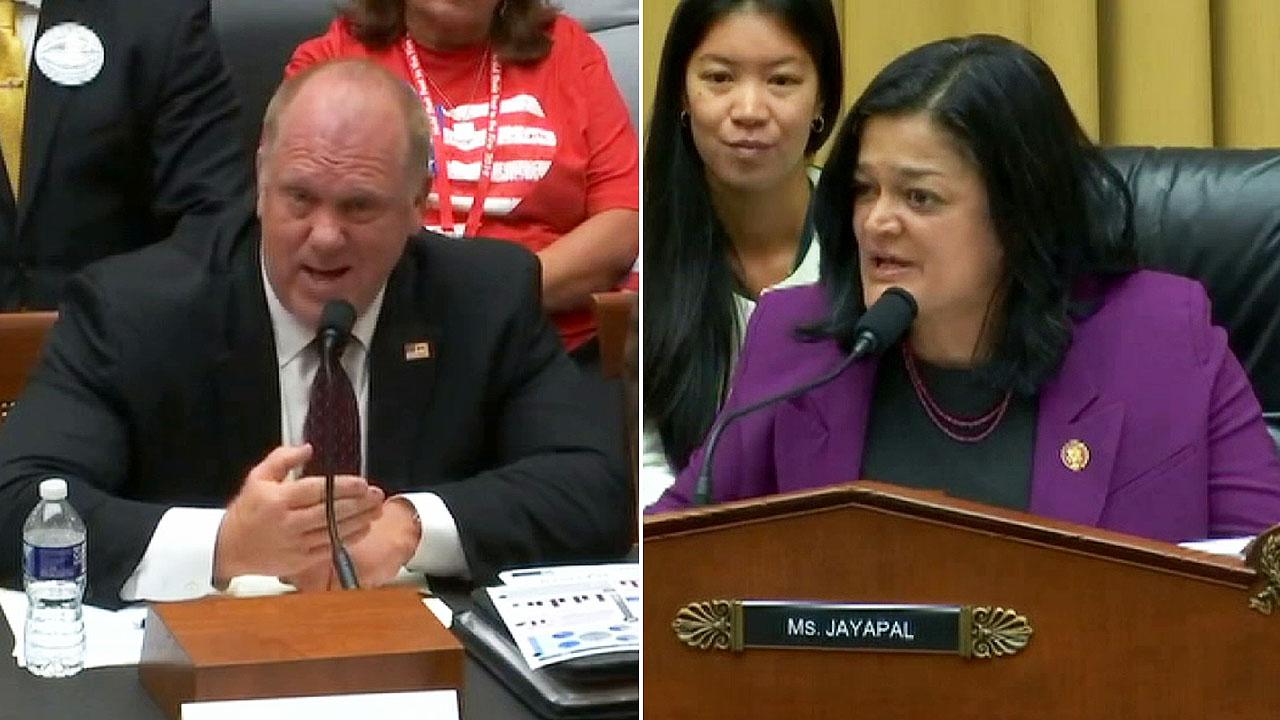 A tense hearing on border management practices sparked a hoot between former Director for Immigration and Customs Control (ICE), Thomas Homan, and MEP Pramila Jayapal, D-Wash
Jayapal, deputy chair of the Justice Subcommittee Immigration and citizenship, Homan repeatedly blocked for exceeding his assigned time. It started when the former ICE director responded to a previous statement by Jayapal that the Trump administration is funding additional beds. "I would like to remind you that under the Obama administration we worked most of his term as President." said Homan. "I can not remember hearings." He also pointed out that under Obama, when there was an upswing on the border, "Congress quickly gave us all the money we needed."
Jayapal responded and said, "Under Obama, I did not like government either."
Homan intervened, explaining that Congress should be more transparent and not criticize the Trump administration while giving Obama a passport similar practices existed. Jayapal used her hammer to restore order, while Homan said, "This is dishonesty, it's pathetic and sad." Jayapal reminded Homan that in the past he had testified in support of Obama government policies that differed from current policies. However, when Homan asked him if he could answer, Jayapal said no as his time had run out.
"Of course not." Homan said.
Homan, however, later got another opportunity to speak out and used it to blame Congress for border issues.
"You Want to Know Why 50,000 People Are in Detention" You want to know why there are one million illegal entries into the US. They want to know why we have these problems. Because you did not secure the border, "said Homan." You have not worked with this president to fill the three gaps we've closed for two years. "
Jayapal interrupted, informing Homan that his time was up He continued to talk about her, becoming impatient, claiming that others could outlive their time.
HOW IS ICE SANCTUARY CITIES Beating?
"I politely asked you to go beyond my time and let other people go beyond their time but not to Tom Homan! "
Jayapal slammed the hammer to silence Homan just to say," This is a circus. "[1
9659003] The exchange escalated from there when Jayapal stated that a member of the Congress, after being interrupted by a demonstrator with the consent of the senior member, was able to go beyond his time. [1 9659003] "Please respect the authority of the Chairman," said Jayapal. When Homan began to answer, she struck the hammer again and shouted, "Mr. Homan!"
"They work for me!" Homan shot back. "I'm a taxpayer, I'm a taxpayer, you work for me."
Jayapal himself was called for speaking out of line at the end of the hearing. When she began making a statement before finalizing the process, high-ranking member of the House Judiciary Committee, Doug Collins, R-Ga., Asked her to stop the hearing. As she is to call this committee, they are not five minutes more, "Collins said.
At the beginning of the hearing, Homan had condemned Democrats, including MP Alexandria Ocasio-Cortez, for using Holocaust comparisons to smear prisons and ICE agents. [19659003] "This comparison is 100 percent inaccurate and it is disgusting," Homan said. "Now forgive me, I did not think the Nazi death camps had prison standards, I did not think they had any health care, I did not think that they had rest, legal libraries, visits and three places a day. It's an offensive comparison.
CLICK HERE TO OBTAIN THE FOX NEWS APP
Homan said it was unfair for ICE to be vilified because its agents acted only on the basis of existing laws. [1969007] 19659007] "At the last hearing, I was labeled a racist and a fanatic for enforcing laws you enacted," he said, referring to a tense exchange he had with Debbie Wasserman Schultz earlier this month. " What does that matter to you? They wrote the law. "
Source link