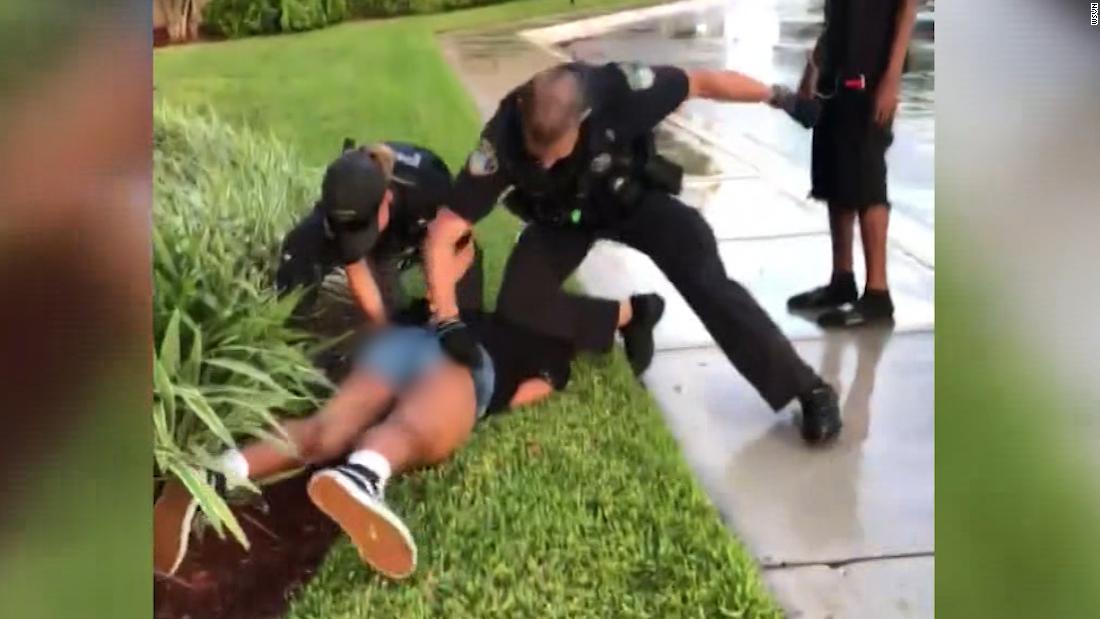 The video, which was uploaded to Instagram on Friday, features a girl held down by two officers, a man and a woman. The male officer beats the girl twice in the side while holding her shorts.
"Why are you hitting her?" someone in the video screams. "She can not do that, her hands under her, the devil you beat her with?"
The police department in Coral Springs, about 47 kilometers northeast of Fort Lauderdale, said in a Facebook statement Friday that the video did not show the entire incident that led to the arrest.
The police said the incident occurred on Thursday when officials were called to Coral Square Mall for uncontrolled teenagers who had harassed people and caused a disruption. When the officials met with the security of the mall, a mother told the officer that one of the teens had knocked her five-year-old child to the ground. Mall security also said officers one of the teenagers hit another teenager. The officials gave the rebellious youth a trespass warning and banned them from the mall.
The teens then returned to the mall, police said, where a boy was detained without incident, but the girl in the video began to curse and tried to upset the other teenagers. Officers tried to detain the girl, but the police said she began to fight and refuse resistance. It was at that time, police said, that she "knocked the girl to the ground because of her stature and aggressive behavior" and tried to get her to let go of her fists.
"As shown in the video, she resisted the arrest, and to make her force her, she was beaten in the side to release her clenched fists ̵
1; she was then handcuffed," said Coral Springs Police Department in her Facebook statement.
When the police tried to get her into the patrol car, the police said she had "violently kicked" one of the officers.
"The police department of Coral Springs believes in transparency," the department statement said. "It is important for people to have all the facts before judging the actions of an officer when they are linked to suspects, regardless of their age or gender."
The girl's mother, Jessica Dennis, told CNN affiliate WSVN-TV it was difficult for her to watch the video.
"She was clearly not aggressive, everyone could see she was lying there," Dennis said. "So all I want is for the judiciary to be served."
Dennis told WSVN that she hired lawyer Meeghan Moldof, who said the officer had used excessive force during the arrest.
"The video clearly shows that my customer was there," Moldof told WSVN. "Her hands are under her belly, the officer's knees are on her back, and he just turns them off, one at a time."
CNN's Deanna Hackney contributed to this report.
Source link