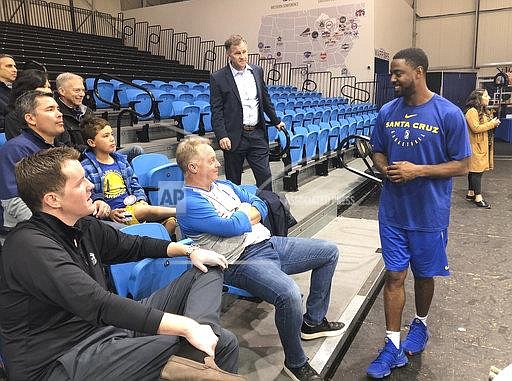 The Golden State Warriors officially announced a move Thursday that many already knew would come.
Former Kansas point guard Aaron Miles, a member of Bill Self's coaching staff for the 2015/16 season, was officially promoted to full-time assistant coach for Steve Kerr's staff.
Miles is deployed as one of four Warriors Developer Trainers.
It's hardly a new setting for the 36-year-old Miles, who was head coach of the Santa Cruz Warriors (daughter of the Golden State G League) in the last two seasons, spending time in the playoffs with Kerr's staff.
In the 2018/19 season, Miles Santa Cruz led the Western League Final of the G League after a record of 34-16, the second-best in franchise history. He finished his stint in Santa Cruz with a total record of 57-43 and helped five players to collect stakes in the NBA.
This summer, Miles was head coach of the Golden State Summer League squad.
His association with the organization extends beyond his time in Santa Cruz. After completing one of the most successful point-guard careers in Big 12 history in 2005 (his 954 career assistants are still the record among the Big 12 players), Miles joined the Warriors organization as an invited participant in a training camp after NBA 2005 at draft.
He appeared in 19 games for Golden State in the 2005/06 season and played professionally abroad for the next nine seasons.
He started coaching Self in 2015-16 and spent the 2016-17 season as a full-time assistant to Joe Dooley's staff on the Gulf Coast of Florida.
In the 2017-18 season, the organization, Miles & # 39; s first in Santa Cruz, was named the NBA G League franchise of the year.
Now that Miles sits full time on an NBA bank, do not be surprised if the promotions continue in the coming years.
When he spoke about Miles after being promoted to head coach in Santa Cruz in 2017, the Warriors' front office had nothing but flattering things to say about the young and aspiring coach.
"We are absolutely thrilled to introduce Aaron Miles as the new head coach of the Santa Cruz Warriors," said Kent Lacob, General Manager of Golden State, in a press release. "Aaron has excelled as a leader and co-trainer in every phase of his playing career. We are confident that he fits in well with our team and organization … "
The Warriors' President, Chris Murphy, said," Aaron has tremendous experience and basketball skills, which he shares with our players and fans can. I think he will be a great ambassador for the Santa Cruz Warriors organization and a model member of the Santa Cruz community. "