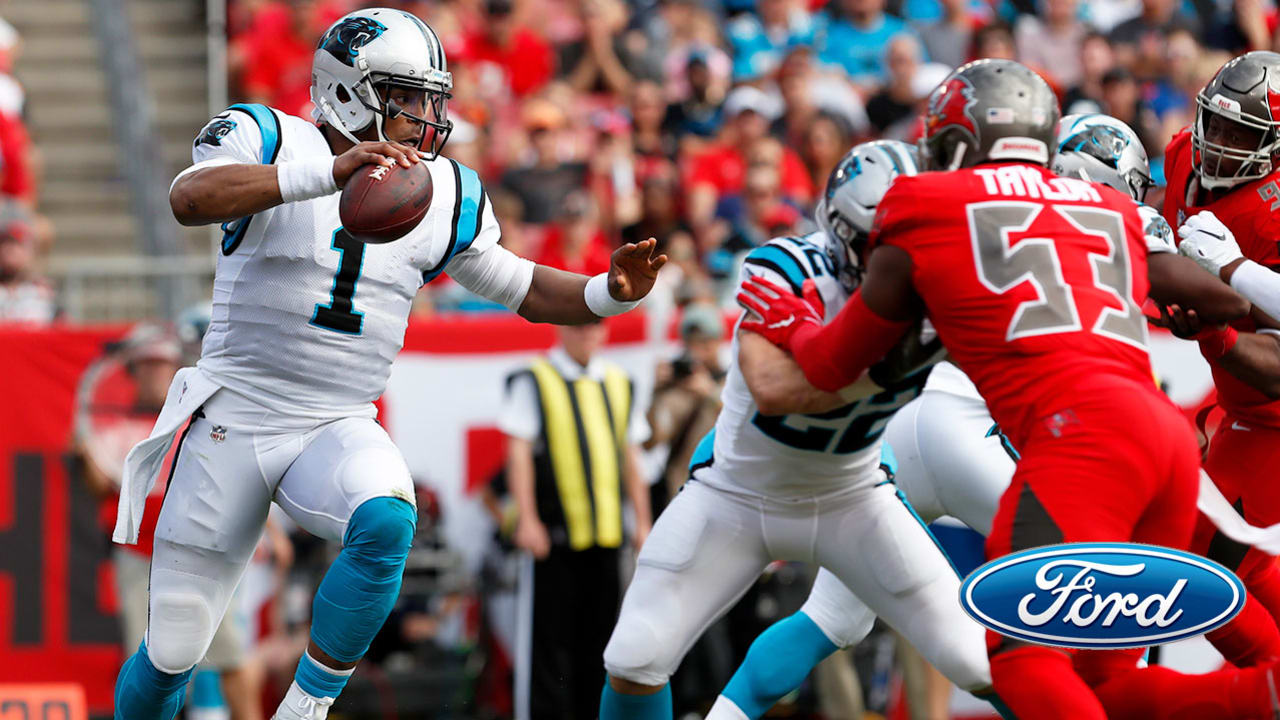 TAMPA, Fla. Tampa Bay on Sunday.
The Buccaneers had just three Cam Newton and Co. to a fourth consecutive defeat. Once 6-2, the Panthers fell to 6-6.
Tampa also sacked Newton four times, including one by defensive end Jason Pierre-Paul on Carolina's third drive to cross midfield in the final frame. Devon Funchess, who returned after sitting out week 12
The Panthers got the ball back at their own 26-yard line with 1:05 to go no timeouts left but ran out of time.
"At the end of the day, you give yourself a chance. You're in the end, "Ron Rivera said." The last few games we've played have come to an end. We just got to make a play and that's a little something that we have not been able to do right now. Make a play when it matters. "
Tampa led 1
7-7 at the half before Carolina closed the gap early in the second half. Newton to Funchess kicked Graham Gano from 37 yards out to cut the deficit to 17-10.
Soon after, Peyton Barber finishes a lengthy Bucs drive – marred by penalties on both teams – with a 1-yard punch into the end zone to break the lead to 14.
Carolina followed with an impressive 10-play, 92-yard scoring drive. At 18-yard Christian McCaffrey rushes out to complement efficient Newton, who hits five different goals for 63 yards. Funchess finishes the series with a 10-yard catch, inching out Carolina within 24-17 near the end of the third.
Newton finished 28-of-41 for 300 yards and two touchdowns, but his four interceptions tied a career high he set in 2011. McCaffrey added 106 yards on 10 carries, and nine receptions for 55 yards and a score. Tight end Greg Olsen left in the second quarter after re-injuring his foot and did not return.
For the Buccaneers, quarterback Jameis Winston threw for 249 yards and two touchdowns on 20-of-30 completions, adding 48 rushing yards. Barney ran for 45 rushing yards and a score while wide-spread Chris Godwin – starting in the injured DeSean Jackson – finished with 101 receiving yards and caught one of Winston's touchdown passes. Adam Humphries, who had 61 receiving yards. Like in Week 9, receiver Mike Evans was held scoreless, but he ends up with 48 receiving yards.
The Panthers found themselves in a 10-0 hole early after two Bucs scoring drives. Humphries – A key factor in the first meeting – Hauled in a 3-yard pass from Winston to give Tampa an early 7-0 lead on his opening series.
Facing third-and-16's after linebacker Kevin Minter earned his first sack of 2018, Newton's pass to rookie wide-mouthed DJ Moore bounced off his arms and into the hands of Andrew Adams for a 16-yard return. A few plays later, Bucs kicker Cairos Santos nailed a 35-yarder to increase the lead.
A huge 53-yard rush by McCaffrey set the table for a Carolina scoring opportunity, which McCaffrey secured after catching an 8-yard pass from Newton. A quick Bucs series brought the final back out, but another
Godwin connected with Winston for a 48-yard pass early in the second, but the drive was stopped after Barber's fumble at the goal line was recovered by linebacker Luke Kuechly for a touchback.
Carolina strikes deep into her own territory, forcing a punt. The defense stepped up with back-to-back sacks on Winston, setting the stage for a Panthers drive to end the half. Carolina built the steam engine with 11-yard completion to McCaffrey, but Newton threw his second interception of the day with 1:05 remaining.
Tampa capitalized with a five-play, 32-yard touchdown drive to end the half up 17-7.
With their postseason hopes diminishing, the Panthers' next chance to end the skid will come next Sunday when they travel to the Browns (4-7-1).
Source link