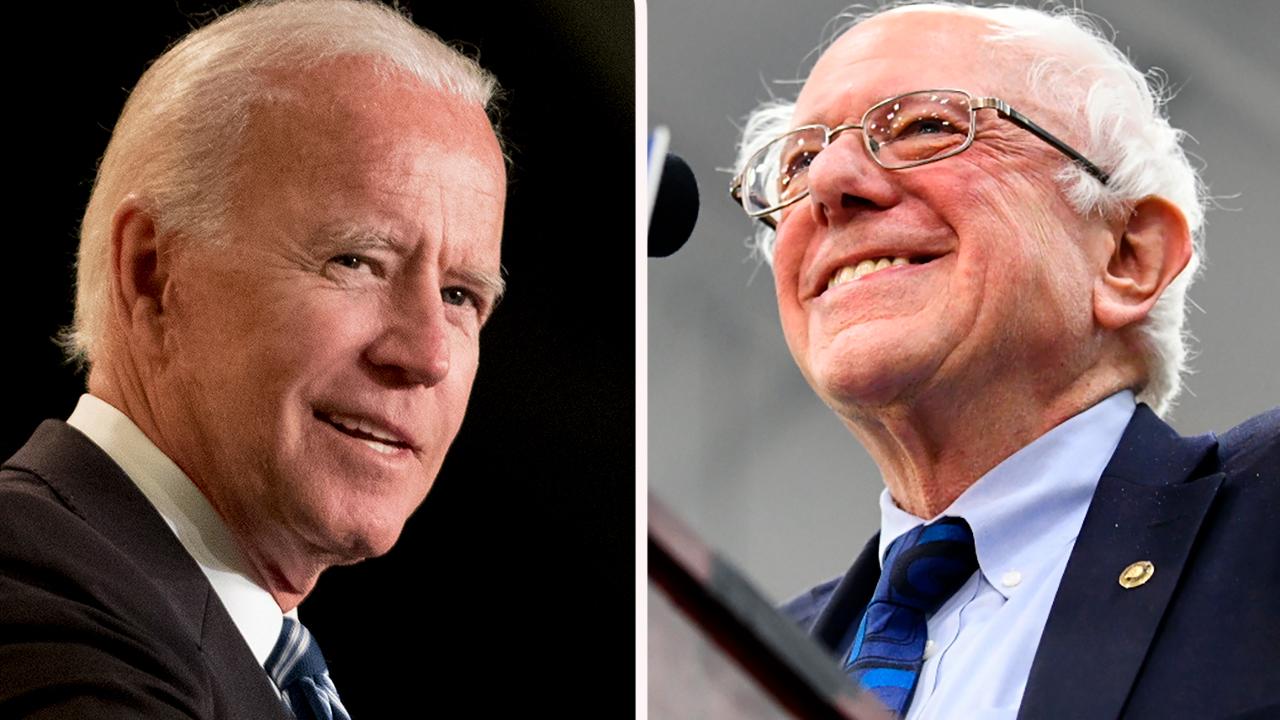 With so many Democrats running for presidency, the race feels like a March Madness class. In this case, the No. 1 seeds would be former Vice President Joe Biden and Vermont Sen. Bernie Sanders.
According to Fox News's latest poll
it would be desirable to beat President Donald Trump in the 2020 final] Click here to read the full results of the poll
Democratic mainstream voters have announced a list of 20 and potential candidates for the 2020 nomination. Biden is the first choice with 31 percent, followed by Sanders with 23 percent.
Californian Senator Kamala Harris (8 percent) and former Texas Rep. Beto O'Rourke (8 percent) form a second tier. It is followed by New Jersey Senator Cory Booker (4 percent), Massachusetts Senator Elizabeth Warren (4 percent) and New York Senator Kirsten Gillibrand (2 percent).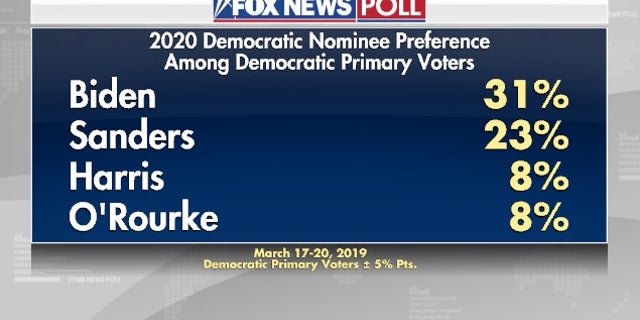 The other candidates are the political equivalent of a 16th seed – they receive less than two percent.
Eleven percent are unsure of their choice.
Men, women, whites, non-whites, college graduates and non-democratic primary voters all rely on Biden and Sanders second. Sanders has the advantage among the under-45s, Biden is the first among the 45-year-olds.
Democratic selections more likely support a candidate whom they believe can beat Trump (51 percent) than the candidate he likes most (36 percent).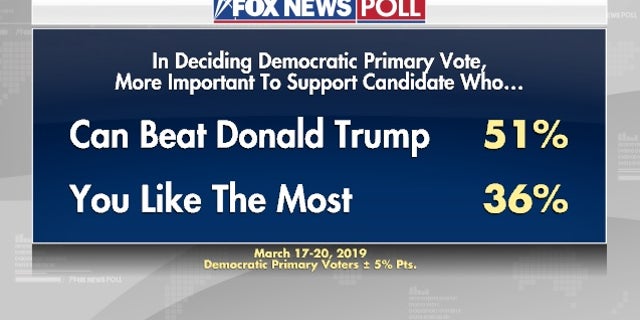 While Biden is not technically declared, he slipped and said he was going into the 2020 race. An official announcement for April is expected.
Two-thirds of Democratic primary voters want to get Biden up and running, and he's the first choice among those beating Trump, followed by Harris, Sanders and O & Rourke
Those who say it's more important voting for the candidate, as the one who could win, Sanders is the first choice, followed by Biden.
"Democratic primary voters would welcome Biden on the field should he run". says Democratic pollster Chris Anderson, who directs Fox News Poll with Republican Daron Shaw. "They value beating Trump, and Biden prefers to win most of the Democrats' better-known candidates against Trump." Majorities support a candidate who supports Medicare for all (67 percent) and a tax rate of 70 percent to over $ 10 million (53 percent). Fewer than four out of ten respondents are likely to vote for a candidate who supports the adoption of the Green New Deal (37 percent), pay slave labor slaves (31 percent) reparations, and abolish the Immigration and Customs (ICE) (25 percent) , 19659015] The hypothetical head-and-head circles among registered voters show support for Trump stays between 40 and 42 percent against each Democrat tested. He has both Harris (39-41 percent) and Warren with two points (40-42 percent) at the top.
Sanders has a 3-point lead over the president (44-41 percent), but Biden scores better than Trump 7 points (47-40 percent).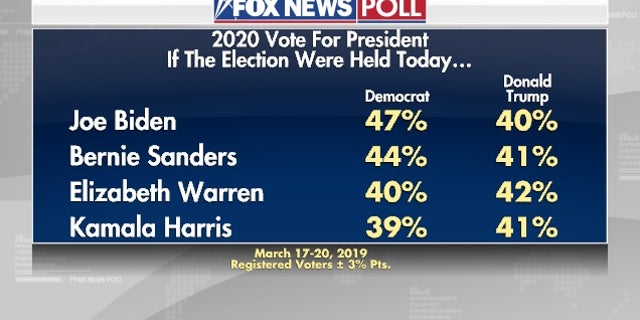 The head-to-head encounters between Trump and Sanders, Harris and Warren lie within the electoral scope of the sampling error. Biden's leadership is a bit out of the way.
"Ambivalence prevails at this early stage of the nomination process," says Shaw. "The Democrats want Trump in every possible way, but they also have a set of policy preferences that would have been considered far out of the mainstream ten years ago. This has a significant impact on all candidates and especially on Biden. Democrats like he wants to run and are probably impressed that Biden is currently running well against Trump, but do they think the White House depends on him? If not, the rationale for his candidacy is unclear. "
After all, 41 percent of Democratic primary voters would rather be voted out of Trump in 2020 than are being charged. This corresponds to the 41 percent of respondents who preferred to be brought to justice.
Well, that would be a true bracket buster.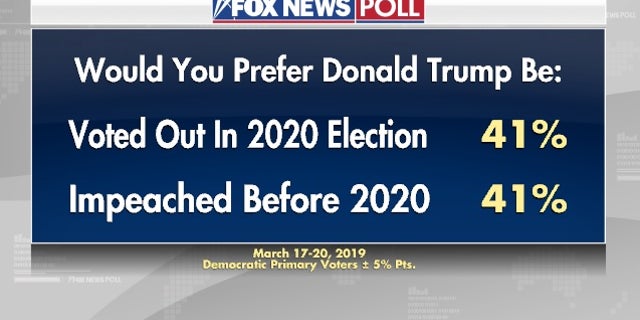 The Fox News survey is based on landline and mobile phone interviews with 1,002 randomly-selected registered voters, including 403 Democratic primary voters, and was co-chaired by Beacon Research (D) (formerly Anderson Robbins), March 17-20, 2019 Research) and Shaw & Company Research (R). The poll has a sample margin error of plus or minus three percentage points for all registered voters and plus or minus five percentage points for Democratic primary voters.
Source link