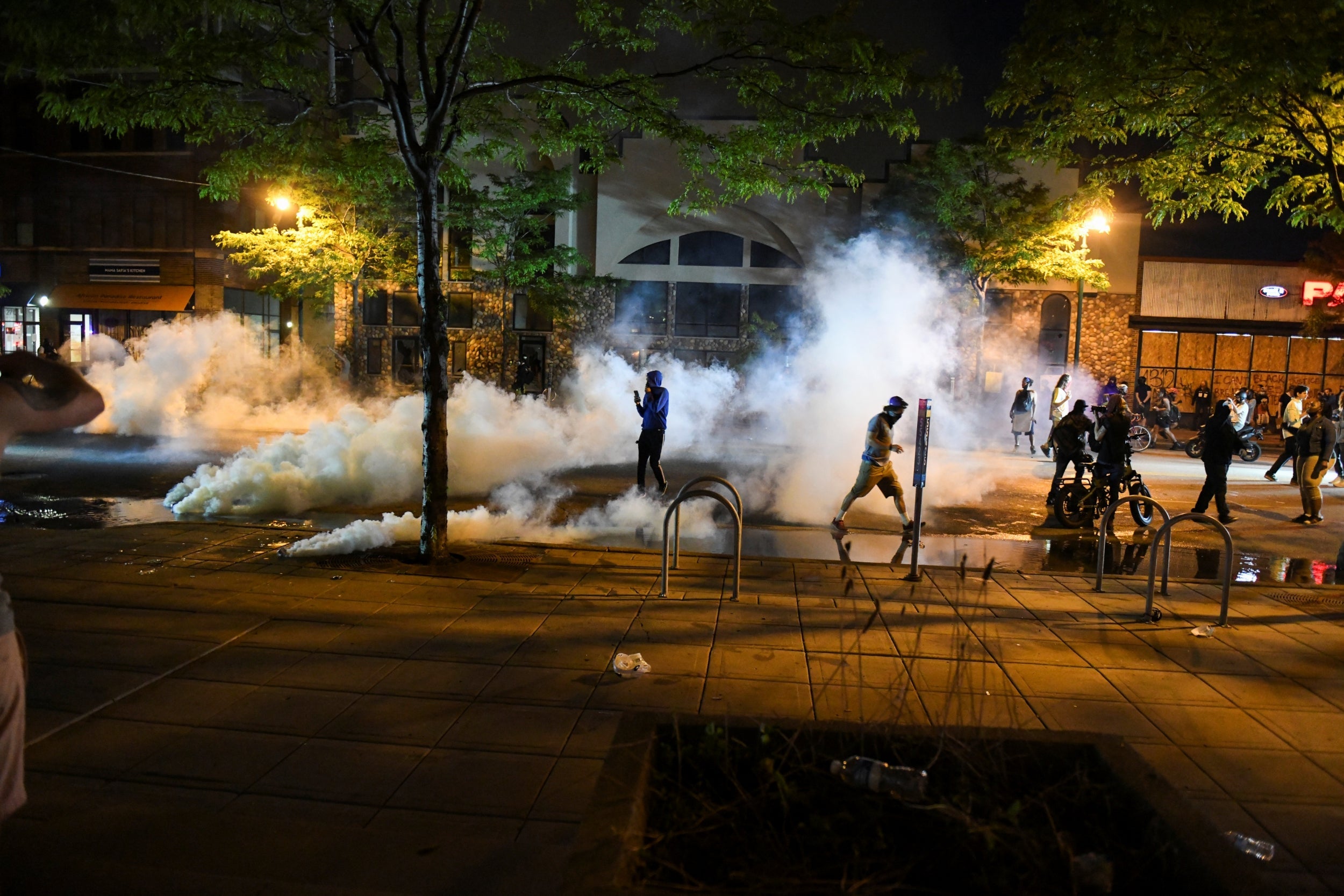 Near the Minneapolis protests, a man was shot dead for the death of George Floyd, a black man who died in police custody on Monday.
The man was found with a gunshot wound on the sidewalk at around 9:25 p.m. and taken to the hospital, where he later died. A suspect was arrested.
At a press conference around midnight, a spokesman confirmed that the police were investigating the theory that he was killed by a pawnshop owner who suspected he had looted his business, but said they were "in the early stages of this investigation".
Download the new Independent Premium app
Share the whole story, not just the headlines
A video was released on social media to show the aftermath of the incident, including a local man who received a CPR from a police officer. The Independent couldn̵
7;t immediately review the footage.
Thousands of people took part in the protests on Wednesday evening, with police and citizens standing over barricades. The police used rubber bullets, tear gas, and concussion grenades, some of which threw members of the crowd back.
Then there was looting. The footage showed people breaking into a target business and walking with carts full of goods.
The city's mayor, Jacob Frey, called for calm on social media and for the citizens of Minneapolis to "stop the tragedy from becoming a tragedy," and Governor Tim Walz also issued a warning.
"The situation near Lake Street and Hiawatha in Minneapolis has become an extremely dangerous one," wrote Walz on Twitter. "Please leave the area for everyone's safety and let firefighters and paramedics be on site."
While the clashes continued until late at night, the police spokesman called the protests "heartbreaking".
"Tonight was a different night of protest than the night before," he told the assembled media.
Floyd, 46, died Monday night after being dragged out of his car by four policemen, one of whom was kneeling on the back of his neck for several minutes while repeatedly shouting "I can't breathe." The incident was filmed by viewers and the footage quickly went viral.
The four police officers involved were dismissed by the city authorities, and Mayor Frey has requested the arrest of one with his knee on Mr. Floyd's neck.
"Why isn't the man who killed George Floyd in prison?" he said on Wednesday. "If you had done it or I would have done it, we would be behind bars now. And I can't find a good answer to that. "
Source link