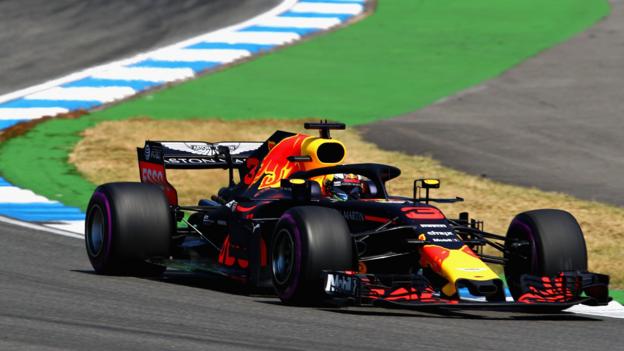 Red Bulls Daniel Ricciardo beat Lewis Hamilton's Mercedes in the first practice of the German Grand Prix with a lead of 0.004 seconds over the fastest time.
The Australian will start from the back of the grid due to motor penalties, but teammate Max Verstappen made for a positive session with third place.
Ferrari driver Sebastian Vettel finished fourth and has a slower tire than the two cars in front of him
Mercedes' Valtteri Bottas finished fifth by Ferrari Kimi Raikkonen.
It was a low-key session with few incidents, even though Raikkonen was racing at high speed at turn one, and Renaults Nico Hulkenberg hopped across the grass at Fast Turn 1
2 at the entrance to the famed Hockenheim Stadium section
And Sauber's Antonio Giovinazzi, who raced in the first session instead of the regular driver Marcus Ericsson, lost half of his engine cover when leaving the pit lane.
Ferrari's pace could be worrying for Mercedes as Vettel was just 0.271s slower in spite of the soft tire, while Red Bull and Mercedes both took advantage of the Ultra-Soft, which is about 0.5 seconds faster.
Raikkonen used only the soft tires, but was 0,471 seconds behind his teammate.
Vettel starts at the weekend with eight points ahead of Hamilton in the drivers' standings, as the season reaches its halftime.
Key trains were Mercedes will confirm their drivers at least one more year this weekend in the Mercedes-Benz market. Hamilton has signed a new two-year contract worth up to £ 40 million a year, while Bottas has signed a 2020 option for 2019.
Haas driver Romain Grosjean was seventh and best of the others, ahead of team mate Kevin Magnussen and the Sauber of Charles Leclerc, all three powered by the Ferrari engine. Hulkenberg finished 10th.
McLaren's Fernando Alonso finished twelfth after running very restricted as the team tested new parts, some for the weekend and a few for the subsequent race in Hungary.
Source link