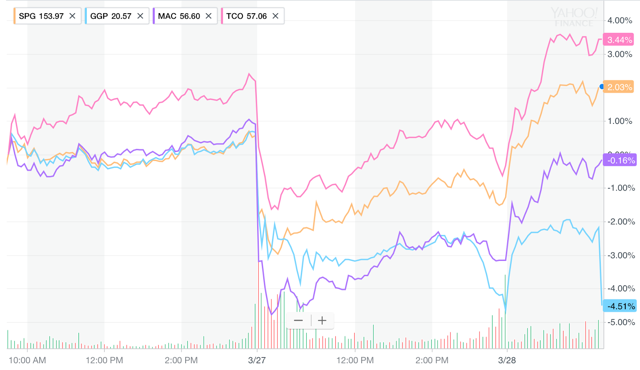 Thesis
Brookfield Property Partners (BPY) has reached an agreement with GGP (GGP) to acquire the remaining 66% of GGPs that they do not yet own. This dramatically underestimates the true value of GGP's stock and has led many to question whether "A Malls" really is the value that everyone points out. This does not affect the theory behind the Simon Property Group (SPG) – this deal proves at least that there are buyers for these Fortress objects. I'll tell you what changes I make to my REIT portfolio and what prospects I have
This deal is making waves
The last time I wrote about GGP, I wrote that I was expecting a deal with Brookfield for higher prices and if not, that is, if the deal happened somewhere near the proposed $ 23 / share price, it would have a negative impact on peer REITs. In the post-announcement trading activity, all shopping center REITs traded lower before starting the next day's recovery:
(Yahoo Finance)
Brookfield offered $ 23.50 in cash or a " BPY "share. There would be a fixed amount of $ 9.25 billion in cash and $ 254 million in BPY stock. This equates to about 61% cash and 39% stock for an average of about $ 21.90 per share.
At an effective rate of 6%, this offer is definitely very disappointing. GGP said no less than last year that its shares were significantly undervalued. Many believed their fair value was somewhere in the 5-5.5% range. Commenting on the sale of real estate, CEO Mathrani said in August, "We've found … that the inherent embedded value in [our] real estate is so high that you're actually doing the best for your shareholders [in staying the course]. .. This is not the time [to sell] " (CNBC). shares were then $ 22 / share. I do not see how this $ 21.90 retail price helps reduce the "material" discount. This change of tone is, how do I do that, very scary?
Brookfield has tried to make the case that this is a good deal. They said that the exchange would be attractive as BPY pays a higher dividend yield of 6.57%. I disagree – would this logic be beneficial if CBG exchanges GGP for $ 21.90 CBL (CBL) Stocks, as CBL pays 20 percent dividend? No of course not. They also said that GGP shareholders would be able to enjoy the diversification that BPY offers. Again, I'm unimpressed – if I was so desperately looking for diversification, I would have bought BPY directly on the open market. I am a shareholder in GGP because I want their high quality A-Mall properties. Is it important that Brookfield thinks its own stocks are undervalued, which increases the NAV for GGP? No, again, if I thought Brookfield stocks were cheap, I would have just bought their stock. At the end of the day, the only thing that matters is that the trading value is $ 21.90 per share, which is dramatically lower than any purchase price I've ever dreamed of.
With stocks traded below the average bid price of around $ 20 It appears that many shareholders are either skeptical about getting money for their stock or very willing to trade for the more complicated Brookfield stock.
I do not think the lower stock price is due to investors deal is rejected and brings stocks to collapse. I firmly believe that stocks will rise when the deal fails – do not make mistakes, this is a low ball bid.
Why did this happen? Since Brookfield already owns 34% of the shares and has 4 out of 9 board seats, it made sense to offer such a low ball bid and expect it to be accepted. Kudos to author Anne Anderson for predicting such a result. A logical question is whether Macerich (MAC) or Simon will suffer the same fate. Does the fact that GGP has agreed to such a low bid show that Simon and Macerich are not undervalued at all?
Reviews in a mall REIT colleagues



(Chart by author, data from 10-K by Simon, Taubman, Macerich, GGP)
I have sold my Macerich shares because they are at their market capitalization of about $ 8.4 billion also carries some risk of taking "a GGP". Although I still believe that these properties are valuable, I now focus my allocations on those who will have the best execution and have reinvested these funds in Simon.
Earlier I pointed out that I could no longer support Taubman (TCO) because its higher quality properties could more than make up for it. This tough retail atmosphere will test the strength of the management teams to adapt and endure – I'm afraid Taubman's management is not up to the task.
Simon is still the best
I do not see any influence on Simon. With a market capitalization of over $ 50 billion, it's highly unlikely that anyone will offer a takeaway offer – and even less likely that CEO David Simon would ever take on a business that is not among the nosebleed premiums. CEO Simon has earned himself the reputation of being the best CEO in the REIT universe – it would be a big surprise for me if he changed course and got private under $ 220 at any price. A good management does not say that stocks are undervalued, then they agree to a buyout offer at the same prices. Simon will try to prove that A-Malls are still of great value for unlocking.
Let the Bidding War Begin
I think this will not go down without a fight. I believe that activist investors will soon build up large positions in GGP to vote against the deal. I also expect Simon to make an offer ranging from $ 26 to $ 28. At this point, why not? They have nothing to lose now that Brookfield's Best Offer has already been approved by the GGP Special Committee. It would be ironic to think that GGP had rejected a Simon takeover nearly ten years ago, having benefited from a poorer bid by none other than Brookfield.
Special Note
I recently wrote that I've taken a tiny step in CBL calling options. Reader Kbaba noted in the comments that it also had a great value in preferences. After some research, I also came to the same conclusion and built a position in CBL-D with a return of 11%. My calculations show an insane preferred dividend, which even brings massive FFO declines and massive spending on refurbishment. I will have to work more on it.
Conclusion
I hope that this deal will be rejected by the shareholders. If accepted, I believe that this would confirm the story of "Malls on Dying," as the management of top-notch A-Malls are so eager to become private. Nonetheless, the GGP share remains attractive as it trades below the takeout price and if the takeout fails, then I expect the stock to recover (and not to mention a potential bidding war). I still firmly believe that Simon is best positioned to continue FFO growth while maintaining the most favorable valuation. Stay long Simon.
Author's note
If you enjoyed this article, follow me! Being contrarian requires great courage if stock prices continue to fall despite solid finances.
Disclosure: I am / we are long SPG, GGP, CBL.
I wrote this article myself, and it expresses my own opinions. I do not receive any compensation for it (except from Alpha search). I have no business relationship with a company whose shares are mentioned in this article.
Additional Disclosure: My CBL position is through a very small call option and a minor position in CBL-D. [19659031] window.SA = {"App": {"name": "SA", "fullName": "Search for Alpha", "type": "regular", "host": "https: // seekingalpha. com, cmsName: https://cms.seekingalpha.com, emailHost: https://email.seekingalpha.com, pro: false, proPlus: false, contributorCenter : false, "realHostName": "https://seekingalpha.com", "isCms": false, "cancelPV": false, "isSharkPreview": false, "usersOnSite": "6.726.802", "assetHosts": ["https://static.seekingalpha.com","https://static1.seekingalpha.com","https://static2.seekingalpha.com","https://static3.seekingalpha.com"] "moneData": {}, "assetHost": "https://static.seekingalpha.com", "env": {"dev": false, "deployment": false, "production": true, "test ": false}" gaAccountId ":" UA-1466493-1 "," comscoreAccountId ": 8500672," fbAppId ":" 624608951014846 "," twitterAccountName ":" SearchingAlpha "," rollbarToken ":" 5edf110be2fc4cecb32637fc421111e2 "," perimeterXAppId ": "PXxgCxM9By", "embedlyKey": "a6da93fdfc49472099 ce63260954716b", "mp": false, "chat": {"host": "https://rc.seekingalpha.com", "is_active": true}}, "pageConfig ": {" Refresher ": {" active ": false }, "Data": {"article": {"id": 4159773, "title": "GGP: Let the bidding war for this mall REIT begin", "stub": false, "primaryTicker": "ggp", " isTranscript ": false," isSlides ": false," twitContent ":" $ BPY $ CBL $ MAC $ SPG $ TCO $ GGP https://seekingalpha.com/article/4159773-ggp-let-bidding- was-mall- Semi-begin? source = tweet "," isProArticle ": false," isProPaywall ": false," paywallReason ": null," isArchived ": false," inEmbargo ": false," is_wsb ": false," isAuthorNewsletter ": false," titleTest " : null, "archiveOn": 1523243281000.0, "isProNoEmbargo": false, "url": "https://seekingalpha.com/article/4159773-ggp-let-bidding-war-mall-reit-begin", "isFreeMpArticle" : false, "isFreeProArticle": null, "isInsight": false, "insightSlug": "", "price_at_publication": "20.08", "topics": ["reits","sa-exclusive","premium-base-payment","alternative-investing","us","reit-retail","financial","article"]"from_liftigniter": false, "isAnyProArticle": false, allowMpPromotion: false, article_datetime: 2018-03-28T23: 38: 06.000-04: 00, isEtf: false, taggedUrlsHtml: Dividends & Income REITs Finance REIT – Retail "," isFidelityEducationPage ": false}," author ": {" id ": 103711," userId ": 47586172," slug ":" julian-lin "," exclusive research ": null," tagId ": 577012," name ":" Julian Lin "," pi cture_url ":" https://static.seekingalpha.com/images/users_profile/047/586/172/big_pic.png "," is_brand_author ": false," show_managed_account ": false}," counter ": null," firstResearchAuthor ": {}," pageType ":" Article "}," Show ": {" slots ": [{"container":"article-left-slot-2″,"data":{"name":"/6001/sek.analysis/dividends/reits","targeting":{"tile":160},"size":[[160,600]]," str ":" 160×600 "}}, {" container ":" article-left-slot- 3 "," Data ": {" name ":" / 6001 / sec.analysis / dividing / riding "," targeting ": {" tile ": 162}," size ": [[160,600]]," str ": "160×600"}, "delay": true, "whenOutOfView": "article-left-slot-2"}, {"container": "article-right-slot-1", "data": {"name": "/6001/sek.analysis/dividends/reits","targeting":{"tile":1},"size":[[300,250],[300,600],"fluid"],"str":"300×250,300×600 , liquid "}," cls ":" mb25 "," flex ": true}, {" container ":" item-right-slot-2 "," data ": {" name ":" / 6001 / sec. analysis / dividing / riding "," targeting ": {}," size ": [[300,100]]" str ":" 300×100 "}," cls ":" mb25 "}, {" container ":" article-right- slot-3 "," data ": {" name ":" / 6001 / sec .analysis / dividend / reits "," targeting ": {" Tile ": 2}," Size ": [[300,252]," Liquid "]," str ":" 300×252, liquid "}," cls ":" mb25 "," native ": true}, {" container ":" article-middle-slot-1 "," data ": {" name ":" / 6001 / sec.analysis / dividing / already "," targeting ": {}, "size": [[640,40]] "str": "640×40"}}, {"container": "ad_728x90", "data": {"name": "/ 6001 / sek.analysis / dividenden / reit "," targeting ": {" tile ": 728}," size ": [[728,90]]" str ":" 728×90 "}," delay ": true," delta ": 500}, {" container ":" intream_recommendation_ad "," data ": {" name ":" /6001/sek.analysis/dividends/reits","targeting":{"tile":50},"size":[[3,3],"fluid "]"str": "3×3, fluid"}, "delay": true, "delta": 500}]"testScroll": true, "disabled": false, "kvs": {"d": ["analysis","investing-income","sectors"]"t": ["dividends","reits","sa-exclusive","premium-base-payment","alternative-investing","us","reit-retail","financial","article"]"aid": 4159773, "a": "julian-lin", "cnt": ["15″,"25″,"etrfin","etrcomp","etrade4″,"etrade5″,"taxes"] "prstock": "true", "tickerbundle": ["value","dividend","large-cap","financials"] "pr": "ggp", "s": ["bpy","cbl","mac","spg","tco","ggp"]}}, "paths": {"int": {"core": {"src": "https : //static.seekingalpha.com/assets/sa_boot_common_footer-4944ab7cc19310d4acdf4b60a2d49f2d31e1aff8367ccc28417a65044f35cb17.js "," id ":" sa-app "}," adsAPI ": {" src ":" https://static3.seekingalpha.com/assets /api/ads-daadde0a6506fa0ac1626fe94435aaa03072acd0018f08c6fb1066f73d016b17.js "," id ":" sa-ads-api "}," autocomplete ": {" src ":" https://static.seekingalpha.com/cdn/s3/autocomplete/ sa.js "," id ":" sa-autocomplete "}," page ": {" src ":" https: //static.seekingalpha ">"> com / assets / pages / article_page-e15f2698e855ffaa8a829f5bb53b5097547206f3beb9ff301c2ad55f09524eb.js ", id: sa-page}}, ext: [{"src":"https://www.googletagservices.com/tag/js/gpt.js","id":"gpt"},{"src":"https://sb.scorecardresearch.com/beacon.js","id":"sb"},{"src":"https://ssl.google-analytics.com/ga.js","id":"ga"},{"src":"https://connect.facebook.net/en_US/sdk.js","id":"facebook-jssdk"}]}, lastRequested: 2018-03-29 01:14:02 – 0400, SlugsPrices: {"disabled": false }, "proOpenHouse": {"active": false, "end_date": "2017-03-20T06: 00: 00.000-04: 00"}, "proFlashSale": {"active": false, "end_date": " 2017-03-23T00: 00: 00.000-04: 00 "}," saSource ": null," name ":" article "}," headerConfig ": {" noNotificationsMenu ": false," noRtaNotificationsMenu ": false, "unfixed": false, "tables": false, "hasSubnav": true, "activeTab": "dividend", "subActiveTab": "already", "subId": "dividenden"}, "modules": { }, "requires": []"trackq": []"exceptions": []};
Source link